5 Must-See Design Week RI Events
The ninth annual festival kicks off Friday with eight days full of creativity and wonder.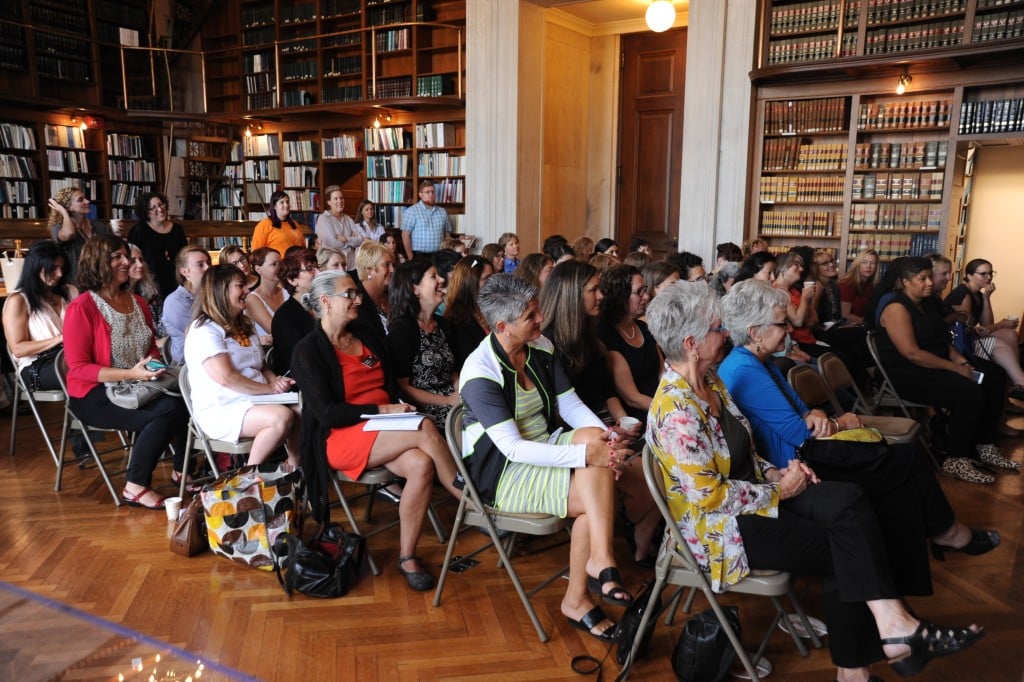 With more than forty events planned during eight days, this year's Design Week RI is sure to be packed with enough panels, parties, talks and tours to satisfy even the most die-hard design aficionado.
The celebration launches Friday, Sept. 23, with a kickoff party and closes Sept. 30 with a Narragansett Bay boat cruise.
Most events are free, and anyone can attend.
"Anyone and everyone who's interested can go," says Ellie Brown, DesignxRI's executive director. "Nobody has to be a designer — you just have to be a curious person."
DesignxRI, a consortium of designers — think architects, graphic designers, fashion designers, UX and UI designers, jewelry designers, industrial designers and more — is presenting the ninth annual event, which shines a spotlight on the state's creative talent.
It's strategically placed between two major design conferences — Rhode Island Fashion Week, which kicked off Sunday, Sept. 18, and the New England Architecture Awards, which takes place Saturday, Oct. 1, to purposefully draw from the design talent already in the state, Brown says.
Here are five events that look fun, eye-opening and creative as heck (I mean, they all do, honestly, it's so hard to choose!) plus a list of tours and artists' open studios. Check out the entire lineup and registration info for more info and the most up-to-date information.
Kickoff Party, Sept. 23
What's better than a party with its own brand of beer? In this case, there are four brands created by Moniker Brewery with labels designed by local artists and designers Authentic Abstraction, Lois Harada, Susanna Kim Koetter and Hayley Pires. Featuring music by DJ Uncle Thirsty and live painting by Ysanel. 7–10 p.m. $15–$30. Moniker Brewery, 432 W. Fountain St., Providence.
Fabrication Fest, Sept. 24–25
This hands-on event features fifteen artists, designers and makers showing off everything from retro video games and creating your own 3–D model to poetry on demand (in English and Spanish) and textile-integrated circuits. 1–5 p.m. Pay what you wish. Providence Innovation District Park.
Reimagining Downtown Providence's Public Spaces, Sept. 27
This walking tour examines Providence's 20 acres of waterfront parks and walkways, which some think lack a cohesive feel. Join experts for brainstorming sessions and examples from other cities to imagine how to bring new beauty and meaning to the downtown area. Noon–2 p.m. Pay what you wish. Event starts at the Providence Pedestrian Bridge near Plant City and ends at CIC Providence, 225 Dyer St.
Marathon Clambake, Sept. 27
One of DesignxRI's signature events is the Clambake, a forum for sharing ideas and speaking creativity where two speakers have fifteen minutes each to chat (minus the clams!). During the Marathon Clambake, four designers — Tami Hughes, senior associate at DBVW Architects; Rebecca Marino, senior brand manager at FM Global; Jeanette Numbers, founder of Nova; and Carter Richardson, founder of East Passage Boatwrights — will speak separately and then take part in a joint panel discussion. 6–9 p.m. Pay what you wish. Westwey Club, 1 Turks Head Place, 11th floor, Providence.
Afrofuturism — Collaboration, Adaptation and the Creative Process in Theatre Making, Sept. 30
Join artists Will Johnson, JaMario Stills and Sara Ossana as they discuss their collaborative process of developing "Soul Tapes," a theatrical performance pulling from Johnson's multimedia lecture performance, "The Soul Tapes of Black Folk." The performance will have its world premiere in Providence in November. Noon–2 p.m. Pay what you wish. Moniker Brewery, 432 W. Fountain St., Providence.
Tours and Open Studios
Valley Arts Open Studios, Sept. 24
Peek inside the studios of artists in the Nicholson File Art Studios (home to Frog and Toad Studio, Jess Brown, Sam White and other visionaries), the Binch Press/Queer.Archive.Work Studio and the Wurks. You'll find demos and creatives working in printmaking, metals, jewelry, textiles and more. 1–6 p.m. Pay what you wish. Nicholson File Art Studios, 350 Kinsley Ave., Bldg. 38, Providence; Binch Press/Queer.Archive.Work Studio, 400 Harris Ave., Unit F, Providence; the Wurks, 45 Acorn St., Providence.
Anyhow Studio, Sept. 24
Celebrate the first anniversary of the community ceramics studio with a tour from founder Liz Welch, who created the space with the help of DesignxRI's Design Catalyst program. 6–9 p.m., Anyhow Studio, 72 Spooner St., Providence.
Open House With Union and Libby Slader Design, Sept. 26
Come see the new Downcity offices of Union Studio Architecture and Community Design and Libby Slader Design. Get a tour of the space in a revitalized historic block of Westminster Street while you enjoy light bites and refreshments. 6–9 p.m. Pay what you wish. 160 Mathewson St., Suites 201 and 202, Providence.
Open Studio and Sample Sale With Indo-, Sept. 27
Check out Indo-, a made-to-order fine furniture and lighting design studio and drool over the latest designs at the studio space inside Rumford's Metaspace Studios. (Have you seen this ombre Pilar coffee table?!) 5–7 p.m. Pay what you wish. Metaspace Studios, 110 King Philip Rd., Rumford.
Open House and 15-year Anniversary Celebration at Kreatelier, Sept. 29
Stroll through the warm and welcoming space of Line Daems and her staff as you sample drinks and appetizers in the newly expanded design studio and retail area. (If you've got a little in your life, or even if you don't, make sure to check out the sweet children's area in the back of the store, which is full of fanciful mice, elephants and other stuffed friends going about their adventures.) 6–9 p.m. Pay what you wish. Kreatelier, 804 Hope St., Providence.
RELATED ARTICLES
Three New Art Shows to Check Out This September
Artist's Ascent: A Conversation With New RISD President Crystal Williams