Day in the Life: Designer Amy Page DeBlasio
The Providence native and University of Rhode Island graduate talks about balancing her two lives as an edgy and sophisticated fashion designer for her clothing line, APD, and working mother.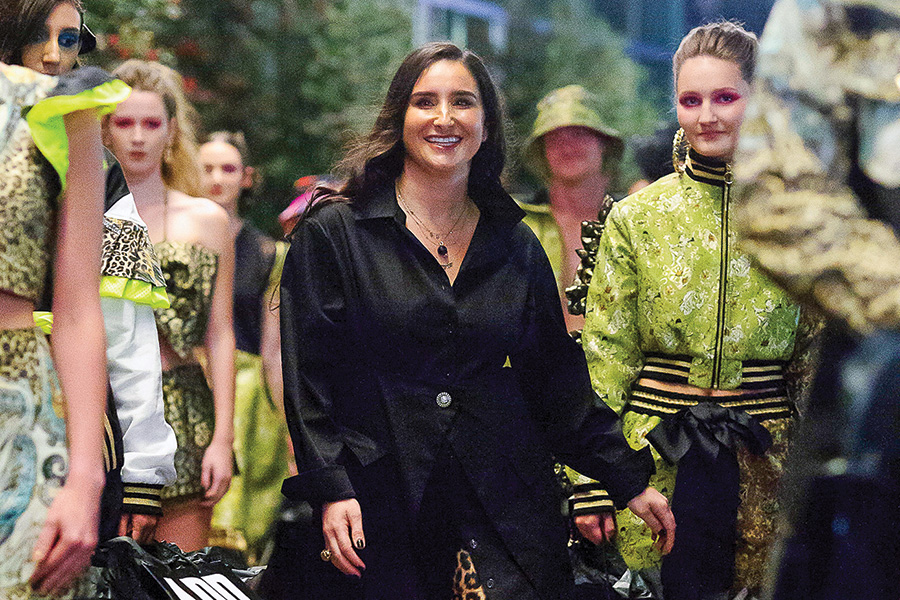 Twenty-four hours in a day might feel like a mere three hours if there are simply too many tasks to do. Amy Page DeBlasio, local fashion designer and creator of wearable works of art, continues to overcome the daily challenges of tackling her designing responsibilities and any setbacks that might come her way.
Morning: I set my alarm for 7:30 a.m., but I'm still nursing, so I'm usually up twice during the night then by 7 a.m. for the day. Leo is three, he'll be four in May, and Eli is eighteen months, born in October. I get my kids ready for preschool and day care; they have to be there between 8–8:30 a.m. and it's on the way to the studio. Either my husband drops them off or I drop them off then go to work.
Morning to afternoon: I come into the studio at 9 a.m. I make coffee at home but I might stop for a coffee or a shake. I make a lot of lists and try to check one thing off the list at a time, but sometimes I'll be working on something and it takes awhile. There are so many things to list that you can't list them all.
Afternoon to evening: I usually pack lunch but sometimes I'll run to Garden Grille, Wildflour or Lauren's Café; I like to support local shops over here.
I have to stay true to myself by designing what I like with what will sell, all while being efficient. I have to source fabric and notions (from vendors throughout the U.S., including Rhode Island and New York), make samples, then have model fittings. I manage production, have my samples graded and digitized, and I make care labels. I also have to check the items once they come from the factory and do quality control. I may have to work out a snag in the production process or figure it out if a supplier didn't ship in time — any day, I could be doing any number of these things.
I'm always thinking about designs and managing my website. I do marketing and social media myself. If I have a photo shoot, I have to have content, find the models, photographer and location, steam the clothes, find the accessories, hair and makeup. I have to lug everything to the site. I have to plan pop-up shows and events, including fashion shows where I have to plan the looks and find the models and accessories.
In one day, what was that — like five things? No two days look the same. Right now, I've had some samples made [since] I'm heading into production for fall 2022.
Some days my assistant will come. She's a URI student named Portia who is working part-time. I have a phenomenal seamstress named Marie who helps me make my samples. I'm the only full-time APD employee; I need to stay vigilant and disciplined because I'm accountable to myself.
At the office, I try to switch off the mom stuff, but it's always in the back of my mind. When I'm home, I try to be present with my children, but I don't have a job that I just leave at the studio.
While I'm always professional in my fashion designer life, there are many times when my two lives intersect. When I had a runway show at New York Fashion Week this past fall, I was still nursing my second son, so we brought him to New York with us. I would take breaks between interviews and fittings with the models to nurse.
I'll leave at 4:40 p.m.: I'll pick up my kids, arrive home and figure out dinner. I spend quality time with them as much as possible, so we play games, do puzzles or watch some TV.
Evening to midnight: I put Eli to bed and then Brandon, my husband, will put Leo to bed and it's already 8:30–9 p.m. At the end of the day, I just want to relax and watch a show but after cleaning up from dinner and doing laundry, sometimes I have work to do around 9:30–10 p.m. and don't get to bed until midnight. There's never enough time.
APD, Hope Artiste Village, 1005 Main St., Unit 2225, Pawtucket, amypagedeblasio.com. Follow @apdpvd on social media.