Bring Asian Cuisine Home with These Recipes
Rather than ordering out when you're craving some Asian spice, scour your pantry to save some pennies and make everything from scratch.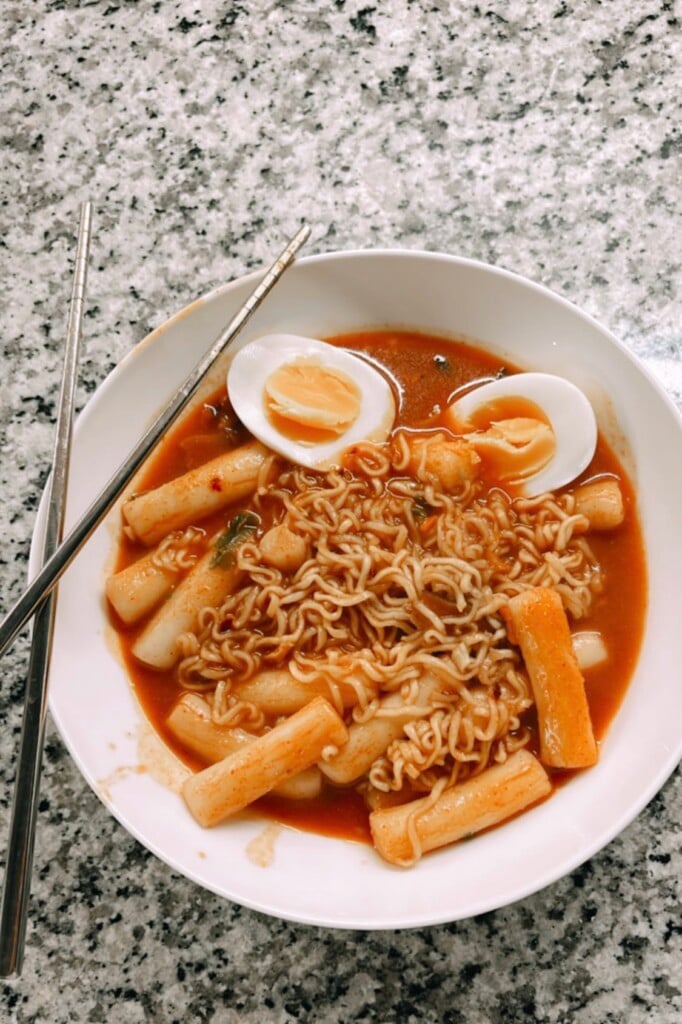 The reason why we get takeout from Asian restaurants is because we simply cannot make the dishes at home, right? Believe it or not, it's a lot easier (and faster) than you think. With a few key ingredients, you'll be whipping these up on a weekly basis.
Rabbokki: A twist on a classic
Tteok-bokki (spicy rice cakes) are a staple in Korean food, a great late-night snack that can incorporated into a whole meal. Combined with ramen, you have a fan-fave street food.
Ingredients:
Frozen rice cakes (sticks, rather than the disks)
1 package spicy ramen
1 TBSP Gojuchang paste
2.5 TBSP sugar
1 TSP garlic powder
½ TBSP soy sauce
½ TSP ramen spice packet (secret ingredient)
Splash water
Combine all spices and sauces together in a small bowl, set aside. Bring 1 cup of water to a boil in a shallow saute pan. Add in the sauce mixture to create a broth along with the rice cakes, reduce heat to medium-high and simmer for five minutes. Add the dry ramen, broken into large chunks and boil for another five minutes. By this point, your sauce should be thickened and glossy. Top with a soft-boiled egg and scallions.
Credit: @cafemaddy / instagram.com/p/CTh0VmTH0HI/
Homemade chili crisp oil
Without fail, my favorite spicy chili crisp oil is Lao Gan Ma and can be found at Good Fortune Market or even Asiana. However, this recipe is hard to compete.
Ingredients:
1.5 cups neutral oil (preferably avocado or vegetable)
2 shallots, thinly sliced
8 cloves garlic, finely minced
½ cup chili flakes
2 TBSP Aleppo pepper or gochugaru (Korean red chili flakes). Paprika works just fine if you're on a budget.
¾ TBSP Kosher salt
1 TBSP sugar
1 TSP MSG (optional)
1 TBSP soy sauce – dash
1 TBSP toasted sesame seeds
Heat oil in a small sauce pan and add in the shallots and garlic. Fry until golden, remove and set aside. Combine chili flakes, Aleppo pepper, kosher salt, sugar and MSG (optional). Pour over your fragrant oil while still hot to bloom the spices. Add a splash of soy sauce and toasted sesame seeds. Add back in the crispy shallots and garlic and serve over soups, ramen, eggs, pastas and more. Store best in small mason jars with a sealed lid at room temp.
Peanut butter sauce
The ratios vary each time I make this depending on my mood and how heavy a hand I have for the day, but the ingredients remain the same. In the end, it creates a beautiful, smooth and umami-packed sauce that can be added to noodles, salads, steamed dumplings (for traditional hot and spicy wontons) and more.
Ingredients:
2 TBSP smooth peanut butter
2 TBSP water
1 TBSP soy sauce
1 TSP black vinegar (can be found at Asian markets)
½ TSP garlic powder
½ TSP onion powder
Chili crisp oil or hot sesame oil (optional)
Whisk peanut butter and water together to thin it out a bit. Add the rest of the ingredients and mix. Store in a glass mason jar with a sealed lid and pour over just about anything.
Imitation crabstick salad
This is my version of a taste of homemade sushi. You can find packages of bulk imitation crab in the cold section of most Asian markets. Each stick comes individually wrapped and can be torn apart. Break off a few sticks to create a fishy flavor that you can add to wraps, rolls and salads.
Ingredients:
3-4 crabsticks
1 TBSP Kewpie mayo
½ TSP hot sesame oil
Sprinkle of togarashi
Tobiko (optional)
Furikake
Sesame seeds
Break up the crabsticks using chopsticks. Add kewpie mayo, sesame oil, togarashi, tobiko (optional) and mix. Use the salad in a soba noodle bowl, as a salad topper or over rice. For extra credit, add furikake and sesame seeds for a more sushi-style experience. I will commonly pair this salad with jasmine rice, avocado, mini cucumbers and mixed greens for a healthy bowl. The best part? No reheating required, leaving office microwaves fish-free.
Credit: @foodloversdiary / instagram.com/p/CTLUNFKjsfY/
Mongolian meatballs
One of my favorite, go-to meals is this dish. It's super easy and quick to pull together to feed just one or many, and makes the best use of your pantry.
Ingredients:
Frozen home style meatballs (as many as you'd like!)
1 TSP sesame oil
4 cloves/1 TBSP garlic, minced
½ TBSP ginger, minced
½ cup soy sauce
2/3 cup water
½ cup brown sugar, packed
1 TBSP oyster sauce
2 TBSP hoisin sauce
Assembly:
Sesame seeds to garnish
Jasmine or sushi rice
Butter lettuce
Cook the frozen meatballs according to the package. Cook your preferred rice as directed. Meanwhile, whisk together ingredients to create a sauce. Bring to a simmer in a shallow saute pan, let thicken. Add in cooked meatballs and let the sauce soak in. Top with sesame seeds and serve over rice in a lettuce wrap.
Credit: cafedelites.com/mongolian-glazed-meatballs/
RELATED ARTICLES