Celebrating Black History Month: An Interview with Viola Davis
Rhode Island native and Hollywood leading lady, Viola Davis, talks poverty, #MeToo and finding her authenticity in this exclusive Q and A.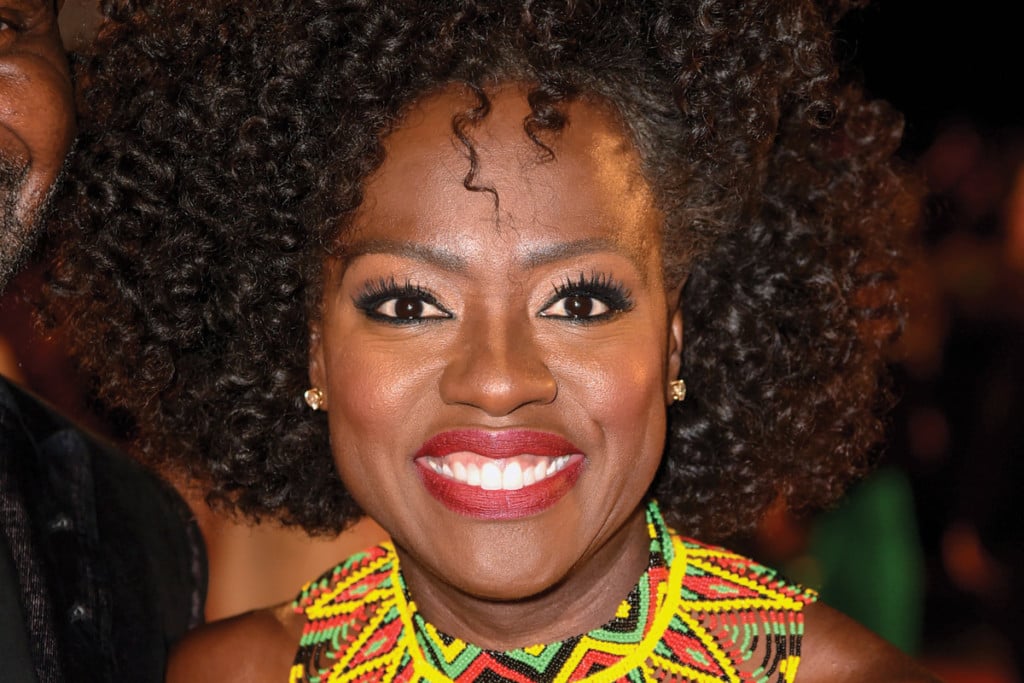 You have other massive projects in the pipeline, too, like Widows this fall. What excites you about this movie?
Oh, everything. It's up there with working with Denzel [Washington, in Fences]. It was the best experience, from the people I worked with and what their spirits were like, even outside of work, to their dedication to their work and their excellence.
Also, because the project is so female-driven and directed by a man who's so sensitive to the female narrative. And it literally is a diverse cast. You have me, and my husband is Liam Neeson. The women I perform the heist with are Elizabeth Debicki, who is Australian; Michelle Rodriguez, who is Hispanic; and Cynthia Erivo, who is black/British.
What I loved about the story in general is that it isn't just about the women who performed the heist. It's all the political aspects and the underpinnings of what makes Chicago, Chicago. It's all the underpinnings of how women sometimes give themselves over to men and allow men to carry them. It's about women taking control of their lives. But all of it is within this one dynamic storyline. It was just a joy of my life. I hope people love it.
You also wrote a Corduroy sequel. How did that come together?
I've always loved children's literature. My sister, Danielle, is eleven years younger than I am, so I would read fifteen, twenty books in a night with her. Everything from the Grimm fairy tales to the Pickles books — when these animals would get themselves in a pickle and they'd have to dig themselves out.
I've always loved children's lit because of the purity of the art form. And I love the Corduroy book because I love Corduroy. I love his innocence and his curiosity and I love that the main character is a little African-American girl named Lisa. I love their friendship, and I love that the backdrop is New York. And I love that they came to me and asked me to have Corduroy go to the theater. I think the theater is a magical place and it's a transformative place. I sort of did it for my daughter, too.
What do you do with your daughter and husband for fun?
We go to church. We go on trips. We take great trips — we've gone to Hawaii. We went to Rome this past year. My daughter and I go to Target all the time. We go to Yogurt Land, Pinkberry. We love to go to the movies. We actually have a little movie theater in our house. We let Genesis pick the movies and we watch them over and over again. E.T., The Goonies, Adventures in Babysitting: Everything we do is simple. Because our life is so much in the public eye, when we do get time together, it's real simple. And we love to cook. We have parties at our house and my husband and I do all the cooking.
What's your signature recipe?
Probably my collard greens. But for me — maybe I'm being braggadocious — it's a lot. My mac and cheese, my cornbread dressing, my paella, my coconut rice. We do it all. And my husband: Barbecue. He's from Texas, so it's great.
And your favorite movie?
It's a cross between Network and Citizen Kane. Whenever they're on TV, I am just totally transformed. All the movies I love are when you enter the movie thinking it's going to be one thing and it ends up being something so simple. It always guts me.
Out of all the actors in Hollywood you haven't yet worked with, who would be your top picks?
I would love to work with Vanessa Redgrave. I've never worked with my friend and pal, who I love, Alfre Woodard. And Phylicia Rashad — I've worked with her, but I'd love to do a movie with her. I'd love to work with Denzel again. Look at me. (Laughs.) And always Meryl, because I just love her. I love our conversations off the set, before we're doing a scene, almost more than doing the scene with her. It's endless. Dame Judi Dench, Helen Mirren.
Helen Mirren, your fellow Triple Crown of Acting winner.
Oh, yeah — that's true!
Viola Davis: Fast Facts
Raised in:
Central Falls, one of six children
Current hometown:
San Fernando Valley, Los Angeles, California
Alma mater:
Rhode Island College (graduated 1988; honorary doctorate 2002); Juilliard (1993)
When she decided to be an actor:
At age eight, Davis saw Cicely Tyson perform in The Autobiography of Miss Jane Pittman, which chronicled the life of an ex-slave. "She looked like my mom. She had full lips, dark skin; she was sweating; she had a small Afro. It catapulted me out of my world. I thought if I could do something like that with my life, it would be an honorable thing to do," she told Elle magazine in February. 
First role:
Woooo-Whee Kid from "That's My Mama," Skit Day at Jenks Park in Central Falls, 1974
On Rhode Island food:
"I think Rhode Island probably has some of the best restaurants in the country," Davis told the Boston Globe
in 2016, adding that she orders lobster bisque whenever she sees it on a menu. "There's one in Narragansett called Turtle Soup that I love." 
Big movie break:
Mrs. Miller in 2008's Doubt
Triple Crown accolades:
Oscar: Best Supporting Actress, Fences, 2017
Emmy: Outstanding Actress in a Drama, "How to Get Away With Murder," 2015
Tony: Featured Actress in a Play, King Hedley II, 2001; Best Actress in a Play, Fences, 2010
Best quote from her Oscar's acceptance speech:
"You know, there's one place that all the people with the greatest potential are gathered. One place and that's the graveyard…. And I say, exhume those bodies. Exhume those stories. The stories of the people who dreamed big and never saw those dreams to fruition. People who fell in love and lost. I became an artist — and thank God I did — because we are the only profession that celebrates what it means to live a life."
On screen now:
Widows, a heist film about four jilted widows who conspire to build fortunes of their own. Directed by Steve McQueen from a screenplay by McQueen and Gillian Flynn. Release date: November 16.
"How to Get Away With Murder" season five, airing now on ABC.
This interview, conducted in September of 2017, has been edited for clarity.