Celebrating Black History Month: An Interview with Viola Davis
Rhode Island native and Hollywood leading lady, Viola Davis, talks poverty, #MeToo and finding her authenticity in this exclusive Q and A.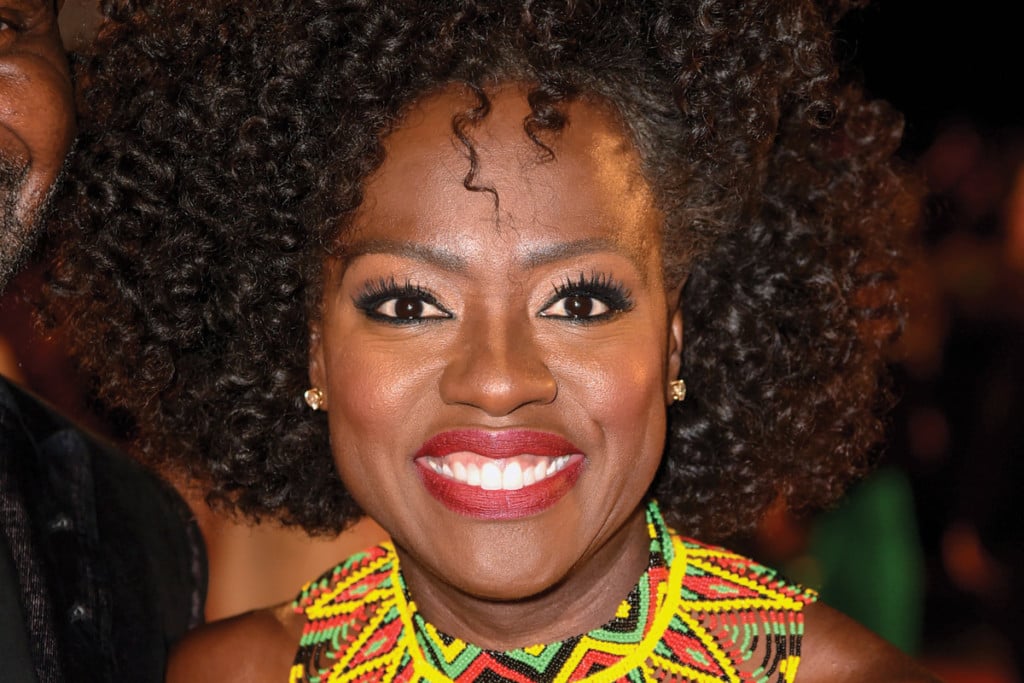 It's rare that we get to see such authenticity. That's what's so powerful about your work: You can evoke a character's humanity in a single look.
It's what the art form is about. It's about being private in public — sharing your innermost secrets with the audience. I don't care what character you play, even if it's a king or queen. It's not about the king being a king; it's about the king being a man. The more honest you can be with that, the truer you are to your art form.
What's happened today is no one makes themselves known. We wear the mask from the time we wake up in the morning and walk out of the door to the time we go home. It's exhausting, by the way. The only thing we share with the world is how good we look on paper, until that no longer works. The art form is about truth.
And yeah, there's a certain amount of entertainment to it. I went to see My Little Pony with my [seven-year-old] daughter and we had popcorn. I had a Diet Coke, she had a little Sprite. But even with My Little Pony, it was about friendship and it was about fear.
In "How to Get Away with Murder," you present the many layers of Annalise Keating. She's a woman of substance and she has a complicated back-story. Did you have a hand in making that happen?
I had them put it in. I said: "I am not going to play yet another woman on TV who whittles down — and not that I'm criticizing it, but for me — to size two, becoming just an extension of male fantasy because I don't know how to do that. That's not why I decided to be an actor. I decided to be an actor to unveil. I believe the power and potency of what we do is when we unmask and unveil. Indeed, when I did that, it not only resonated with African-American women, it resonated with all women.
That's just what we do. Our voices are five octaves over what they should be. We put on clothes we're uncomfortable in. We constantly are devalued by the way we look, then we devalue each other for the way we look. I didn't want to do that. I wanted to be a woman and it's worked out well. There's a famous theater teacher, Sanford Meisner, and he said, "You're not an actor until you're acting like no one else." I didn't want to act like everyone else. I wanted to find out who Anna Mae was.
You're also standing up for women in real life. You publicly admonished Hollywood producer Harvey Weinstein for his predatory, abusive treatment of female actors. Is sexual assault or harassment something you've had to contend with?
I've spoken to Mr. Weinstein maybe three seconds in passing. But I have had to contend with sexual abuse, absolutely, in my life — men touching me inappropriately. If I could look at all the women in my life — deep friendships, acquaintances, relatives — most of the women I know have been sexually assaulted in some way. Many have gone to their grave keeping their silence.
Why did you decide to speak out against Weinstein?
I've worked with the Rape Treatment Center at UCLA for the past five years, so I felt the responsibility to the survivors to say something. I understand how the story spread like wildfire, but we have to understand that one out of every five girls out there will be sexually assaulted by the time they reach eighteen. The problem isn't just in Hollywood, unfortunately. The problem is everywhere. The enabler has no face, just like the predator has no face. The predator could be a big Hollywood mogul or he could be a teacher or a janitor or a relative or a boyfriend. But there are heroes in this story. The heroes are the women who have opened their mouths. Because it takes a lot.
Why are they heroes to you?
Speaking out helps you to regain your sense of power and it takes the power away from the predator. He wants your silence because it removes him of responsibility. We're just in a day and age where I think we just need to do better. We need to understand that we've got to start taking care of each other. Maybe because I have a daughter that I just want to leave it a little bit better for her.
You created your own production company with your husband, Julius Tennon. Could you tell us more about JuVee Productions, as well as your forthcoming TV project, "Black Don't Crack"?
All of the projects that we have at JuVee are about inclusion. They're about honoring those voices that have been on the periphery in Hollywood because they've been deemed "not commercial." So usually they involve people of color, women of color, women — anyone who has been disenfranchised, whose story has not been portrayed.
"Black Don't Crack" fits under that umbrella. It's like a "Golden Girls" with women of color. And there are tons of other projects that we'll be announcing in the virtual reality world. We have a couple of big movies coming out as well as social reality projects. "The 4 Percent," which we're doing with the Innocence Project, is about the 4 percent of prisoners who are on death row who are innocent.
Why is it important to you and Julius to tell these stories?
Art has got to reflect who is out there. I go to Rhode Island all the time, and I see that blonde woman waiting for that RIPTA bus, and she's got her brown-skinned baby with the afro. And that's how you see the changing face of America. And what is out there for her? What is out there for him? What's out there for me? I always use my daughter as the example. I tell her stories at night, and a lot of times I make it up. And she always says, "Mommy, put me in the story. I want to be in the story." So I'm putting her in the story. I'm honoring that right there.