Celebrating Black History Month: An Interview with Viola Davis
Rhode Island native and Hollywood leading lady, Viola Davis, talks poverty, #MeToo and finding her authenticity in this exclusive Q and A.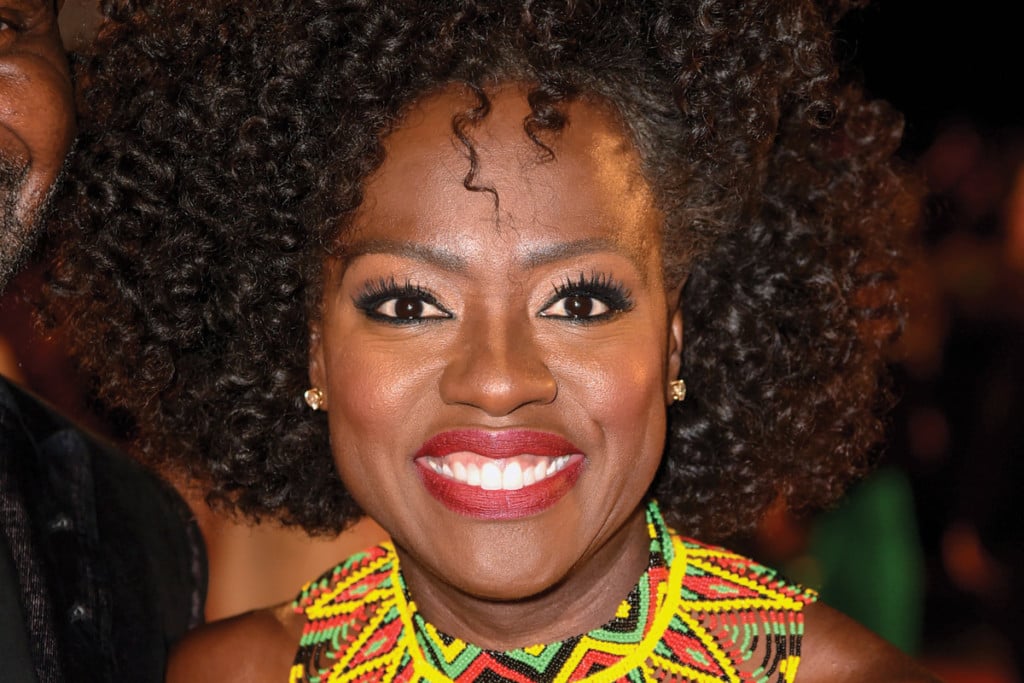 Editor's Note: We're celebrating Black History Month with a look back at an interview with award-winning actor, Hollywood leading lady, and now author, Viola Davis, who grew up in Central Falls. This interview is revised from an earlier version that was published on Nov. 21, 2018.
This woman. This exquisite, inspiring, outspoken woman. Patron saint of kids who grow up poor and dream big. Mother to Genesis. Wife to Julius. Feminist. Author. Producer. Character actor for the ages. Magnetic on screen and in life; in couture gowns or aprons; in one eight-minute scene or starring on primetime TV. She's roared and roared and roared. Finally, we hear her.
Viola Davis's rags-to-riches tale is well-worn: The now fifty-six-year-old actor was born in South Carolina. In search of work at a horse track, Davis's father moved the family to Central Falls, where they lived in abject poverty. As a kid, Davis devoured books from the city's Adams Memorial Library. She's repaid those literary gifts with monetary ones — a contagious act that inspired her well-heeled friends, Meryl Streep and Alec Baldwin, to do the same.
Davis's love of acting was nourished at Central Falls High School, where her sister, Deloris, teaches English and drama today. She went on to study theater at Rhode Island College, then Juilliard. With other Hollywood stars, we might end it here: The rest is history. But Viola the Great chipped away at her success. She fought for it. Conquered it. Took what she's deemed "fried chicken" roles and dug in as if they were filet mignon.
From the best friend (Eat, Pray, Love) to the wife (Fences) to the mother (Antwone Fisher; Prisoners; Doubt), Davis has added unparalleled depth to the supporting roles women play on screen and in life. She's earned her due on television as Annalise Keating, the sexy and complicated lawyer in ABC's "How to Get Away with Murder." And, after more than thirty-three years of stealing the show, Davis thunders to the forefront in film. She's the draw in Widows, a heist blockbuster that was released in 2018. In a star-studded cast, Davis shines the brightest. In 2020, she also starred in the film adaptation of Ma Rainey's Black Bottom, and earned a NAACP Image Award, a Screen Actors Guild Award and a nomination for the Academy Award for Best Actress. She is the most nominated Black actress in the history of the Academy Awards. Davis also is releasing her memoir in spring 2022. Look for Finding Me from publisher HarperOne, coming soon.
It's about damn time.
Rhode Island Monthly: What was life like for you, growing up in Central Falls in the late 1960s and '70s?
Viola Davis: We never had any food. After the public assistance check came every month, we would do our grocery run. There was never enough food to last to the end of the month. I was always hungry — always foraging for food wherever I could find it. Growing up in substandard housing that I was ashamed of. Never having a phone. Living in a condemned building that was infested with rats. Electricity, gas constantly being shut off so never having any hot water to bathe. That was a huge part of my childhood, mixed with me knowing that I was bigger than my circumstances, but not knowing how to show the world that. Not knowing how to tap into that. I grew up poor.
You've also been open about your home life carrying over into your school life.
I went to school and I was unruly because I wanted to be seen. I wanted attention. I was constantly disruptive. I lived with a lot of shame and I lived with a lot of secrets, because I am a child of an alcoholic. Secrets have a tendency to implode and make you angry. I do believe that it's a symptom of poverty but I also think it's a symptom of dysfunction, which can go into the middle class or the wealthy.
What's your perspective on poverty now?
I always say, and I will continue to say it: When you're poor, nobody sees you. You are invisible. You are not part of anyone's demographic. You don't have access to anything. Even if someone has a solution to a problem, the problem always requires some semblance of money. Even if someone says, "Contraception is only $40 a month" or "Buying that meal is only going to cost $15 a month." When you're poor, you don't have that $15. You don't have $5 to spare. You don't have money for transportation. It is so destructive that when you get out, the only thing you're thinking about is how to not go back there or how to help people who are still there.
What would you tell a young girl who is growing up, right now, in similar circumstances to yours?
Your poverty is not a reflection of you. There is a place inside all of us — I don't care how kumbaya this sounds — it's a voice. Everyone has it. With women and girls, we call it intuition. With me, I call it authenticity. And there is a place that's inside you that tells you exactly what you want and exactly who you are. And that's the only voice you need to listen to.
Another thing: We are put on this earth to connect. And it's through connection that you find a sense of belonging. It's no good just to be the lone wolf — to walk through life like "I can do everything on my own. I don't need any help. No one has to throw me a rope." I don't think there should be a stigma in asking for help. We've made that into a dirty word when, in fact, there is no way to get anyplace in this world without someone throwing you a rope.
Connecting with people — is that why you wanted to act in the first place?
I wanted to connect with myself. I was tired of living in secrecy. Secrets kill. I was tired of waking up feeling like, oh gosh, I'm a bedwetter. Oh, my god, I don't have any hot running water, no phone, I'm hungry, I don't think I'm pretty, I'm too fat. That's how I would start my day, then go to bed with that same narrative and not ever tapping into: "Okay, Viola: All those things may be true, but you're still worthy of love." For me, the theater was my way to explore my own authenticity, to release that shame, to forgive myself, to explore myself, to not apologize for the good or the bad. I feel like I show parts of that through my characters. Giving that to the audience, I'm sharing my story and I'm connecting to them on that journey.