A Walk Down Water Street in Warren
Explore Warren's art, eats and hidden gems.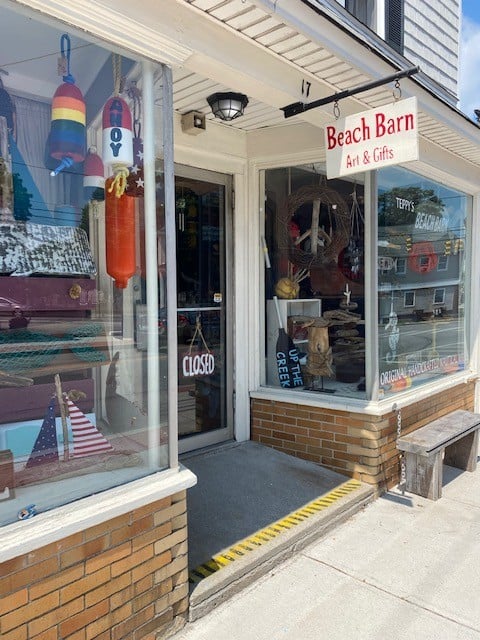 Warren is a bustling community of culinary and visual art. Main Street sees a lot of traffic as it sits on Route 114, but there is so much to explore. Nearby Water Street is home to local artists, unique clothing boutiques, amazing cuisine and more. If you want navigate Warren like a local, take a look at what Water Street has to offer.
Good Eats and Drinks
The Guild
Waterside Brewery and restaurant.
99 Water St Suite 2, 401-252-4275, theguildwarren.com
Square Peg
Popular spot in Warren for seafood, burgers and drinks.
Corner of Water st on 51 Miller St, Warren, 401-215-3831, squarepegwarren.com
The Revival
Easygoing atmosphere with American tapas and a lengthy bourbon and craft beer menu.
50 Miller St., Warren, 245-4500, therevivalcraftkitchenandbar.com
ByWater
Locally sourced seafood and delicious bakeshop
58 State St., Warren, 694-0727, bywaterrestaurant.com/
Wharf Tavern
Casual spot on the water for seafood, steak and drinks.
215 Water St., Warren, 289-2524, thewharftavernri.com
Trafford Restaurant
Refined New England Seafood with waterfront views.
285 Water St., Warren, 401-289-2265, traffordrestaurant.com
Cafe Water Street Coffee and Crepes
Locally roasted coffee, espresso drinks, baked goods and crepes right on the water.
279 Water St., Warren, 401-245-7071, cafewaterstreet.com
Blount Clam Shack
Classic, dockside warren hang out for classic New England seafood. (P.S. The mobile food truck can be found at Narragansett Brewery, Roger Williams Park Food Truck Fridays and more locations around the state.)
Waterfront Shack: 335 Water St., 401-245-3210, blountretail.com
Market: 406 Water St., Warren, 401-245-1800, blountretail.com/market/home
The Wright Scoop
This cute, silver RV serves fresh Ice Cream right on the water.
335 Water St., Warren, thewrightscoopri.com
Trinkets and Things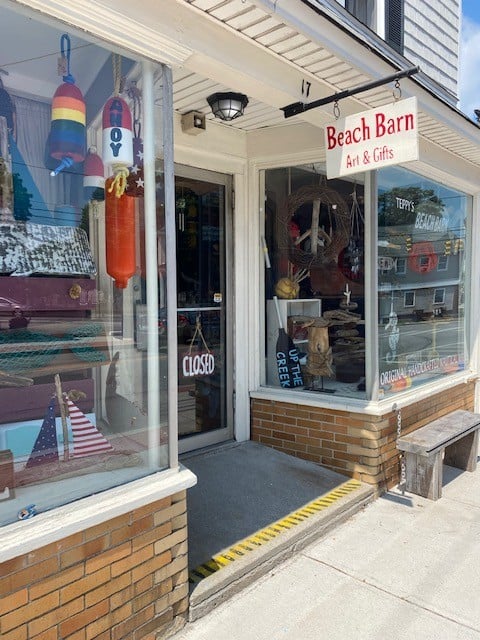 Beach Barn Arts and Crafts
Unique handmade nautical gifts.
17 Water St., Warren, 508-713-5398, beachbarnart.com
The Greenery
Full florist and gift shop.
63 Water St., Warren, 247-7100, thegreeneryri.com
In Your Ear
Classic Record Store with old and new records.
99 Water St., Warren, 245-9840, iye.com
Mill River Trading
Antiques, vintage estate and factory clean outs.
47 Water St., Warren, instagram.com/millrivertrading/?hl=en
Nest
Gift, home, and beauty decor featuring luxury candles and bath and body products.
147 Water St., Warren, 401-300-4129, nestonwater.com
Beehive
Handcrafted metal work featuring jewelry and ceramics.
332 Water St., Warren, 508-678-4335, beehivehandmade.com
Treat Yourself to Some New Threads
The Lady Next Door
Vintage thrift/consignment shop with clothing, house decor, jewelry, accessories, and textiles.
196 Water St., Warren, 903-2380, ladynextdoorvintage.com
Beleza
Trendy Women's boutique with affordable prices.
119 Water St., Warren, 314-0555, belezashoppe.com
Stylish Women's clothing boutique run by a mother and daughter duo.
155 Water St., Warren, 247-7705, dishri.com
Luca
Designer children's and maternity clothing consignment.
193 Water St., Warren, 289-2251, luca-ri.com
Local Art
Cerulean
Gift shop featuring work by local artists.
141 Water St., Warren, 508-274-7189, ceruleanri.com
"Fort Foreclosure" Art Studio of local artist William Schaff, who had done cover art for bands such as Okkervil River and Brown Bird.
164 Water St., Warren, williamschaff.com
Hidden Gems
TTBikeFit
Speciality bike fitting and building with one of the few Vertex Fit Systems in the world for serious training.
337 Water St., Warren, 237-4544, ttbikefit.com/tfl/ttbikefit
Chomp (Coming Soon)
New Chomp location coming to Water Street right on the water by Cafe Water Street and Trafford's. Owner Sam Glynn proposes opening in mid-October but is subject to change. Stay tuned!
Coming soon to Water Street, chompri.com