A Day Trip to Mystic Pizza
This Connecticut pizza joint played host to a 1980s coming-of-age film and never lost an ounce of its charm.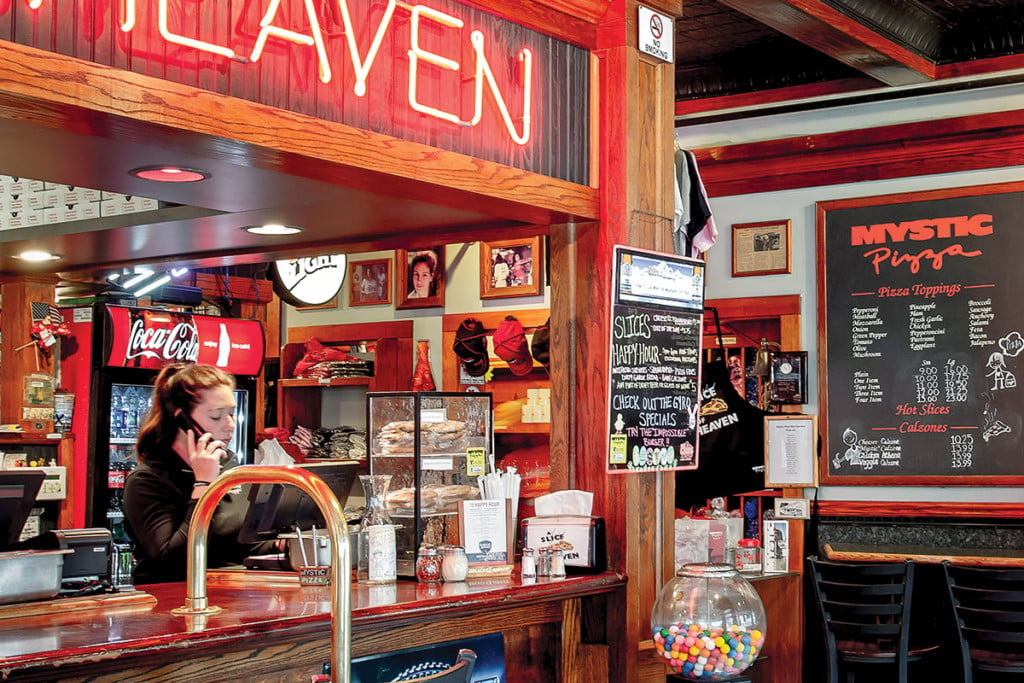 A bell chimes as I push through the front door and escape the brisk spring winds. As my eyes adjust to the dim lighting, I zero in on the large, red neon sign that reads "A Slice of Heaven" above a long mahogany bar. Beneath the sign, three men on barstools, steaming mugs of coffee in hand, briefly look my way before two return their gaze to the baseball game playing out on a flat screen beyond the bar. The third resumes his easy banter with the bartender.
"What can I get you?" she asks, smiling from a joke one of the patrons just made. I ask for the manager, Nicky Torres, and as she disappears into the back room, I notice that almost every inch of the building appears to be covered in framed photos. The bartender reappears and assures me that Torres will be out in a few minutes. I'm welcome to take a seat at the bar while I wait.
I decide to explore a bit instead.
A walkway to my right gives way to the entrance of the restaurant part of the establishment. The hostess greets me and asks if I'm meeting someone, but I shake my head and say I'm just taking a look around. She gives me a knowing smile as I cross the threshold into the dining room. In true, old-school pizza parlor fashion, the eatery is outfitted with cozy-looking booths and tables, its walls also covered in paraphernalia, and a soft rock tune radiates from an overhead sound system. Despite it being 11 a.m., half the seats are taken. Waitresses are busy milling around, women chat animatedly over half-eaten salads and kids sport toothless grins as they reach for fistfuls of cheesy goodness from their high chairs.
Taking it all in, it's easy to see why screenwriter Amy Jones would have been charmed by the joint while summering in the area during the early '80s. So much so, in fact, that Mystic Pizza inspired not just the setting, but also the title of her coming-of-age film.
I have to admit, prior to seeing the film as a teenager, I had assumed that the storyline of Mystic Pizza revolved around a pizza with mystical qualities (clearly, I hadn't seen the trailer). Never mind the fact that I had made several trips to Mystic Aquarium growing up — surely "mystic," in this context, meant "magical" and had nothing to do with the town of the same name located just a half an hour west of Rhode Island. Imagine my surprise when, at the insistence of an older cousin, I rented the film and instead experienced a romcom about three young waitresses — two sisters and their best friend — in the midst of navigating their way through varying states of love and life in the confines of their small seaside town of Mystic, Connecticut. Honestly, as much as I love me some fantasy films, I was relieved to find that no supernatural forces were involved.
For those who aren't as familiar with the film, it's important to note its significance in cinematic history: Mystic Pizza, which was released in 1988, is often cited as Julia Roberts's big break (she would go on to star in Steel Magnolias the following year, a role that earned her an Oscar). In Mystic Pizza, we're introduced to Roberts as the rash-yet-vulnerable Daisy, a girl who just wants to have fun and get out of her hometown.
Roberts is as lovable and relatable as ever, delivering zingers, charisma and sentiment with ease. She and the rest of the cast fit right in with the small-town-on-the-East-Coast scenery and vibes. There's the aspiring Ivy League student; the blue-collar boyfriend who works on the docks; the disapproving old-money parents in a classic, ritzy New England dining room; the Catholic wedding ceremony set inside a beautiful historic church; the teenagers who ache to see more of the world.
But at the center of it all is Mystic Pizza itself — a Portuguese family-run eatery that, while often struggling to make ends meet, all the locals adore and go back to time and time again for both the food and the company. It's a concept pretty close to the real-life story.
"The owners, John and Chris Zelepos, are actually Greek. They were always in the restaurant business, starting out with a restaurant in New London," says Torres when we meet up at the bar. "Eventually, one of their vendors — a close friend who worked for Coca Cola company — told them about a place up for rent in Mystic. They decided to check it out and they loved the area. So, they opened Mystic Pizza in 1973."
It wasn't long before the parlor made a name for itself with the locals, touting a delicious, unmatched pizza sauce derived from a "secret recipe."
"We use the sauce in every pizza, but our house special is definitely the most popular," says Torres. "I would eat it every day if I could but obviously that wouldn't be the healthiest choice…. So, personally, I love our Greek salad. It's packed full of feta cheese, tomatoes, grape leaves — which you don't always find in Greek salads — and topped with an amazing homemade Greek dressing made with pepperoncini and feta."
Mystic Pizza is also celebrated for other specialty pizzas, like the Grecian Delight, barbecue chicken and Hawaiian variations, as well as comfort food dishes like gyros, calzones, burgers, pasta dinners and fried fish. Plus, the dessert menu boasts mouthwatering apple pie and cheesecake dishes while the bar is fully stocked with beer, wine and sangria. While the eats and drinks are a resounding triumph, Torres points out that there's more to it.
"Yes, people come for our pizza, and yes, Mystic is a great tourist area, but I also feel like it was a success from the start because it's like your local 'Cheers,' " she explains. "Most people end up working here for years and we all become like family. So, because we work together like that, we like to have our customers feel that way, too. We try to memorize everyone's faces and names and make it feel like a home away from home."
Still, it can't be denied that the film has done its part, too. Though most of Mystic Pizza's parlor scenes were filmed on a set, the three main characters donned T-shirts with the real Mystic Pizza logo. Plus, the script did well to praise its house pizza (aptly called "the Mystic Pizza" in the film).
For context — be warned: spoilers ahead! — one subplot of the movie centers around the protagonists' obsession with a celebrity food critic known for his picky, Simon Cowell-esque demeanor. When he shows up to the parlor, everyone goes into a tizzy, making sure to serve him the best Mystic Pizza they've ever made. The critic takes a few bites, promptly pays his bill and leaves without boxing up the rest of the pie, making it seem like a terrible review is on the horizon. However, when the girls tune to his show at the end of the film, he calls the pizza "in a word: superb" and grants the establishment his highest rating of four stars. After the review airs, the phone immediately starts ringing and, much to the amusement of the owner, someone asks if they can make a reservation. It's clear that the fictional Mystic Pizza will never be left wanting for customers again. In this case, life imitated art.
"It's been crazy ever since the movie came out," says Torres.
As the menu proudly claims to this day, after the release of the film, the little pizza shop "could barely keep up the demand. Customers lined the sidewalk, waiting to taste 'a slice of heaven.' Menus and matchbooks disappeared in amazing quantities. Cars on Main Street dangerously avoided pizza fans who straddled the yellow lines angling for photos." And so, they not only opened a second location in the neighboring town of North Stonington, but also developed a frozen pizza line for various stores nationwide to satisfy non-locals.
But the original brick and mortar doesn't shy from its claim to fame. In fact, it embraces it. Those abundance of frames I mentioned earlier? They contain stills from significant scenes in the film, Julia Roberts headshots, maps of Mystic Pizza walking tours throughout Mystic and more. The bar area also features a merchandise store where you can purchase themed aprons, hats, T-shirts, mugs and shot glasses.
"People who are visiting the East Coast for the first time make a point to stop here. So many people grew up with the film, it's a huge bucket list item for them," she says. "The Navy recruitment center isn't too far from here, so we'll get Navy guys coming in all the time saying, 'I promised my mom I'd get her a T-shirt while I was here.' "
Tourists also come in asking for the inside scoop. "One story the owner always likes to tell is when he carded the whole cast — including Julia Roberts. They came in one day to hang out after shooting and they tried to order beer," Torres says with a laugh. Roberts, who hit the legal drinking age seven days after the movie's release date in October of 1988, would have only been nineteen or twenty at the time of filming.
And, of course, many visitors want evidence of their visit. Torres knows the best places to take pics — from where to stand to capture a group beneath the iconic neon sign to what angle to shoot from when helping to recreate a scene.
"I never get tired of it," she says. "I love how excited everyone is."
The rest of the town seems to feel the same way. In fact, downtown Mystic just celebrated the thirtieth anniversary of the film last year. "There was a big celebration in the town square. They played the film like it was a new release and we provided a ton of pizzas," Torres recalls. "Unfortunately, I couldn't really partake in it, though. We were packed over here!"
Mystic Pizza is also a regular participant in local events. This summer it already has two dates to look forward to, Torres says.
"On August 10, they'll shut down all the streets in Mystic for the vendors to set up for the Mystic outdoor art festival. We'll be outside with our slice machine and serving slices throughout the festival. It's a great time!" she says. "We'll also do something similar for Mystic Eats. It's a riverside food festival that supports and features all of the locally run restaurants, like us. It's a really nice way to celebrate the Mystic community."
As I leave and take a picture of the iconic Mystic Pizza sign for my own "records" (read: Instagram), I realize that Mystic Pizza will always have a big role not just in the community, but in the hearts of people across the nation. Movie watchers will always love the way the small-town story made them feel, locals will always adore the family vibe and built-in nostalgia, and patrons (old and new) will always appreciate the gosh-darn-good food.
So, who knows: Maybe the sauce really is magical, after all. Mystic Pizza, 56 West Main St., Mystic, Conn., mysticpizza.com