A Day Trip to Mystic Pizza
This Connecticut pizza joint played host to a 1980s coming-of-age film and never lost an ounce of its charm.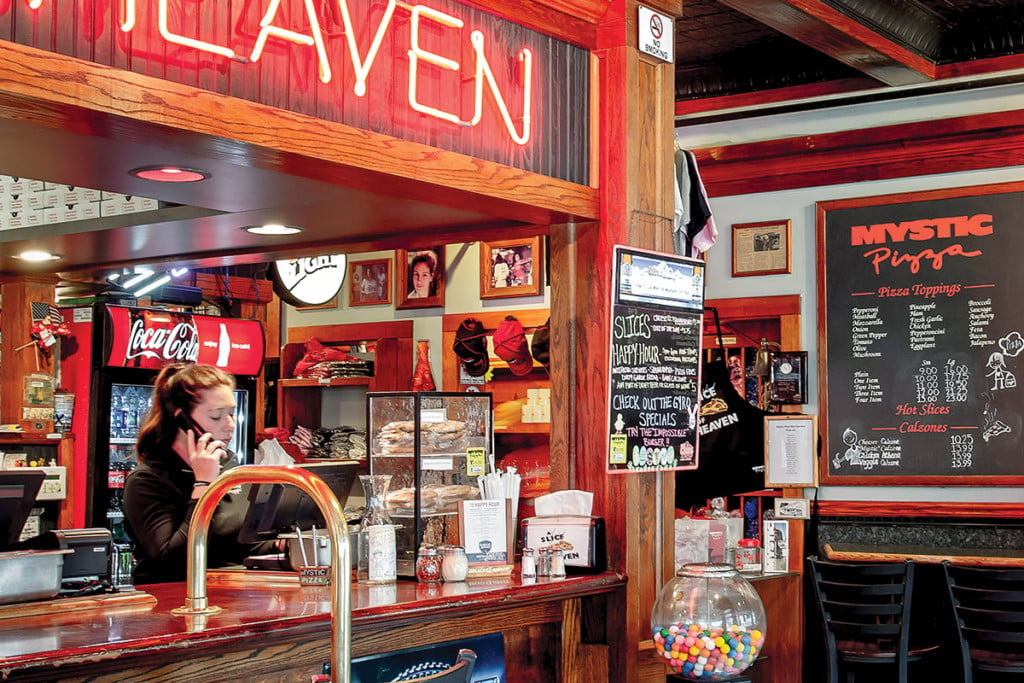 Where to eat
Friar Tuck's Tavern
An unassuming basement pub from the outside, Friar Tuck's is a hidden gem with a lively and inviting atmosphere. This local hotspot hosts live music every weekend and is known for its eccentric menu of English and Irish-inspired pub fare, an impressive drink selection and friendly service. Enjoy one of the twenty-four beers on tap along with an authentic plate of bangers and mash. 12 Water St., Mystic, Conn., 860-572-6069, friartucksmystic.com.
Vault Coffee
Located in Olde Mistick Village, Vault Coffee is a locally owned cafe specializing in small-batch freshly roasted coffee. Indulge in a wide selection of espressos, lattes, smoothies and more to sip on while strolling through the village. Be sure to visit on a weekend so you can pick up a few gourmet doughnuts from Vault's sister brand, Deviant Donuts. 27 Coogan Blvd., Mystic, Conn., 860-415-5045, facebook.com/vaultcoffee.
Oyster Club
Nestled in the heart of downtown historic Mystic, the Oyster Club is the area's top spot for sea-to-table New England cuisine. Using local ingredients, this popular seafood joint is home to creative dishes, craft cocktails and a treehouse dining patio that overlooks the river. The Oyster Club's chic and cozy atmosphere is great for any occasion, from date night to girls' night. 13 Water St., Mystic, Conn., 860-415-9266, oysterclubct.com.
Mystic Drawbridge Ice Cream
Next to the Mystic River Bascule Bridge, Mystic Drawbridge Ice Cream is a fan-favorite dessert parlor with a history that spans to the early 1800s. Carefully crafted in small batches, the locally sourced ice cream is sure to satisfy your sweet tooth. Keep it simple with a classic scoop of chocolate chip cookie dough or shake things up with one of the shop's original flavors like Mystic Turtle or Seaport Salty Swirl. 2 West Main St., Mystic, Conn., 860-572-7978, mysticdrawbridgeicecream.com.
A short drive away
Chester's BBQ
Bringing the taste of Texas to Connecticut, Chester's BBQ is your one-stop-shop for authentic, Southern-style barbecue. Smoked for up to sixteen hours, the signature ribs, brisket, wings and more are fall-off-the-bone tender and seasoned to perfection. In addition to signature meats, Chester's also offers a variety of classic barbecue sides including chili, cornbread, collard greens and more. 943 Poquonnock Rd., Groton, Conn., 860-449-6868, chestersbbq.com.
Breakwater
Sitting along scenic Stonington Harbor, the upscale Breakwater is home to an extensive menu of fresh seafood and classic American cuisine that is quintessential New England. The menu also offers a variety of vegan and vegetarian dishes including Thai green curry and a roasted vegetable grain bowl. 66 Water St., Stonington, Conn., 860-415-8123,breakwaterstonington.com.
Noah's Restaurant
Using fresh, local ingredients, Noah's Restaurant has been serving up hearty and satisfying scratch-made comfort food since 1979. With extensive breakfast, lunch and dinner menus including everything from blueberry pancakes to porterhouse pork chops, you'll be sure to find a tantalizing dish that catches your eye. 113 Water St., Stonington, Conn., 860-535-3925, noahsfinefood.com.
Where to explore
Fields of Fire Adventure Park
Adventurers and adrenaline-seekers won't want to miss out on the fifty acres of fun comprising seventy-six elevated ropes courses designed to suit a range of skill levels. This aerial excursion promises to challenge your mind, body and spirit. Anyone older than age seven is welcome to strap in and spend a few hours climbing among the trees. 715 Noank Ledyard Rd., Mystic, Conn., 860-449-4628, fieldsoffiremystic.com.
Mystic Aquarium
Home to more than 300 species of marine animals, Mystic Aquarium is guaranteed fun for the whole family. Discover the exciting and immersive exhibits that put you face-to-face with beluga whales, sharks, sea lions and more as you learn about ocean life and animal conservation. You can even get a hands-on experience with some of these aquatic creatures at the stingray pool and Long Island Sound water table. 55 Coogan Blvd., Mystic, Conn., 860-572-5955, mysticaquarium.org.
Mystified Escape Rooms
Test your puzzle-solving skills at Mystified, a locally owned and operated escape room company. The live-action mystery game gives you sixty minutes to escape a themed room through a series of interactive clues, puzzles and riddles. With rooms for both amateurs and experts, Mystified is a great place for anyone looking to channel their inner Sherlock Holmes. 14 Clara Dr., Mystic, Conn., 860-245-5136, mystifiedct.com.
Mystic Seaport Museum
Since its founding in 1929, the Mystic Seaport Museum has become the nation's largest maritime museum. Climb aboard more than a dozen historic vessels, including the world's last surviving wooden whaleship, as you immerse in our country's rich relationship with the sea. The museum is home to a working preservation shipyard, world-class exhibits, a planetarium, historic gardens and more, promising a full day of learning and fun. 5 Greenmanville Ave., Mystic, Conn., 860-572-0711, mysticseaport.org.
A short drive away
Stonington Vineyards
One of the founding members of the Connecticut Wine Trail, Stonington Vineyards rests on fifty-eight acres of exquisitely preserved land that's home to concerts, festivals and more. The winery is best known for its barrel fermented chardonnay and proprietary blends. Pack a picnic and head down to the vineyard where you can enjoy a tasting and a complimentary tour. 523 Taugwonk Rd., Stonington, Conn., 860-535-1222, stoningtonvineyards.com.
Mashantucket Pequot Museum and Research Center
Owned and operated by the tribe since 1998, the Mashantucket Pequot Museum and Research Center is an educational facility dedicated to the histories and cultures of Native Americans in the northeast. The expansive exhibits and collections of crafts, preserved artifacts, films and more encourage visitors to engage with the rich history of the Pequot tribe and learn about the lives of Native Americans today. 110 Pequot Trl., Ledyard, Conn., 800-411-9671, pequotmuseum.org.
Ocean Beach Park
For a day of fun in the sun, head to Ocean Beach Park where you can lounge on a pristine sugar sand beach or cool off in an Olympic-size freshwater pool. With waterslides, a carousel, miniature golf and more, there is no shortage of excitement at this recreational park. Grab an ice cream cone and take a stroll down the half-mile boardwalk as you soak in all that summertime sweetness. 98 Neptune Ave., New London, Conn., 860-447-3031, ocean-beach-park.com.
Where to shop
Olde Mistick Village
Peruse through more than sixty shops at Olde Mistick Village. This picturesque eighteenth-century style village is sure to do a little damage to your wallet (but you deserve to treat yourself every once in a while). Filled with a diverse community of small businesses, you can find everything from locally made gifts and designer apparel to gourmet popcorn and olive oil. 27 Coogan Blvd., Mystic, Conn., 860-536-4941, oldemistickvillage.com.
Bank Square Books
Independently owned and operated for twenty-five years, Bank Square Books is renowned in the community for its vast selection and helpful staff. From classics to new and noteworthy bestsellers, this charming bookstore has a little something for everyone. The store also hosts a variety of events year-round including workshops, author signings, toddler storytime and more. 53 West Main St., Mystic, Conn., 860-536-3795, banksquarebooks.com.
Tidal River Clothing
Tidal River Clothing in downtown Mystic offers a diverse selection of nautical apparel, accessories and souvenirs. Locally owned and operated since 2004, this chic shop prides itself on its quality goods and great prices. Shop products from brands like Patagonia and Life is Good as well as locally made merchandise so you can sport your Mystic pride wherever you go. 28 West Main St., Mystic, Conn., 860-536-6371, tidalriverclothing.com.
A short drive away
The Velvet Mill
What was once home to the American Velvet Company now stands as a restored mill with local art studios and small businesses. First opened in 1892, the Velvet Mill now features an eclectic mix of artisans, vendors and professional services with everything from a bath product company to a fitness studio. Stroll through this unique community of local creatives and retailers and see what treasures catch your eye. 22 Bayview Ave., Stonington, Conn., 917-915-6340, americanvelvetmill.com.
Grand and Water Antiques
Since 1994, Grand and Water Antiques has served the community with a carefully curated collection of one-of-a-kind antiques. Bringing a modern twist to vintage furniture, home decor and more, this charming shop is dedicated to keeping history alive and fresh. Browse the ever-changing stock of items as you learn about the story of every piece. 135 Water St., Stonington, Conn., 860-535-2624, grandandwater.com.