Where to Find the Perfect Christmas Tree in Rhode Island
No matter your hometown, we have a nearby farm you can support this holiday season. Plus: Growers' tips for keeping your tree fresh.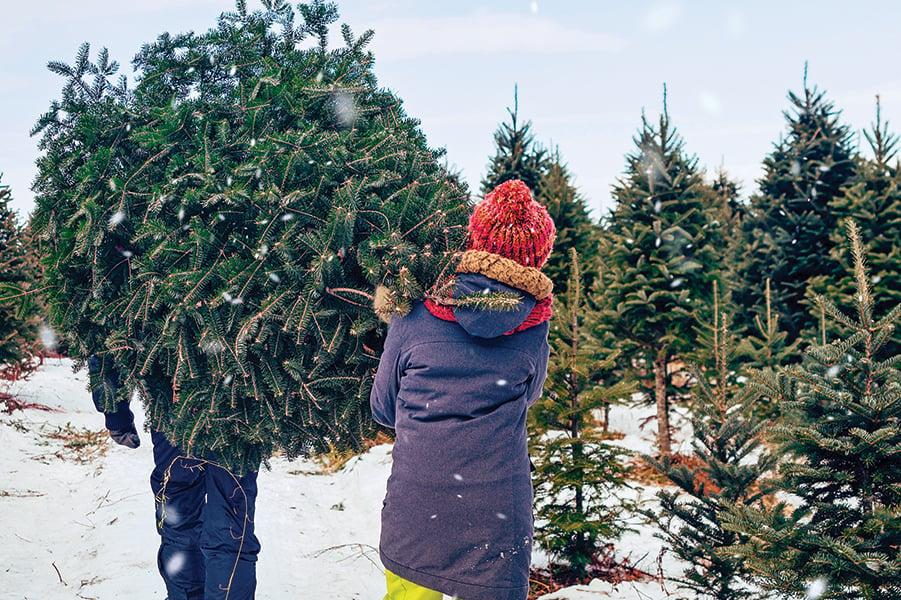 Some people associate the month of November with Thanksgiving, while others see it as merely a precursor to Christmas. If you're in the latter category, then you know it's time to start thinking about where this year's evergreen is coming from. We've rounded up options in every corner of the state — no matter where Santa is dropping off your gifts this season.
SOUTH
Riverside Christmas Tree Farm
History: Riverside Farm has been in co-owner Jane Durning's family since 1905 when her great-grandfather bought the property (fun fact: he was also the first police chief in Charlestown). "My husband, Kevin, and I started growing Christmas trees in 1988," she says. "We plant about 1,000 trees each spring. Right now, we have approximately eight acres of trees in all stages of growth from small seedlings to ready to cut."
Species available: Blue spruce, white spruce, Scotch pine, white pine, red pine, Fraser fir, balsam fir, Korean fir, white fir, concolor fir and blue balsam fir.
Services: Tagging, choose and cut
More: Wreaths, cemetery baskets and home decor items handmade by Durning herself are also for sale at the farm, as well as homemade craft items from local artists. Depending on COVID-19 guidelines at the time of opening, she also hopes to provide a hot chocolate, hot cider and popcorn station.
Hours: Open Saturdays and Sundays from 10 a.m. to 4 p.m. (or by appointment) starting the weekend before Thanksgiving and ending the weekend before Christmas or when the lot is empty. "I strongly suggest choosing your tree earlier than later this year," Durning says. "Last year, we sold out of all the trees we wanted to sell by the first of December. I feel that this will happen again this year. We do allow tagging and that may be the way for customers to select their perfect tree but not need to cut it until later in the season."
80 Burdickville Rd., Charlestown, 364-8733, riversidetreefarm.com
Also check out: Pinecrest Farm in Richmond, Big John Leyden's Tree Farm in West Greenwich
EAST
Pachet Brook Tree Farm
History: Aptly named after the body of water running through it, Pachet Brook Tree Farm's origin dates to the 1680s when its ninety acres were first settled. Current owner Jean Helger-Bento's grandmother purchased it in 1905 and it's been handed down through the generations. "I grew up on the farm," says Helger-Bento. "And then I first planted Christmas trees in 1980 and have planted them every year since." Her trees not only grew in size but in reputation, eventually catching the eye of the governor's secretary. "She visited the farm and selected one for the State House. I continued to supply the State House with a tree for several years." Just as impressive, the farm has also laid claim to the Rhode Island State Champion Tree multiple years in a row, and has supplied trees for the Newport mansions, colleges, city halls and more.
Species available: Meyer, Norway and white spruces; balsam, Korean, Nordmann, Fraser and Douglas firs.
Services: Tagging, choose and cut and precut trees (plus tree baling)
More: Pachet also offers tree stands, wreaths, local honey, Rhode Island maple syrup and more in its on-premises gift shop.
hours: The farm opens Sunday, November 21. Hours are 10 a.m. to 4 p.m. on weekends and the Friday after Thanksgiving. Following the holiday weekend, additional hours include Thursdays and Fridays from noon to 4 p.m.
4484 Main Rd., Tiverton, 624-4872, pachetbrook.com
Also check out: Sweet Berry Farm in Middletown
NORTH
Seven Cedars Farm
History: "Seven Cedars Farm was established around 1965 by my grandfather, John F. Emin, Jr.," says Jocelyn Emin. "My grandparents had five kids and there were seven large cedar trees on the property. With the number of trees on the property coinciding with the number of people in the family at the time, they decided on 'Seven Cedars Farm' for the name." More than fifty years later, the Emin family — including Jocelyn and her grandfather, John, as well as her father, Seth, and her sister, Marina — continues to head and run the farm. In addition to the Christmas trees they've come to be known for, Seven Cedars also boasts seasonal offerings such as spring flowers, fall flowers, different craft festivals and its own haunted hayride. "We've found from customers that we've become a tradition of sorts, whether it be for picking a Christmas tree — we have families of multi-generations who come yearly — or going on a hayride," says Emin. "We love not only teaching our customers about our farm but also learning about them in the process. A fun historic fact is that the houses on the farm were built in the 1700s. One that sits alongside the property was the home of Colonel Elisha Mowry during the Revolutionary War. It stored a third of the Revolutionary War arms used in the region."
Species available: Balsam fir
Services: Tagging, choose and cut and precut trees
More: The Emins also make and sell wreaths of different sizes, door swags, centerpieces and more. Keep an eye on Seven Cedar Farms' Facebook page to learn more about the Christmas caroling hayride, which is up and running after a COVID-induced hiatus.
Hours: See website and/or Facebook for details.
20 John Mowry, Rd., Smithfield, 263-7330, sevencedarsfarm.us