Travis Landry, Pop Culture Expert
The "Antiques Roadshow" appraiser made his first big score at thirteen and, a decade later, he's still hunting for more great deals.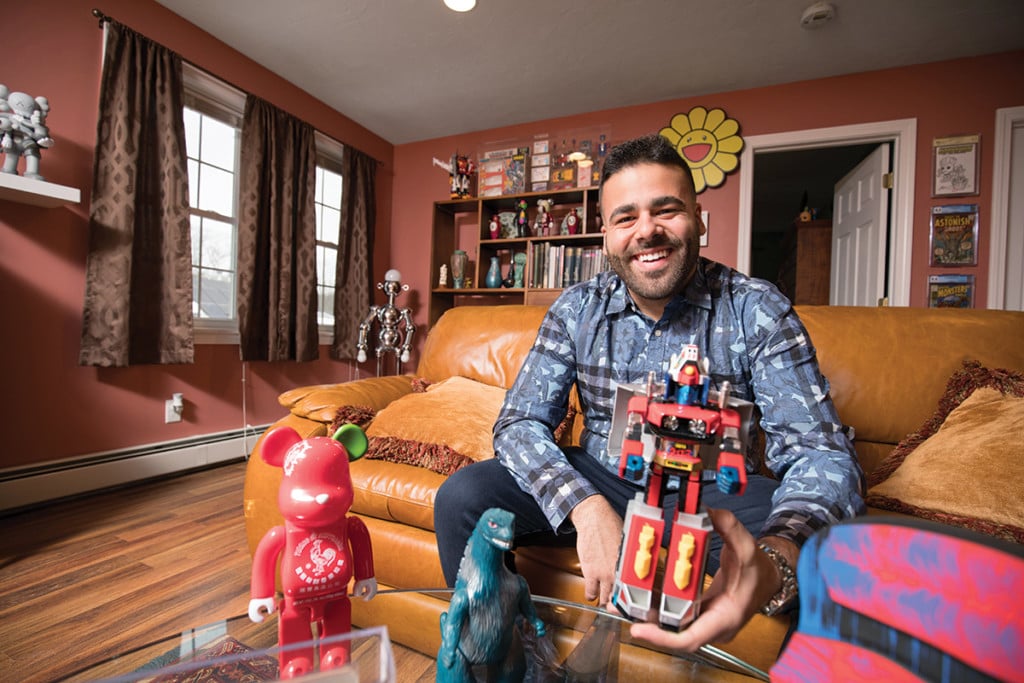 Like a lot of twenty-three-year-olds, Travis Landry still lives at his parents' place, in a second-story addition above his dad's garage.
But unlike any other twenty-three-year-old, Landry holds a coveted position as an expert appraiser on the popular PBS program "Antiques Roadshow," where he is an authority on toys, games and collectibles.
Landry looks older than his age, partly thanks to a dark beard he grew several years ago for just that reason. "If I shave, I have a baby face," he says.
The beard might hide the baby face, but Marsha Bemko, executive producer for "Roadshow," says Landry is the youngest appraiser the show's ever had. Bemko says she hears from a lot of would-be experts who think they're ready for the national exposure of "Roadshow." Ninety-nine percent of the time, they're not.
But Landry is an exception.
"I adore him. He knows I adore him. And I'm very direct with people," Bemko says. "I think a lot of him and I value him immensely…. If someone comes onto the set and just can't cut it, we'll know right away. But Travis is in. He's a roadie."
In a December 2018 WGBH-TV broadcast of "Junk in the Trunk," which featured unseen appraisals from the previous season of "Roadshow," Landry was in Green Bay, Wisconsin, checking out a 1980 art proof by Bob Kane, the creator of Batman. The poster depicted the Joker as a puppet master manipulating Batman and Robin.
Landry was excited. "It's a great work of art…it doesn't get any better. The Joker, playing with Batman and Robin? You're looking at $1,500 to $2,500 at auction. Any day of the week," he says.
And on a new episode of "Roadshow," which aired January 21, Landry was in Rochester, Michigan, looking over a set of 1940 Superman trading cards a widow had inherited from her ninety-one-year-old husband. Amazing collection, Landry says. Given the paper drives held during World War II, it was remarkable the cards survived at all. But he points out the flaws in card #1, the most valuable of the group. Creases. Yellowing of the paper. Slightly off-center printing. It's probably worth between $200 and $300, he says. But in perfect condition, it could have reached $20,000 at auction.
Appraisers on "Antiques Roadshow"— the program uses a rotating cast of about 150 — don't get paid. Not even expenses. In Landry's case, the bills are footed by his regular employer, Bruneau and Co. Auctioneers in Cranston, where he does a bit of everything but holds the title of director of pop culture.
Owner Kevin Bruneau says "Antiques Roadshow" can bring invaluable exposure to his business. "The idea is that if people have pop culture [items] to sell, they bring them to Travis," Bruneau says.
Bruneau has been in the antiques and auction business in Rhode Island since the early '90s, and he remembers Landry at eight years old, coming to auctions with his family and talking knowledgeably about Japanese swords. "He would sit there and talk, just the way he does now, about Japanese swords. He understood how important it is to be smart," he says.
Landry was working for another auction house in Massachusetts when Bruneau poached him for his own business. Landry was just nineteen.
"I was trying to show him his value," Bruneau says. "I saw a need to take what he had and put it out there. 'You want to put on a comic book auction? Let's go for it, dude!' "
Before Landry came along, Bruneau says, he didn't deal in comic books or pop culture. But now he does, in order to take advantage of Landry's expertise.
Talk to people who know Travis Landry, and the same themes emerge: His work ethic. His ambition. His knowledge. His enthusiasm. A similar phrase recurs: "This kid is going to go far."
But just where that will be is still unclear.
"Ten or fifteen years from now? I don't think about it. I just want to be the best at what I do. Never stop learning. Never settle," Landry says.
Meanwhile, he still needs to graduate from college. For all his expertise, Landry's college career has been a bit erratic.
He started in 2013 at the University of Massachusetts-Lowell, where he wanted to study nuclear engineering. His ultimate goal was to be an astrophysicist, the next Neil DeGrasse Tyson. It may seem an odd ambition for a pop culture expert, but Landry says he always loved astronomy, and he was inspired by the example of his older brother, Kyle, chief scientist at Liberty Biosecurity LLC and a lecturer at Boston University.
But then he started taking chemistry and physics courses. Not a good match for Landry. "I hated it," he says.
He switched to economics, which he liked better. Until he had to take calculus. "Calculus was not my friend," Landry says.
So he switched again, this time to liberal arts with a focus on art history. He transferred to Framingham State University. His grades were good, but his attendance was lousy. "I kept having to skip classes to go to an auction, look at someone's collection, work at the auction house," Landry says.
He had to re-apply to Framingham, because he had missed two semesters of classes, which made him an inactive student. Now, he is set to graduate in May.
Auctions and collecting are in the Landry family DNA. His dad, Ronald Landry, chief of police in Millville, Massachusetts, acquired vintage cars and coins. His mom, retired nurse Tammy Landry, went for Roseville pottery, jewelry and furniture. Kyle, eight years older than Travis, worked with his dad restoring cars and still collects whistles, pinball machines and firearms.
"I've collected all my life," says Ronald, a former Woonsocket police officer before taking the job in Millville in 2007. "We would go to auctions and flea markets all the time, and I used to drag the kids along."
Friday night was auction night for the Landry family, and Travis started attending auctions when he was still a baby in his parents' arms.
As a kid living in Cumberland, Landry gravitated to Transformers. He still remembers his first, a 1985 G-1 Jetfire he received as a Christmas present in 2005. Although Landry has moved on to other interests, such as contemporary art and antique furniture, he can still talk about Transformers in mind-numbing detail.
Curiously, Landry was never interested in actually playing with Transformers. (Nor does he read comic books.) His passion is for collecting, investing, buying and selling.
Early on he displayed a precocious entrepreneurial streak. When he was thirteen, he bought a collection of Transformers with a $700 loan from his parents, only to turn around and sell it for $1,400. (And, yes, he paid them back.)
His friend Jared Wickham from Winthrop, Massachusetts, met Landry at BotCon, a Transformer convention in Cincinnati in 2008, when Landry was about thirteen. They bonded over their New England nametags and have stayed close ever since. "I got to watch him wheel and deal at the convention; he was far more mature than you would expect from a kid who was twelve or thirteen," Wickham says. "He would use his age to his advantage — 'Oh, I'm just a kid and I don't have very much money.' He knew exactly what he was doing."
Landry has never been a guy to shun the spotlight. When he was in fifth or sixth grade, he told his father he would rather learn to dance than play football. So he did, studying dance and music at the Franklin School for the Performing Arts in Franklin, Massachusetts, until he was in ninth grade.
He went to Mount Saint Charles Academy in Woonsocket, where he played tenor sax in the jazz band and wind ensemble, and occasionally sang the national anthem at hockey and basketball games. While still at Mount, Landry got his first TV gig, as a recurring cast member on the Travel Channel show "Toy Hunter." Landry saw an ad on Craigslist looking for people to appear on the show. He answered the ad, and the producers sent back an application asking about toy collections. As luck would have it, Travis and his brother had just bought a big haul from Cranston.
A "Toy Hunter" crew came to Landry's house in 2012 to check it out. Initially, Landry was a guest on the show, but eventually the executive producers asked if Landry wanted to be a cast member.
The show ran for three seasons, from 2012 through 2014, and featured dealer Jordan Hembrough traveling the country in search of rare toys. Travis played the role of sidekick/apprentice. "I loved it. My God, it was a dream come true," Landry says. "I definitely had the itch to be on TV again."
After "Toy Hunter," it wasn't long before Landry was back on the small screen, this time as a cast member on Rhode Island PBS shows "Antiques Alley" and "East Coast Antiques."
But even while Landry was building a reputation in the pop culture world, the Landry family was facing a heartbreaking situation: Tammy Landry was diagnosed with Alzheimer's disease while she was in her fifties. Travis was still a senior in high school.
"Travis is very close to his mother," says his father. "He's involved with a lot of the caretaking; he goes above and beyond to take care of his mother."
Landry is with his mother four or five nights a week, plus some weekend days. Being close to his family, especially his mom, is the key reason he's still living on his parents' property.
He stays with his girlfriend, Ashle Tortolani, in a pleasant modern apartment above the garage, at one time a storage area where he and his brother played ping-pong. In the garage below are what Landry calls "the automotive children": a '66 GTO, '68 Camaro, '65 Stingray and '69 AMX.
If there were ever a fire, Landry jokes, he's not sure whether his dad would save him or the cars.
He met Tortolani at Bruneau's, where she is operations manager. Originally, she says, she was not a Travis Landry fan. "Kevin said he was going to bring in this kid to try some comic [book] auctions. I was skeptical," she says. But ultimately she was won over by Landry's drive and personality.
"He's thoughtful, charismatic, always eager to learn. He's kind of like a sponge, the way he can retain certain facts about a lot of different things. He doesn't just work nine to five. After an auction, he'll bring the catalog home and go through every item to see what sold well and what didn't," she says.
Their apartment is filled with an eclectic collection of items that reflect Landry's (and Tortolani's) varied interests. There are toys — including Transformers, of course — in display cases on the shelves. Comic books, snug in their acrylic boxes, or "slabs," hang on the walls. Shelves in the kitchen hold Godzilla figures from the early 1980s standing next to English Staffordshire pottery that dates to the late eighteenth century.
In the living room a 1960s robot lamp from Italy, with light bulbs at the head and hands, sits on the floor. There's an 1810 writing desk in a corner, a large contemporary painting by artist Tom Bob on the wall, a figurine from the artist/designer KAWS on the bookcase.
The bedroom has a lithograph by contemporary Japanese artist Takashi Murakami on one wall, a maple highboy made about 1760 against the opposite wall, and a seventeenth century samurai sword, or katana, behind the door. Landry is happy to take the sword apart to explain how the steel was manufactured, point out the artisan's signature, or discuss the construction of the handle.
"Toys and comics, although that's where the market is going, is very old hat to me," Landry says. "I'd much rather talk about Federalist furniture. The toys and comics don't have the sexy appeal to me now that a piece of furniture or art does."
That may be, but Landry is excited when a package arrives at his door on a chilly late-fall night. Inside is a comic book from 1964, starring a rather obscure superhero named Blue Beetle. Landry paid $474 for it on eBay.
Landry explains that Blue Beetle dates back to 1939, but in 2006 he was re-invented as a Hispanic character named Jaime Reyes. Word on the web was that DC Comics and Warner Brothers were planning a Blue Beetle movie.
If Blue Beetle resonates with the Latino community the way Black Panther did with African-American audiences, Landry reasons, the movie could be big. And if that happens, his $474 comic might skyrocket in value.
"It's all about thinking like a detective, and then making some decisions as a result," Landry says. "I love the risk. I gamble for a living. I'm not a gambler at cards, I don't go to casinos. But going to an auction, maybe I buy something for two thousand, I could turn around and sell it for four or five thousand. Or I could lose a thousand."
Landry is in his element on December 1, when he runs the big comic and toy auction at Bruneau's auction house on Fourth Avenue in Cranston. The walls of the large, brightly lit room are lined with comic books, safely sealed in their slabs. You couldn't open one and read a comic, even if you wanted to. "No one buys a comic to read," says Landry.
On tables and in display cases are the toys, from 1970s Star Wars action figures to vintage metal trucks and fire engines. But the big money is in the comics. A copy of Flash #105, from 1959, sells for $20,000.
About fifty people sit in chairs in front of the podium, including some serious bidders. At the back of the room a row of computers is set up on a long table to handle online bidders. Landry's brother, Kyle, is manning one of them. His old friend Jared Wickham is at another. Kevin Bruneau takes bids on his cell phone.
Landry runs through more than 300 items in about three-and-a-half hours, barely pausing for breath, while keeping track of bidding from multiple sources. Emitting a rapid fire stream of numbers — "I got $950 up front looking for a thousand, $950 looking for a thousand, do I have a thousand?" — he also interjects some quick comments designed to keep things rolling.
"Hey, hey, hey! Here we go. The first Black Panther. This is a hot book," he says as Marvel's Fantastic Four #52 from 1966 went on the block. It sets an auction record of $7,500 for that issue.
Landry's parents are at the auction. His mom, wearing purple, watches Landry intently, her lips moving as she recites bids along with her son. "His mom still gets excited to watch Travis do his thing," says Wickham.
After the auction, Kevin Bruneau is pleased. "It's amazing how much money people will invest in comic books now, as opposed to antiques. I've seen the change…I used to sell Depression glass and throw away the comic books. Now I wish I hadn't," he says.
Bruneau was instrumental in getting Landry onto "Antiques Roadshow."
He had been in the cast of another PBS show called "Market Warriors" that aired in 2012–2013. The cast members searched flea markets for items they could sell at auction, and whoever made the most profit won. The show was also produced by Marsha Bemko of "Antiques Roadshow." Bruneau and Bemko stayed in touch.
Landry told Bruneau he wasn't seeing "cool stuff," such as comics and robots, on "Roadshow." Bruneau asked if Landry would like to be on the show. Absolutely, Landry said, and Bruneau said he would set up an interview with Bemko.
So in June 2016, Landry, Bruneau, Bemko and "Roadshow" senior producer Sam Farrell met for lunch at the Stockyard restaurant, across the street from the WGBH studios in Brighton, Massachusetts.
Then they went across the street to the studio, where Bemko and Farrell had Landry appraise a toy. Naturally, he remembers precisely what it was: a 1978 Kenner Star Wars TIE fighter.
But Landry heard nothing for nearly a year, until he got an email from "Antiques Roadshow" with the Season 22 tour schedule, asking if he was available. Which he was.
Bemko says the qualifications to be a "Roadshow" appraiser start with expertise but go well beyond knowing your stuff.
"This is a TV show. We want to know that you have a good reputation, are known for good business practices," Bemko says. "When you talk, can people understand you? Are you an engaging presenter? We are looking for people who are engaging storytellers, who can then lead our guests to tell their own stories."
Landry had his first "Roadshow" assignment in Green Bay, Wisconsin, in June of 2017, and then helped with "triage," the preliminary evaluation of objects people bring to the set, when "Antiques Roadshow" came to Newport in September. He was just twenty-one when he went to Green Bay. He likes to joke that he started on "Roadshow" at about the same time he could legally have a drink.
According to Landry, the appraisers get to the "Roadshow" locations, usually big convention halls, the day before filming. The next day everyone arrives at 6 a.m. and heads to their tables.
Landry is generally at a collectibles table with four or five other appraisers. The collectible category is a catch-all, he says. You never know what could show up, whether it's a collection of Superman trading cards or a porcelain Nazi teacup with a swastika on it.
"It's awesome, a dream come true," Landry says of working on "Roadshow." "I grew up watching these people religiously. I knew who they were, and now I'm with them. I still think it's crazy."