New Film 'Tony Martone' Sees Two Mob Families Come to Blows in East Providence
The film, which was in part shot in East Providence and Pawtucket, will stream on Amazon Prime beginning July 15.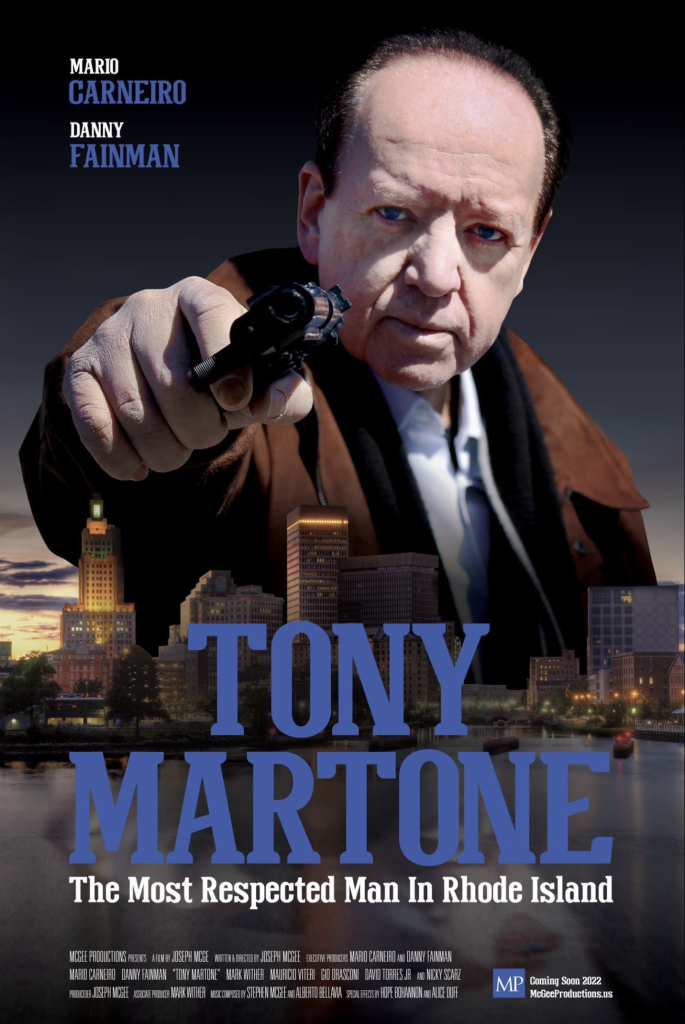 On Friday night, the Stadium Theatre in Woonsocket played host to the premiere of Tony Martone, a McGee Productions film which follows the titular character — a formidable and "untouchable" mob boss in East Providence — as his home turf is invaded by a rival family from New York. A longtime fan of films like Donnie Brasco, Scarface and the Godfather franchise, this was writer and director Joe McGee's first foray into the mafia genre.
"That was kind of my favorite theme growing up," he says. "I've done other screenplays in other different areas: psychological thrillers, psychological horrors and historical fiction type things, but this was new. My spin was to have this family in Rhode Island, the Martones, be really into typical mob stuff— controlling the cops, getting federal agents in their pockets, racketeering and so on. But no drugs; the Amato family is the one that tries to bring drugs into the state. The Martones are very-well respected in the area, though. You don't mess with them or their work. So, when the Amatos come in, it gets a little crazy and we'll leave it at that."
Adding to the state's growing film portfolio (see: "The Gilded Age" and Hocus Pocus 2), the smaller budget picture with a lot of heart was shot in various parts of East Providence and Pawtucket (in addition to Connecticut, Massachusetts and Pennsylvania).
"It's hard to say what locals might recognize. We were on Warren Avenue at one point, and at Madeira Restaurant — we filmed in the back area there so you can see the highway in the background. And we filmed on Spruce Street right down the road so people might recognize that," McGee says. "As for Pawtucket, we shot at the White Ash Cigar Lounge. We did a scene outside in the parking lot over there and we did a scene inside where they're smoking with the mafia crew."
The film also features some local talent. Mario Carneiro, the lead actor behind the notorious Tony Martone, is a born and bred Rhode Islander hailing from none other than East Providence.
"He's actually a CPA by day and a mafia actor by night," McGee says with a laugh. "Mario always had this mob look to him and he was perfect for the role. We first worked together on another project, Reflections: Project Chameleon. He was a theatre actor and I had discovered him at one of my other actor's debuts in 'Many Sides to the Reaper,' which was a mob play in Cranston."
Yet though neighboring Providence is rife with mafia-related history in real life, McGee chose to go his own route with the screenplay.
"We all know about Federal Hill and some of the mafia ties there, but this story is entirely fiction. I decided to pick East Providence, which is kind of like a mini Providence, to, you know, put people in suspense of, 'Maybe this could happen,' or, 'Maybe it is happening… Who knows?'"
Ahead of the premiere, McGee expressed excitement for everyone to see the final result.
"I think for me, in my take of all this creative energy, is that I really wanted to expand the location. We filmed in Rhode Island, Connecticut, Massachusetts and Pennsylvania and then we have talent in this film from Connecticut, Massachusetts, New York, Rhode Island… All over the place," he said. "So, just to see it all come together and to be able to celebrate it all under one roof I think is going to be a beautiful thing."
And that it was. The premiere of Tony Martone went off to much fanfare, with a majority of the cast and crew in attendance. Complete with a red carpet and local podcast interviews, it was a great night of celebration for all involved, especially as the initial release had been pushed back due to production delays.
"I believe we started filming in November of 2021 and we were supposed to be done around January, but we had a lot of COVID delays," McGee says. "For example, we had one scene scheduled for the beginning of December, but one of the lead actresses got COVID, so we pushed it back to the end of December. Then another actor got COVID and we pushed it back to January. Then I got COVID. So, we didn't get to actually film that scene until January/February."
Happily, it was well worth the wait. Prior to the screening, McGee awarded several surprise wrap gifts to various people involved in the film's making, including signed scripts and posters as well as key props like custom matchbooks, newspaper pages, a replica gun and some piano wire (it is a mob movie, after all!). You can see for yourself how these props and more were used, as well as catch a few familiar Rhode Island sites, on Friday, July 15, when Tony Martone begins streaming on Amazon Prime.