The Dish: Olson and Son Hopyard Helps Family Through Tough Times
Eric Olson started growing hops for a hobby he and son, Liam, could do together, and the endeavor took on a life of its own.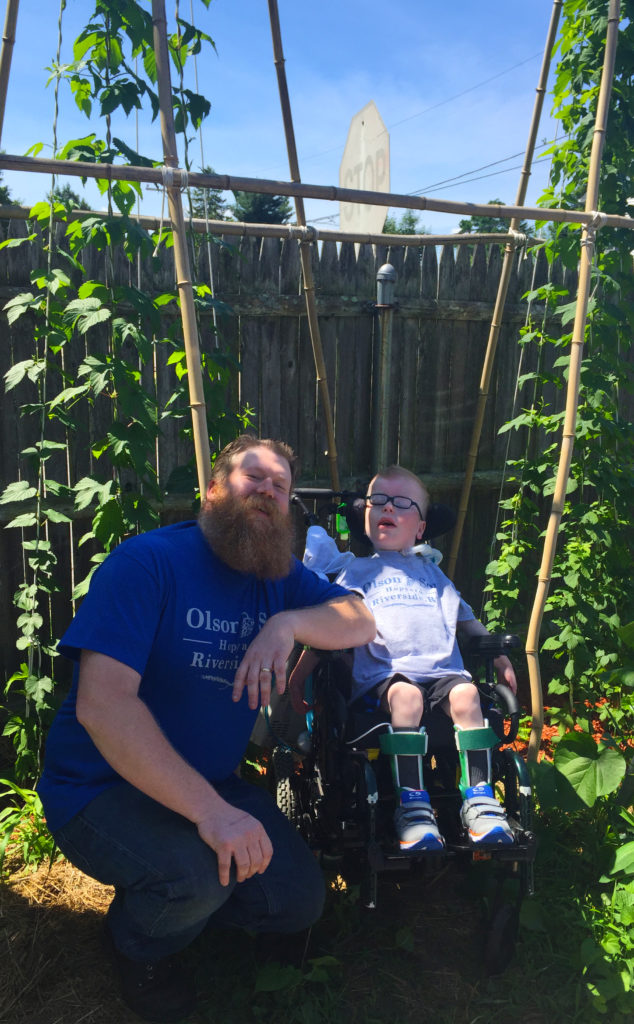 The burly, bearded Eric Olson stands on his front lawn in East Providence, hose in his hands and earbuds in his ears. He wears a blue shirt with "Olson and Son Hopyard" emblazoned on the front and moves about the lawn methodically, spraying into buckets, onto trellises and above dirt plots, all filled with plants of different varietals.
Eric Olson uses his plants to tell the story of his family.
"This is the Olson and Son Hopyard and it's expanding. I'll show you."
A lone hop plant twines around a metal trellis made from the bow rail of Jenny, a boat Olson and his father used to take out fishing before it was destroyed in a fire. Beneath the vine lies the remains of Linus, a beloved cat who passed away last year.
Then there is the hopyard, a series of six plants more than seven feet high that twine their way up bamboo trellises on the side of the garage, curling tendrils reaching towards the sky. Tiny buds puff out here and there, while large leaves provide a curtain of shade to the ground below. They tell the story of Liam.
Seven-year-old Liam was born with a rare condition called Lissencephaly, which caused his brain to be smooth and prevents him from talking or walking, among other things.
Olson began a blog called Pressure Support to tell their story and to connect with other people in the special needs world. His blog posts have a raw poetry to them, revealing the struggles, joys and emotions of a family facing a profound and life-changing diagnosis.
"This blog has meant different things at different times and was initially intended to be a distraction from the stresses and strains of Liam's medical needs," he writes.
But the blog grew, Olson's charismatic writing and his presence on Instagram and Twitter fueling the flames, and pretty soon Pressure Support became a gateway to the wider world.
This is where the hops come in.
"In 2011, I planted my first plants," he says as he tours his front lawn. "We'd been in this house for a couple of years but we didn't spend a lot of time here because Liam was in and out of the hospital for the first two years of his life."
Once Liam returned home, Olson felt that both he and his son needed a hobby, something that would allow dad to be active but also stay close to his son and family.
"We try everything with Liam, but at the end of day, the beach isn't for Liam…. It's tough, there's a lot of things we have to be careful of due to his needs. So we wanted to really make this place his home, make it comfortable, but also have something that is his," says Olson. "I was already home-brewing and I thought, how much cooler would it be to grow some of the ingredients that I'm making beer with?"
The hops started as small rhizomes that Olson put in the ground without much fanfare.
"I didn't know what I was doing. I put them in the ground and despite myself, they lived."
Meanwhile, the family's life with Liam rolled onwards, with Olson chronicling their experiences, frustrations, joys and sorrows on Pressure Support. As the Olsons raised their son, they also raised six vines of hops.
Liam can often be found in the hopyard, hose tucked under his arm as he waters the plants, and hop-harvesting is a regular extended-family affair, complete with a tent and barbecue.
But Liam's interactions with the hops were only sporadically posted, never with the intentional message of Olson and Son Hopyard that it would eventually grow into.
That all changed last September after one fateful Instagram post.
"My wife made two shirts that said Olson and Son Hopyard, one for me and one for Liam. On harvest day, we would always wear our shirts," Olson says. "Then last September, I posted a picture and somebody I've never met in person, somebody from Dallas, asked, 'Do you sell those shirts?' Then the comments flooded in saying, 'I'd buy a shirt.' "
With that post, the bud blossomed: Olson and Son Hopyard officially entered the world. They began to sell the T-shirts and wreaths made from old vines, and as word grew of the family and its hopyard, calls flooded in from as far as Minnesota.
"All of a sudden I was getting messages from professional hop farmers, guys with forty acres of hops," says Olson. "Just a couple weeks ago, I was on the phone with a farmer in Minnesota; we talked for two hours about soil samples and stuff, and then he's like 'No, no, how's Liam? I wanna know about Liam.' "
This represented a turning point for Olson. He found himself wanting to define his family not by Liam's special needs, but by all the things they were doing, like growing hops.
"I didn't want to be known as 'Oh he's the guy with the kid who's sick,' because Liam's not sick," he says, gently unfolding a hopleaf before gazing upwards at his towering plants. "He was born with a condition and he's thriving. He wasn't supposed to live this long. Everything I put online doesn't have to be about his ventilator or the doctor or the fight with the insurance company."
Since switching focus, Olson and Son Hopyard has added a location in Ashaway. Though the hops growing at both locations are not for sale just yet, you can still buy a T-shirt to help support their endeavors. Olson hopes to one day collaborate with local breweries to create a beer that is completely locally sourced, hops and all.
"And I'm not saying I even make enough to supply, but if somebody wants to do something special, one limited release to say, 'Hey, this was all done in Rhode Island.' That's the dream."
The sun beats down on the hopyard, glinting off the wheelchair ramp that connects to the house. A boy is steered down the ramp, his blond hair coiffed and a small smile playing on his face.
Liam rolls into the hopyard, his hopyard, arms waving in joy as the hops stretch towards the sky. Olson snaps a picture.
"People connect with our story so anything that I can throw out there that embodies us, that is what I do."
You can now purchase Olson and Son gear (and wreaths! It's almost that time of year after all) at olsonandsonhopyard.com.