The 2022 Tech10 Awards
Meet Rhode Island's top techies, as voted by their peers, in collaboration with the Tech Collective. Plus, winners of the Next Tech Generation.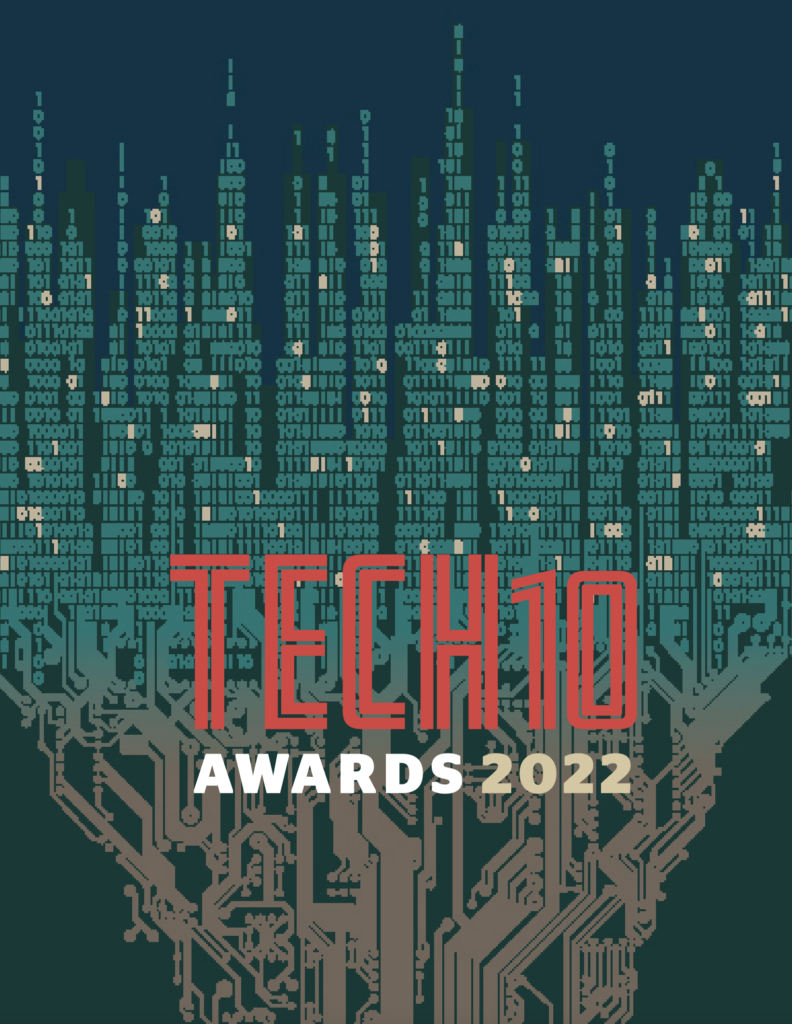 Meet the individuals in the information technology field whose contributions vastly improve the way we live and work in Southern New England. Rhode Island Monthly is partnering with the Tech10 Advisory Group to present the Tech10 Awards, which recognize established individuals, and the Next Tech Generation Awards, which honor newcomers to the tech industry, as voted by their peers and screened by a panel made up of community leaders.
Tech 10 Advisory Group: Vic Fay-Wolf, the University of Rhode Island λ Todd Knapp, Envision Technology Advisors λ Kathleen Malin, the Rhode Island Foundation λ David Marble, OSHEAN λ Rick Norberg, Vertikal6
The Tech10 Honorees
Daxa Arora, president and CEO of Curia Systems Inc.
Julie Blackburn, co-owner and chief data science officer at Blackburn Labs
Brian Boyle, founder of CrossTrainer
Kipp Bradford, co-founding chief technology officer and chief innovation officer of Gradient
John Croy, chief software services and enterprise architect at KVH Industries Inc.
Tom Ferrucci, chief information officer at Natco Home Group
Yvonne Norman, senior director of information technology at Plan International USA
Scott Reinbold, virtual chief technology officer of Envision Technology Advisors
Kyle Schuster, director of infrastructure services at Rhode Island Medical Imaging
Shawn Wallace, software architect on the product team at Unruly Studios
In a few words, explain your job title and what it entails.
I am the president and CEO of Curia Systems Inc. My primary job is to manage the company's strategic growth by driving sales and marketing in the technology industry for B2B and B2G. —Daxa Arora
I am co-owner and chief data science officer at Blackburn Labs. —Julie Blackburn
My job title is founder but I wear a few hats, from solution designer to creative director to business development of CrossTrainer. —Brian Boyle
I am the co-founding CTO and chief innovation officer of a San Francisco-based startup called Gradient. My work is a combination of technology strategy and product development with a lot of hands-on engineering. —Kipp Bradford
I am a chief software services and enterprise architect. My responsibilities include product technical and team leadership, enterprise responsibilities and operations. —John Croy
I am the chief information officer at Natco Home Group, a manufacturer and importer of fine machine-woven and handmade area rugs in West Warwick. This position oversees all IT functions for Natco Home, including enterprise applications, local and wide area network infrastructure, security, business analysis and data management. —Tom Ferrucci
I'm the senior director of information technology at Plan International USA, a girls' rights organization which is part of a global federation founded in 1937. My fantastic team and I provide application and infrastructure support for our offices in Rhode Island and Washington, D.C. The IT team helps our business partners do the work they do to make impactful change around the world, something I'm very proud of. —Yvonne Norman
I work with stakeholders within an organization to understand their business and core objectives. From that, I work with them to create digital transformation plans, strategic IT investment roadmaps and technology implementation schedules. —Scott Reinbold
My position is director of infrastructure services. My team and I oversee and manage all aspects of Rhode Island Medical Imaging's IT infrastructure. This includes our eighteen out-patient facility locations as well as connectivity with our eleven hospital partners. I reached my twentieth year with RIMI this past April. —Kyle Schuster
I'm the software architect on the product team at Unruly Studios, where we are building an ed-tech platform blending STEM with active play. Our founder, Bryanne Leeming, invented Unruly Splats,
a learning tool that brings coding into phys ed and running and jumping into computer classes. —Shawn Wallace
What skills are you currently
developing?

I am currently engaged in the CVS Executive Leadership Series' cohort for diverse suppliers, a six-month-long program which helps small businesses like ours with training series and a wide variety of skills in preparation for pitching and landing expanded distribution for products and services in retail, technology and all industries. —Daxa Arora

I certainly believe in lifelong learning! I recently got a certification from Google in Google Analytics; even though I've been using their tools for over a decade, it was something to keep the lexicon fresh and see if I had any skills gaps. I also love reading about leadership and how to manage our company, staff and client relationships. —Julie Blackburn

I'm currently working on increasing adoption of mixed reality in enterprise training applications by bringing the cost down and accessibility and security up. This involves several technologies, and
it's taken a few years, but we are now deploying several new products that achieve these goals. —Brian Boyle

I'm always developing my engineering skills so that I can stay current with new tools and best practices. I've also been studying architecture and building technologies, which helps me stay ahead of emerging trends around sustainability and resilience. —Kipp Bradford

Team and leadership — being the best person I can be and leading high-performance development teams while inspiring people to be their best. I'll never stop working on this. Also learning TypeScript to expand my JavaScript skills, as well as stable diffusion image models. —John Croy

I'm working to leverage what I consider a gold mine of data here at Natco into a competitive advantage. While we've had great traction using business intelligence tools to gain insights into our data, I feel there's more we can do. I'm trying to learn more about how we can use AI and machine learning to help us gain a competitive advantage over other competitors in our space. —Tom Ferrucci

Overseeing a Salesforce team has inspired me to work on getting my Salesforce admin certification to regain some of the feelings of having a hands-on experience. Leadership and the ability to connect with peers is more crucial than ever. We are challenged to develop new ways to work together and communicate post-COVID, while maintaining team spirit, camaraderie and friendships. —Yvonne Norman

I am currently working on my AZ-104 certification. —Scott Reinbold

Cybersecurity has always been at the forefront, especially within the health care industry. A major concentration has been to keep our IT environment as secure as possible utilizing a layered approach. —Kyle Schuster

I'm currently trying to learn more about machine learning and artificial intelligence. In full disclosure, I am writing this in collaboration with a GPT-3 text generation tool that actually wrote that sentence. However, I am not an AI bot — I am a human (which is also what an AI bot would say). —Shawn Wallace
What would you say is your top strength/skill in the tech world?
I would like to believe that my top strength is cybersecurity. I have more than twelve years of experience working in the IT security space for a major global hospitality industry. My specialty skills are network security, firewall administration and RSA remote access security. —Daxa Arora
My top strength is the ability to communicate. Data talks — it tells stories. In data science, many people can do the math, understand the statistics and run the code. However, the ability to put that information into a format that others can understand and give the data a voice to tell the story is something that's often missing. Being an advocate for making data-driven decisions is what I'm most passionate about. Nothing is better than getting to present findings from data and see light bulbs over people's heads. —Julie Blackburn
Leading our clients down the right path. There are so many options and ways to get off track with technology, wasting time and money, resulting in potentially devastating setbacks. Our clients depend on us to sort through the noise, to identify and vet the best training technology, so that when they come to us, they know they are getting a technical solution that will last. —Brian Boyle
I worked for several years as a scientist at the MIT Media Lab, where I was hired through the search for a "professor of other." My work was called "so interdisciplinary that it's anti-disciplinary." I like that description and always try to live up to it. I try to find interesting solutions to very difficult problems at the intersections of multiple domains. In practice, this means being able to understand or anticipate the effects of technology in society, including the economic, health, educational, environmental and other impacts, then lead the development of new technologies that create the best possible future. —Kipp Bradford
I have a very broad technical knowledge base because I am very curious and learn fast. I also drill into subjects that inspire me. —John Croy
I'd like to think that the ability to translate business challenges into successful outcomes using existing or new technologies is a strength. I've always been very hands-on with the technology I've deployed at all companies I've worked for. I need to have a thorough understanding of the technology, as well as the business processes I'll be impacting, to have the best shot of a successful outcome. A recent example is here at Natco, where reporting systems in our ERP platform were not adequate. I knew we needed to greatly improve in this area and a business intelligence tool would be perfect. I created my own Microsoft PowerBI dashboards as a proof of concept and shared them with some key users at Natco. Once we had buy-in I was able to spin this off to both our internal team of developers and outside consultants to create sales, operations and financial dashboards. —Tom Ferrucci
Early in my career I grew into a valued member of an application development team, and after working long hours for years, I was fortunate to be recognized as contributing leadership, great ideas and creative solutions to this field. My key strength now is my ability to recognize talent and mentor younger people, creating great opportunities for some and inspiring others who may not have believed they could have a significant role or future in technology. —Yvonne Norman
I feel my ability to communicate with my clients is my strongest skill. Technology can be daunting and complicated for many people. Having the ability to make technology easy to understand and helping them see how transformative it can be for their business has been a major key to my success in this industry. —Scott Reinbold
I don't think there's one skill that stands out among the rest. I pride myself in striving to fully understand all the applicable technologies and using that knowledge to solve problems. When explaining to colleagues, I like to use a puzzle analogy. Over the past two decades I've been able to fill in a lot of them and pass along that knowledge to others. The beauty of IT is it's ever-changing with always something new to learn. —Kyle Schuster
My top strength is probably in context switching. In this context I mean jumping out of our current situation and jumping all in on a hypothetical path or scenario. This could also be a top weakness. —Shawn Wallace
Who or what inspired you to get into the tech industry?
I saw an opportunity during the dot-com era (1999) when I was working as a data management administrator. My manager sent me to different boot camps over the years. I was lucky enough to work with senior networking engineers who helped me pave my career in IT. —Daxa Arora
At one point I was selling real estate, and it turned out I was the number one online lead generator for RE/MAX in all of New England. I ended up doing several speaking engagements regarding technology, SEO and analytics. I was a lot more interested in data and tech than selling real estate, and my husband encouraged me to do data science as a full-time career. I returned to school and got a graduate certification in data science from Harvard University and never looked back. —Julie Blackburn
I missed the boat on the original dot-com gold rush; I was primarily a print designer for the first leg of my career. When the iPhone and iPad came out, everything changed. The conversation around training technology quickly shifted to mobile, and traditional flash-based e-learning programs needed to be rebuilt. Responsive HTML5 mobile-friendly training was our "in," and by focusing on mobile we quickly jumped to the cutting edge of e-learning technology. The disruption that is currently in progress is mixed reality and metaverse. If you're feeling left out of the tech industry, now is the time to get on board.
—Brian Boyle
My parents and grandparents were my main inspiration and were also a powerful source of encouragement and support. I was lucky to have a lot of great teachers along the way who fed my enthusiasm for science. —Kipp Bradford
My father. He taught me Ohm's law when I was five. —John Croy
I started programming while back at East Providence High School. My father, a chemist, had a strong math and science background, and my mother worked in finance. I knew when I was up until 2 or 3 a.m. programming and losing sense of time that there could be something more. I attended Bryant, and while my major was business administration, my concentration was computer information systems. —Tom Ferrucci
I always wanted to pursue something that would not only challenge me but provide me with a solid income source to support me and my family. Once given the opportunity to write COBOL programs, I realized how good I was at it. —Yvonne Norman
My father worked in IT when I was a child, so I was always surrounded by technology of some kind. Even though I went to college to study something else, when I joined the Navy, I saw that as a chance to pursue technology and I found my true passion. —Scott Reinbold
I have always enjoyed computers and can remember assembling my first one in the mid-'90s. My entry into the tech industry was not something I decided early on — I went to Wheaton College and received a degree in economics in 2001. Shortly after, I began interviewing for financial positions but soon realized it wasn't a career I wanted to pursue. I took a CompTIA certification class and got my foot in the door as a part-time PC tech at Rhode Island Medical Imaging. —Kyle Schuster
My father, who built our first computer — a Heathkit H89 running CP/M — from a kit. Also, I'm not sure if this was unusual in the '80s, but our high school computer math department had a four-year program, three teachers, including Jane Eslinger, a PDP-11/44 [minicomputer] and two Advanced Placement test options that let me jump into a 300-level computer science course in my freshman year of college. —Shawn Wallace
Next Tech Generation Honorees
Liz Lima, CEO and founder of FierceMODA
Erendida Montes, director of technology for the Central Falls School District
Akintoye Onikoyi, co-founder of Muse Interactive LLC and founder of the Bubbler VR
Monsurat Ottun, data protection manager for products and technology/business services at PwC
Ben Sorkin, CEO of Flux Marine
What do you think the future of technology looks like in your field?
Virtual reality technology could help make the fashion industry more sustainable, helping to reduce the environmental impact of clothing production. Currently 70 percent of the clothes that end up in a landfill are due to returns because the clothes didn't fit. By allowing for digital creation, VR offers a simple solution. Not only will we reduce items in the landfill, but we'll also reduce the carbon footprint fashion has on our environment. —Liz Lima, CEO and founder of FierceMODA
Technology is all about embracing change. It's paving the way with emerging developments that provide students with access to personalized learning. Companies that double down on providing access to diverse groups will continue to see significant strides in innovation in solving business problems and social inequities.
—Erendida Montes, director of technology for the Central Falls School District
The future of technology will be filled with more simplicity and the ability to do complicated tasks in the blink of an eye due to more information. We were introduced to augmented reality; what we call "filters" as an entertaining way to share fun looks with our friends, I see as a powerful shopping tool that will finally bridge the gap between in-person retail and e-commerce, where both will feel one and the same. —Akintoye Onikoyi, co-founder of Muse Interactive LLC and founder of the Bubbler VR
Technology will impact every aspect of our lives. There won't be one industry or sector that isn't touched by AI, the Internet of Things, and virtual or augmented reality. It's important to consider the protections we have in place to secure our data, remove the biases that we implicitly transfer over to our technology and contemplate the ever-evolving idea of privacy. As a lawyer and cybersecurity strategist, it's my role to anticipate the consequences of these changes and manage the risks through planning and mitigation techniques. —Monsurat Ottun, data protection manager for products and technology/business services at PwC
Electrification of the marine industry will be a defining evolution for boaters and our environment. The technological advancements that have enabled the rapid growth of electric boating will continue to see major leaps forward as new battery technology is developed. —Ben Sorkin, CEO of Flux Marine
Lifetime Achievement Award
David Hemendinger, Brown Medicine
This year's Tech10 Lifetime Achievement Award honors David Hemendinger, CIO of Brown Medicine and interim CIO of Brown Physicians, Inc. For the last twenty-five years, Hemendinger has devoted his professional IT career to the strategy, vision and deployment of technology solutions to improve health care delivery for patients, providers and supporting clinical staff. He honed his craft within a variety of organizational settings, from acute care and academic medical centers to large physician practices, hospices, visiting nurse organizations as a licensed Rhode Island EMT and initiatives like the statewide health information exchange, CurrentCare. He has an undergraduate degree in design from State University College at Buffalo, New York, and an MBA in health care management from Bryant University. Notable accomplishments include enabling emergency communication services, TeleVisit, capabilities to hundreds of Brown Medicine physicians within twenty-four hours to support remote patient care and spearheading a Lifespan technical team in the design and deployment of CurrentCare. Hemendinger is the recipient of various awards, including the ComputerWorld Honors and the Providence Business News 2020 C-Suite Awards.