Small Businesses in Rhode Island
These family companies have what it takes to withstand the test of time.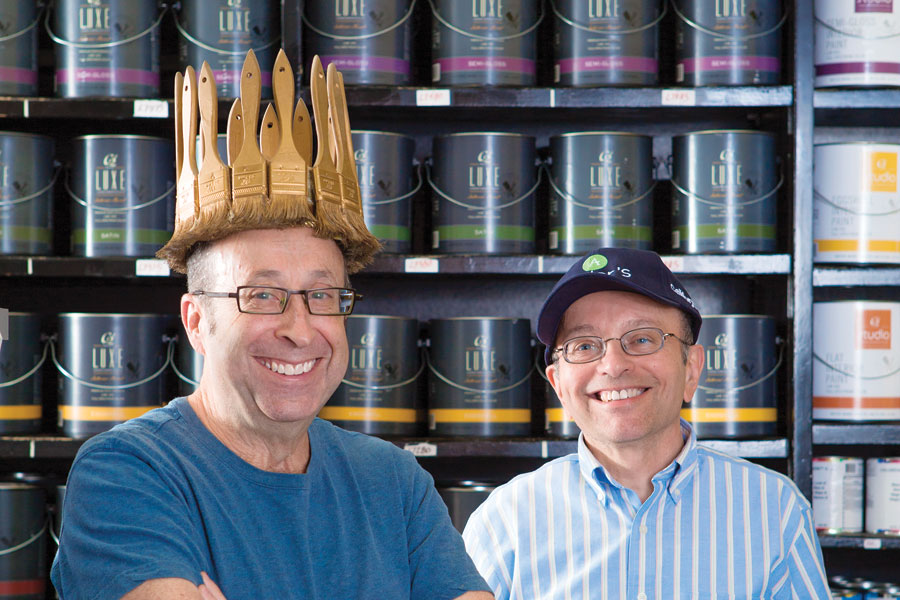 Photography by Mike Cevoli, James Jones and Chris Vaccaro
If small business is the backbone of our economy, family-owned businesses are its connective tissue, passing down entrepreneurial success from one generation to the next. Whether it's fashioning jewelry from lustrous Tahitian pearls or serving up spicy wieners all the way, these Rhode Islanders share their ups and downs and let us in on the secrets to their quiet longevity.
Adler's Design Center and Hardware
Marc, Betty and Harry Adler
Adler's, on Providence's Wickenden Street, is the idyllic hardware store you'd find in a show like "Leave It to Beaver." The bell rings when each customer enters, announcing their presence, and the store bustles with people looking for doorknobs, mason jars, scissors, fabric, sewing kits and paint.
A man strides purposefully through the doorway, grasping a light bulb; he's on a mission. "I'm looking for one of these," he says to a short man in cargo shorts and spectacles. "Straight down and to the right," the man in shorts, Harry Adler, says jovially, pointing the man in the right direction.
Harry and his cousin, Marc Adler, are the co-owners of Adler's, keeping the ninety-seven-year-old business up and running. Founded in 1919 by their grandfather, Fred, it was first an Army Navy surplus clothing store, eventually adding the hardware part when Harry's dad and Marc's dad took over in 1960.
Harry began working at Adler's as a ten-year-old, helping out on Saturdays and in the summer months before going to Johnson and Wales to study business management.  "I graduated in '77. I came here that summer with the thought that I would just work here for the summer, make up a resume and then go look for a job," he says, sitting in an upholstered chair that showcases their design center's talents. "That was thirty-nine years ago, so I guess I gotta get on that!" he says, laughing.
Adler's eventually dropped the clothing aspect of its operations, fully committing to hardware and design, and has been part of a thriving local shopping community ever since.
Customers are welcomed by either Marc or Harry, who jaunts around the store in his cargo shorts no matter what time of year it is. Their aunt, Betty Adler, says it's this personalized service that keeps them in business.
"Customers like to be acknowledged," she says. "It's like, 'Oh Mary you're here again, how nice to see you!' That's the most important thing."
Adler's is, at its heart, a family business that treats customers like family and that provides solutions to problems with a smile and a glint in their eyes. As for each other, Harry says their family/work relationship has weathered the test of time just as well as the shop has. "It's been remarkably conflict free since we all have complementary skills. In any relationship, there are moments of friction but they're only moments," he says. "We all have the same long-term vision. We treat the business as a third person to be respected and it works well."  Betty interjects, "I even talk to Harry!" They share a laugh, before standing up to get back to business. –G.K.
---
Don's Barber Shop
From left: Donna Armstrong, Donald Cournoyer Jr., Debra McCutcheon, Cathy o'Keefe, Jennifer Gagnon; center: Donald Cournoyer
At eighty-two, Don Cournoyer has been cutting hair and trimming beards at his Woonsocket barbershop for more than fifty years. In recent decades, four of his five children (Donald Jr., Debbie, Cathy and Donna) have been working alongside him at Don's Barber Shop. All snip hair behind stations with shiny red sinks, plush black chairs and their names on plaques that hang over the mirrors.
Cournoyer officially gave his children the business about ten years ago and reduced his schedule from full time to three days a week. "Now I work for my kids," he says.
He still keeps up on the latest hairstyles, including the often-requested ones donned by pro athletes, and sees no reason to retire. If he eventually does, it won't be by choice. "He has always loved this," Cathy says. "If he didn't do this, it wouldn't be good for him."
While their mother has never worked at the barbershop, she taught them how to resolve the rare conflict that arises. "We'll get mad for a little while, and then we will sit down and talk it out," Cathy says.
While the siblings have all worked in other fields, they were eventually drawn to the family business because of the flexible hours and opportunity to spend more time with their father. They also enjoy the social aspect of the job and the ability to make people feel and look good.
So far, none of Cournoyer's grandchildren have shown an interest in becoming a barber. "But you never know," he says. "We've already been here for fifty-one years and I bet we can get to at least sixty or seventy." –J.P.
Imperial Pearl
Top row: Joseph Bazar, Alan Bergel, Todd Bazar, Matthew Silva, Joshua Bazar, Peter Bazar; second row: Ann Bazar, Karen Bergel, Beverly Bazar; seated center: Banice Bazar
After serving in the korean war, Banice Bazar started his jewelry career as an Imperial Deltah pearl salesman on military bases. In the 1970s, he bought the then-distressed company. Now his grandson, Josh Bazar, regularly appears on HSN and Canada's Shopping Channels to sell the brand's pearl necklaces, earrings and rings.
Eight other family members, including Banice's son, Peter Bazar, the company's president, also work at the East Providence business, now known simply as Imperial Pearl.
While most of the state's once-thriving jewelry manufacturing industry has gone overseas, Imperial has been able to adapt and thrive. Today, it imports millions of rare and cultured pearls from overseas each year and transforms them into jewelry ranging from strands of Tahitian pearls worth tens of thousands of dollars to the kind of affordable freshwater pearl earrings you find at mass retailers such as Kohl's.
The brand works with a factory in China to produce its lower cost offerings, but also maintains a headquarters in East Providence where employees hand-string pearls, set stones and cast metal for fine jewelry pieces that are sold at more than 2,000 stores throughout the country.
Another one of Banice's grandsons, Todd Bazar, manages the company's operations. "At the end of the day, no matter what your role is in the family or in the business, the job has to get done," Todd says.
Now in his eighties, Banice still goes to the office every day to help his son oversee the company and dole out words of wisdom. "Nothing makes him crazier than when two family members are not talking," Peter says. "Rule number one, never hold a grudge." –J.P.
---
John Stevens Shop
Nick and John Benson
Tucked away on Thames street in Newport, away from the hustle and bustle of the shopping extravaganza and throngs of tourists, sits a little shop that has quietly chiseled memories into stone for more than 300 years. John Stevens Shop are stone carvers; their craft is found in both humble graveyards and grandiose monuments, but it's always one thing: impeccable.
Nick Benson runs the show at John Stevens; his father, John Everett Benson, handed him the reigns in 1993. But the shop's story formally began in 1698 when the man behind the name, John Stevens, emigrated from England to Boston to find his fortune. He was a mason, but eventually turned to grave carving when he moved to Newport, founding his shop in 1705.
It passed through six generations of Stevens for 200 years until 1927, when the charismatic John Howard Benson purchased it. Benson ran the shop until his death at age fifty-five.
"In 1956, my father passed away, he had a heart condition," John explains, using a chisel to smooth out a rough spot on the wooden palette he sits on. "I had just graduated RISD and I was married with a newborn baby and couldn't be a starving artist anymore. So I took over the shop in 1963 and I found I liked it."
He fell into stride, carving grave markers, honing his typography skills and eventually landing commissions like the Kennedy and FDR memorials that really brought the shop into the limelight. Nick Benson grew up with the shop, saw it as something that just was, nothing to get all excited about. "When I was fifteen, I started working for my dad. It was a summer job. I wanted to party and my dad wasn't going to just give me money.
I had to earn it," he says, sitting in his dad's studio behind the shop. But it wasn't until his early twenties that he started to seriously consider stone carving as his calling. While studying at SUNY-Purchase, Nick spoke with his professor about his dad's shop and showed her some of the work he'd done with him.
"My professor of drawing had gone to the School of Design in Basel. She saw some of my lettering and stonework that I had done with dad, and I told her about the shop and said that dad's a pretty well-known commodity," he says. "And she said, if you're interested in getting involved in your family business, you've gotta go to the school I went to. You have to go to the School of Design in Basel." Off he went to Switzerland, where he learned the foundations of a trade he grew up with but had never really thought about. Back in Newport in 1987, he says seeing the work in the shop was like ripping aside the veil. "All was revealed and I said wow, I've never seen any of this before." In 1993, Nick took the helm from his dad and the shop plowed into the future.
Today, the shop is modern in its practices, adapting to using computers to aid the process (but not to overtake the craftsmanship, they are quick to point out), but still strongly retaining its old and worn heritage. Brown paper scrolls sit on drafting tables, rustic wood boards make up the walls and a post and beam ceiling hangs low. Paraphernalia collected over time is scattered throughout; a large wooden eagle, paint flecking off, sits underneath an old writing desk, which carries a dictionary opened to "f." A black, broken tombstone sits above it all, like a sort of memento mori.
Death is a big part of the business, and is something that makes the Bensons hyper-aware of the importance of their craft. "When you're younger and you're focusing on the process and on the business, it's all about this material object that you're making; you're trying to help a client do whatever they want. I wasn't quite so invested in the complications of mortality and all that that brings," Nick says. "But the older I get, the more I'm carving stones for people that I knew. That changes things a lot."
Carving words in stone is more than just business or craft; it is the preservation of memories.
John walks through the front of the shop, talking about a book he is writing and poetry, a renaissance man if there ever was one. "Have you heard of Anthony Hecht? He was the poet laureate. His poem, "The Letter," is quite the tour de force. It's a bit dry but it can really get you."
"The Letter" is about unrequited love, but the final stanza describes the work and survival of the shop surprisingly well. Hecht writes, "There is not much else to tell. One tries one's best to continue as before, Doing some little good."
John heads out back to his studio, where lithe sculptures of women traipse across their bronze and plaster bases. Paul Russo and Christine Dunn, two carvers who work for the Bensons, enter the shop, hang up their coats and get to work. Dunn carves intricate symbols into a Colonial-style gravestone, symbols of a life well-lived, a life that will be missed. Hecht's words seem to float in the dark air, pierced by sunlight as it shimmers through the window. "One tries one's best to continue as before, doing some little good." There is a little good being done at John Stevens, a little love carved into each gravestone and monument, a little history making its mark in the past, present and future; all being done with careful hands for more than 300 years in this small shop on Thames Street. –G.K.
Taylor Box Company
Dan, Marken and Dave Shedd
Growing up in the  '60s, Taylor Box Company president Dan Shedd had little career ambition, but remembers his father telling him that the family's packaging factory would "someday all be yours."
Shedd's parents had inherited the Warren-based business from his maternal grandfather, Howard Scholes, a Brooklynite, who had purchased it from Clarence Taylor in the 1920s.
When Shedd was twenty-nine years old, his dad retired and passed on the factory to Shedd and his brother, Dave. "Since I was the older brother, he said, 'Dan, you be president and run the business, and Dave, you be vice president and run the factory,' " Shedd says. "Then he walked out the door."
At the time, Taylor Box Company was focused on making boxes for Rhode Island's once-booming jewelry industry.  "In the 1980s, the industry changed, and it was sort of like evolve or perish," Shedd says. "We needed to pivot."
In 1992, Shedd purchased the company from his family.Today, the company designs and manufactures high-end packaging for clients such as fashion retailer Net-A-Porter, American Express and marketing firms looking to create splashy promotional materials for brands such as Ferrari and HBO. "What we have is an incredibly small niche," Shedd says. At one time, 80 percent of Taylor Box's business was done within fifty miles of the facility; today, it's 5 percent.
Shedd is surrounded by creatives, including his wife, Susan Doyle, chair of Rhode Island School of Design's illustration department, and his daughter, Marken, who works as the company's associate art director. He describes his role as "the facilitator."
"I have to get everyone to drink the Kool-Aid," he says. –J.P.
---
Olneyville New York System
Greg Stevens and Stephanie Stevens Turini
When Olneyville New York System won an America's Classics Award from the James Beard Foundation in 2014, the iconic Providence restaurant was introduced to the elite food crowd gathered at New York's Lincoln Center through a video shown on stage.
"I just wish my dad was here to see this," fourth-generation owner Stephanie Stevens Turini says in the recording. Peter Stevens had died two years earlier after spending five decades chopping onions, pouring coffee and serving hot wieners "all the way" as owner of the diner-style restaurant. In his twenties, he passed on an opportunity to go to law school and took over the family business after his own father died suddenly in his fifties.
"He was always here and he never complained," Stephanie says while sitting at one of the restaurant's original 1950s Formica tables. "And at one point this restaurant was open twenty-four hours a day."
Stevens Turini now helps her brother, Greg Stevens, run the original Olneyville New York System that their Greek great-grandfather and grandfather started in the 1940s (a second, Cranston location opened in the 1980s). She focuses on the back-end business side of things, while he is more involved in serving food and engaging with the restaurant's slice-of-life clientele. Regulars include everyone from Providence police officers to Brown students to longtime Olneyville residents.
"It's a pride thing," says Greg, who's been here for forty years. "You want to keep the tradition going. Few family-owned businesses are left, especially after seventy years."
Since opening day, the restaurant has specialized in hot wieners, the quintessentially Rhode Island-style hot dog made of pork, beef and veal, topped with a seasoned meat sauce, onions, mustard and celery salt.  The menu is rounded out with other late-night fare such as burgers and fries. They've tried adding other items, including more healthful options over the years, but they rarely stick. And almost everyone orders the restaurant's namesake offering anyway, along with a cold glass of coffee milk.
"Our secret is keeping everything the same," Greg says. "It's like an old classic car — you don't change a thing." –J.P.
East Side Pockets
Top row: Maria Ishak, Paul Boutros; second row: Kamil Boghos, Caroline Boutros, Monir Salo, Rita Boutros
At nineteen, Paul Boutros moved to the United States from his home country of Syria hoping to build something successful enough to support his future children. So he turned to the family business, falafel.
Almost twenty years after opening East Side Pockets on Thayer Street in Providence, Boutros's fast-casual Middle Eastern restaurant still regularly has lines out the door and is beloved by Yelpers, Brown students and Patriots players alike (Danny Amendola and Julian Edelman have been spotted here). The secret, he says, is the food's simplicity and freshness — as well as the many family members who have worked alongside him for years.
Boutros sticks to the same basic recipe he learned while helping out at his father's falafel stand in the northeastern city of Al-Hassake. "It's only chickpeas — we soak and grind them fresh daily — and some seasonings like garlic, cumin and salt," says Boutros. He forms his falafel with a hole in the middle, creating something similar to a doughnut shape. That way, the oil touches more surface area to ensure they are crispy, not oily. In addition to falafel wraps with hummus, tahini and vegetables, the restaurant serves chicken kabobs in wraps and salads, Middle Eastern platters and gyros.
Boutros assembles wraps alongside his brother, two sisters and their husbands, all of whom work at East Side Pockets. When he first opened the restaurant at the age of twenty-two in 1997, his mother and father also helped out by taking orders, prepping food and wiping off tables. "Back then, we did some really long days," Boutros says. "My mom and sisters did twelve hours a day and the men did seventeen."
No surprise, tensions sometimes ran high and there were arguments. "We step on each other's toes sometimes," he says. "If you work with a stranger, you cannot explode on them. They'll just leave."
Thankfully, all of the family members have since been able to scale back their hours to something more manageable. But the business is rarely out of Boutros's thoughts entirely. "When I see a bad review online, I don't sleep at night," he says. And with help from a camera-viewing app on his smartphone, he can see how busy the restaurant is and make sure the tables look clean from home.
Even with that, he always schedules a family member to be on duty alongside some of the non-relatives he employs. "When I'm not here, I know somebody very trustworthy is watching my back," he says. "Other employees, no matter how much you pay, it comes to the point that they don't care as much because it's not their business."
Boutros's three children, ages fifteen, twelve and three, are too young to be involved with the family business. But one day recently when his oldest son, Alexi, wanted a pair of expensive sneakers, he brought him into the restaurant for a lesson about hard work. When the lunch rush line started to snake out the door, Boutros asked his son to help out at the eatery and, to the teen's surprise, one man tipped him for his service. That day, almost two decades after his father set up shop on Thayer Street, Alexi learned what it takes to earn a dollar and a repeat customer. –J.P.