See Providence, Social Distancing-Style, with a La Gondola River Ride
La Gondola's singing gondoliers offer sightseeing tours from the Woonasquatucket and Providence rivers.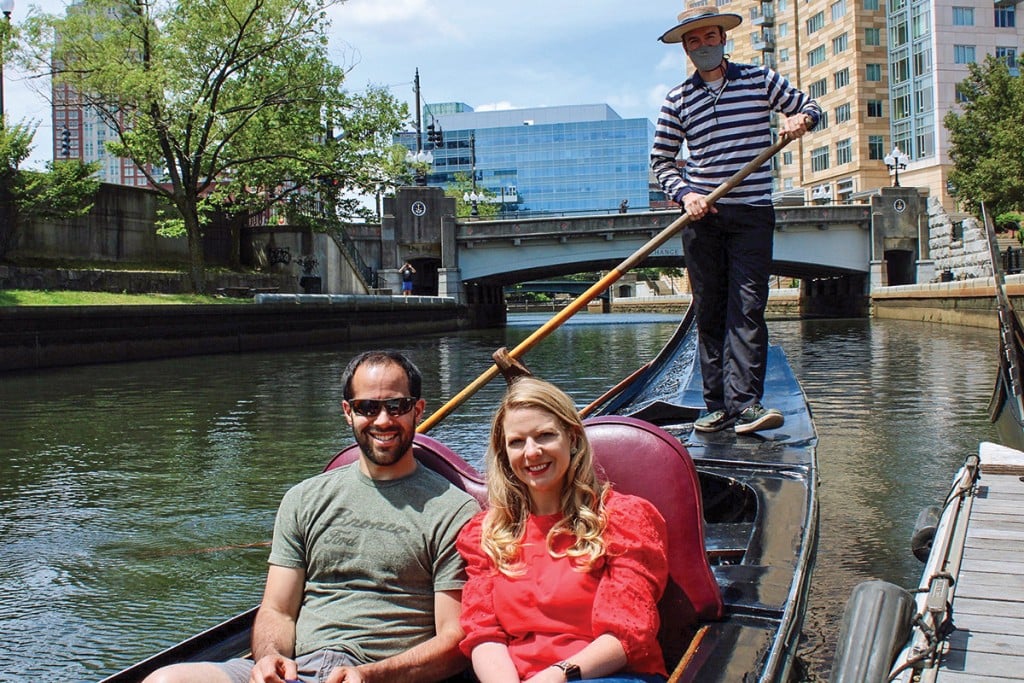 Sometimes it's fun to be a tourist in your own city. I had never embarked on a La Gondola ride along the Woonasquatucket and Providence Rivers past the Riverwalk and through downtown, but now with social distancing measures in place, it seemed like the perfect activity to get out and do something safe and interesting (and also romantic).
The gondolas are one of those things I took for granted in Providence just because they have always been there. I've been to countless WaterFires and assumed the gondolas were tied to the events, when they actually run seven days a week, all day long until 10 p.m. The tours board at Citizens Plaza and can combine historic lessons about Providence with Italian singing and optional musician upgrades (mandolin or guitar) or you can simply cruise on the water in silence.
My husband and I took a forty-minute daytime ride along the river cityscape with gondolier and La Gondola owner Matthew "Marcello" Haynes. Haynes wore a mask, and we were the only customers on the thirty-five-foot boat that was built in Venice and shipped to America for Italian events in the 1970s. He steered the boat more than six feet behind us while we soaked up the sights. Homemade Italian wine biscuits are provided for a snack. You can bring your own wine and beer (or non-alcoholic beverages) and a picnic of crackers and cheese to enjoy in the gondola, too.
La Gondola began as a business in Providence in 1997, and Haynes started rowing for the company the summer of his junior year in college in 1999. Haynes bought the company from the former owner after eight seasons and has owned it since 2007, when he was trying to divide his time between rowing and teaching high school science and physics. He eventually made the business his full-time gig and is celebrating his twenty-second season with La Gondola.
The gondola drifts along the river as the gondolier explains historic details about Providence's downtown. We learned how the rivers were covered over from 1940 to 1984, and you can still see the old foundation from what was once listed in the Guinness Book of World Records as the widest bridge in the world. We went underneath the foundations of the old bridge, where Haynes sang romantic Venetian songs and the acoustics were incredible. While not a trained singer, Haynes grew up singing choir in church. "I have had a song in my head for as long as I can remember," he says. "Singing has been a part of my life for thirty-five years."
Gondola trips are not cookie cutter. "If you want to be romantic and cuddle up together and enjoy the sights and sounds of the city, then we just shut up and row, breaking the silence only to sing a few songs," Haynes says. Gondoliers tend to go with the flow and read the guests on board for what they want out of the ride. We learned things about the city that we never knew and even caught a spectacular view of Gaia's "Still Here," a colorful full-scale mural orchestrated by the Avenue Concept on the side of a building. Even if a trip to Venice, Italy, isn't in the cards this year, at least you can get a taste for the Italian life in downtown Providence. Prices from $89 for two. gondolari.com