Santa's Surprising Connection to Newport
Clement C. Moore, who penned 'A Visit From St. Nicholas,' had a Newport estate built for him in 1850.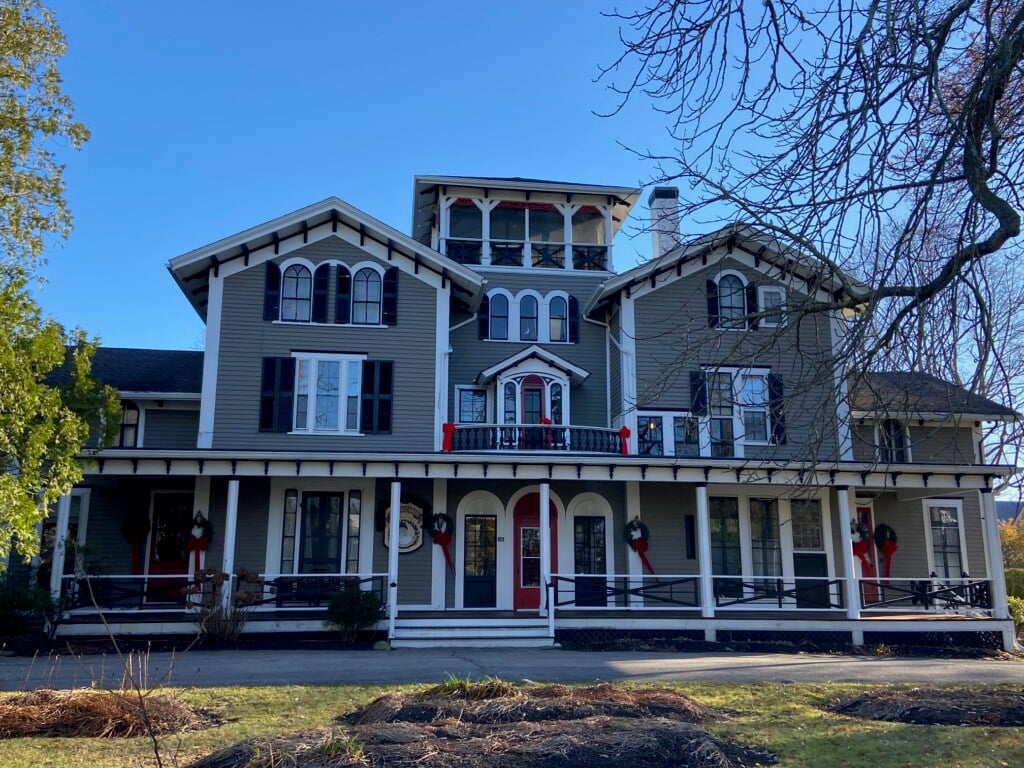 It's perhaps one of the best-known and well-loved Christmas poems.
With its famous opening lines — "'Twas the night before Christmas, when all through the house, Not a creature was stirring, not even a mouse" — Clement C. Moore's "A Visit from St. Nicholas" tells the story of Santa and his reindeer delivering gifts on Christmas Eve.
Not so famous is the story behind Moore's connection to Newport: The wealthy scholar and author built a summer home on Catherine Street in Newport and frequented it until his death — in the home — on July 10, 1863.
It now belongs to Mary de Pinho, who purchased it with her late husband, Manny, in 1976, as a rental property. (Sometime after 1850 the home was turned into seven apartments.) They summered there with their son, Michael, until retiring to the area full-time in 2004.
Try as she might, Mary hasn't stumbled upon any secrets or old poems left behind by Moore.
"I haven't found Mrs. Moore's cookie recipes in the walls," she says.
The Modern-Day Santa Is Born
"A Visit From St. Nicholas" first appeared in the Troy, New York, Sentinel on Dec. 23, 1823. It was published anonymously, perhaps to protect Moore's reputation as a classics professor and scholar. (At the time, the New York City native taught at the city's General Theological Seminary of the Protestant Episcopal Church.) But he later allowed it to be published in an anthology of his works in 1844.
The poem is largely responsible for shaping Santa into the jolly old soul we know and love today: In 1881, cartoonist Thomas Nast drew an image of Santa Claus based on Moore's poem in Harper's Weekly, and a twinkling-eyed, pot-bellied Christmas legend was born.
In 1997, Manny commissioned a plaque that pays homage to Moore's ownership of the house. It now hangs near the front door, where visitors stop all throughout the year — not just at Christmas — to take a selfie.
"People stop here all the time," Mary says. "They stop the car, run out, take a picture with the plaque and run back to the car."
The big guy himself would be pleased with Moore's summer home, Mary thinks, with its many pitched gables and eaves.
"There are a lot of roofs for Santa to land on," she says.
Fun Facts
The Chelsea section of New York City is named after Moore's family estate, "Chelsea," in Manhattan.
Moore's funeral was held in Newport's Trinity Church. He's buried in the Trinity Church Cemetery in New York, along with Alexander Hamilton.
Moore was one of twenty-six people who raised money to create Touro Park.
You can see his writing desk at the Newport Historical Society's museum and shop.
Edward Tuckerman Potter — an architect best known for designing the Mark Twain House in Hartford, Connecticut — purchased the home after Moore's death, adding a fourth-story belvedere and mahogany porch.
RELATED ARTICLES
Visit Santa's Magical Drive-Through Christmas Display in Exeter
Santa Claus Is Coming to These 8 Spots in Rhode Island
Your Guide to Local Holiday Light Shows