Restaurant Review: TSK
Big flavors, big steak and big ambition are on the menu at the reincarnated Thames Street Kitchen in Newport.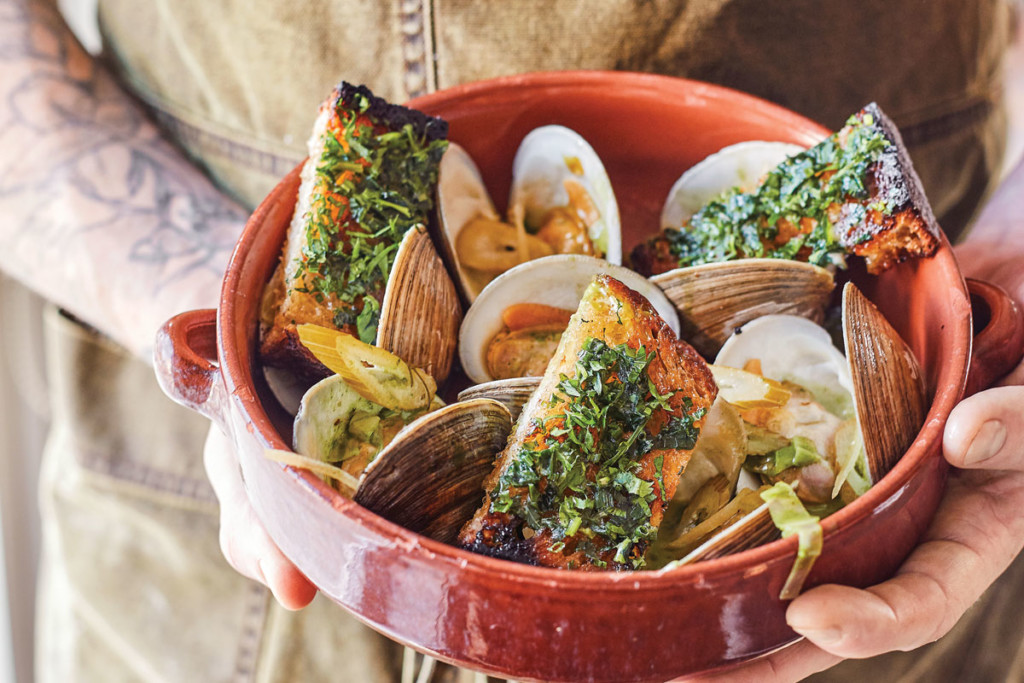 It's hard to believe a restaurant so young could be a throwback, but TSK at the Revolving Door has done it. When Thames Street Kitchen opened in 2011, the space had a farmhouse feel and a kitchen that turned out clean contemporary American dishes. The restaurant also had an appealing story: Two New York City chefs marry twin sisters from Rhode Island and construct a growing gastronomic dream. Eventually though, TSK shuttered its doors; chef-owners, Chad Hoffer and Tyler Burnley, had already turned toward more casual fare, opening Mission Burgers in 2013, then Winner Winner, a fried chicken joint, in the original TSK spot.
But we know the drill. Casual food gets conquered and anyone with the culinary calling begins to dream big again. Acclaim might still show up between a soft bun but the cool factor of a kitchen emanates through a haze of late night dining, dress-up clothes and a strong cocktail. Last year, Hoffer and Burnley took up a long-term residency at the Revolving Door, a spare restaurant off of the Bouchard Inn that had hosted traveling chefs for a week at a time.
Clearly the restaurant's address on Thames Street is a boon but its moody gray bistro-like interior demands some acquiescence from TSK. The vibe is more masculine than delicate and, in turn, the palate has made a turn toward earthy, rich and decadent dishes. There are as many seats at the bar as on the floor and the menu appreciates its drinkers; they throw good sense out the window and, in an age of avocado and sprouted grains, TSK has decided to dare its diners into massive cuts of meat and unctuous egg yolks.
There's some evidence of this ballsy attitude in the aesthetics. Half the restaurant is occupied by willowy thirty-year-olds with crimson lips and bleached hair growing out in laissez faire defiance. The other half is nearing retirement with indefatigable style: "You know my drink," says one slim, balding man as he removes his fedora and nods to the bartender. The staff itself, working feverishly under smoky vintage lights, looks as if they're running a prohibition-era butcher shop. Coiffed moustaches and bees-waxed beards sit north of suspender-style aprons because you never know when you might have to wrestle a whole steer to the ground.
Unlike the original incarnation of the restaurant — which expressed delicious through often dainty components — the new TSK goes full throttle. Cement tables and leather chairs demand a certain virility from diners, an inclination to say vodka with beet juice and horseradish has toppled the cosmopolitan. Rye and bourbon show up in a big way and that's just a preamble to the machismo of the menu.
"We're going to order a few drinks and our appetizers while we contemplate our mains," smiles one couple tucked in the corner. "Actually," says the server conclusively, "the kitchen wants all of your food in at the same time." This kitchen has a tempo going and, given that it sits open for every bar dweller to observe, that rhythm is not going to be interrupted for the indecisive.
The good news is that nearly every choice is a hedonistic riot. You may need to pay for warm bread ($3) but the coarsely salted mini-loaf with bonito and sesame butter is required eating. It also pairs nicely with duck rillettes, a crock of rendered confit swimming in its own fat. (Sometimes you have to go French to prove your downright disregard for California cuisine.)
But the surest indicator that Hoffer and Burnley are done with light and airy food is the fact that egg yolks keep spilling out onto their plates. A single ravioli ($10) speckled with serrano breaks apart to release its yolk into surrounding broth and creates a soup of lush salty sublimation. Mushrooms sauteed with boursin cheese ($10) also arrive with a barely poached egg that bursts open in sybaritic fashion. You could eat a salad but, honestly, why? The guy with a man-bun sitting next to you is shoveling bone marrow and escargot ($13) into his mouth and, when he finds the time, the judgment will be forthcoming.
Entrees occasionally meander into more restrained territory. Sea bass and tautog filets are served seared in a bowl
of light onion broth ($26). Nuggets of lobster are tossed in miso butter and hidden in a tangle of baby leeks and roe ($34). But the pride of the kitchen isn't even on the menu; it's written up on the mirrored wall like a declaration. Rib-eye and strip steaks are of limited quantity and various weights but there's nothing below twenty-two ounces and you're barely a major player until you're well above thirty. Cuts are crossed off auction-style as they sell out and are paraded into the dining room in handled casserole dishes that can bear the weight of the load. Rib-eye is cooked cowboy style, on the bone, meat fanning out in heavy slices. Charred onions lie languidly on top, already intoxicated by the overt depravity of the dish. If you feel as if you need a vegetable to go with your island of meat, look toward the fried fingerlings with bacon gastrique and a dollop of lemon aioli to deactivate the somnolent effect of two pounds of beef. Red wine flows freely and, in an age of pervasive uncertainty, embracing a mammoth, perfectly salted steak seems like the most sagacious vice of the day.
So herein lies the throwback: TSK isn't only reinventing its own approach to food; it's gone back to an age when technical skill wasn't offered in nuanced, ceremonial form but, rather, announced with a bullhorn and a shot glass of bourbon. And if you think TSK is going to go weak on you as the evening ends, think again. Desserts are often deep-fried dough rolled in sugar or, if the kitchen is feeling kitschy, you might get
a waffle cone formed into a taco, stuffed with tahini ice cream and dredged in dark chocolate. None of this show is for the gentle or the feeble. The new TSK has pulled a Chris Pratt — hanging out in weight rooms, honing its new persona, showing off ten times the muscle mass — and it's designed entirely for those who come at every meal with wild, illimitable enthusiasm.
✱✱✱
509 Thames St., Newport, 846-0400, tsknpt.com
Open Wed.–Sun. for dinner. Wheelchair accessibility is tricky but possible. Street parking.
Cuisine Brawny American.
Capacity Forty-five with bar seating.
Vibe Modern bistro with a whiff of 1920s charm.
Prices Appetizers $3–$13; Entrees $25–$34; dessert $6.
Karen's picks Mushroom toast, bonito-buttered bread and the biggest steak available.
Key
✱ Fair ✱✱Good ✱✱✱Very Good ✱✱✱✱Excellent +Half-star