Now Playing: How to Throw a Backyard Movie Night
Gather your close family and friends for a night of big-screen fun, popcorn and all.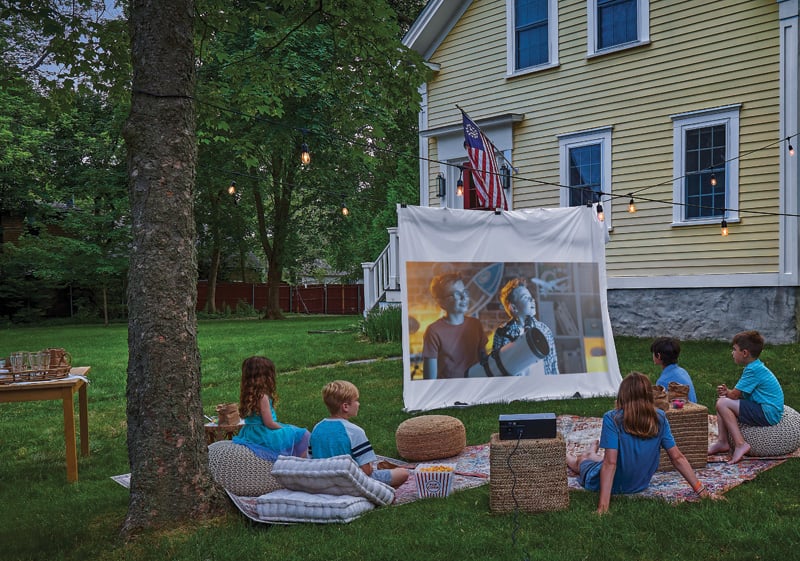 Summer nights are often spent fireside roasting s'mores with family and friends.
While these sticky treats are always a fun activity, change it up this season with an ultimate backyard movie night. This under-the-stars situation creates the perfect setup for stepping just outside your door into the comfort of your own theater setting.
Offer concession options like do-it-yourself root beer floats, cinema-style candy and gourmet popcorn. Plus, pick up products to get comfy with such as locally made blankets and pillows. Screen a family-friendly flick, comedy or drama with your fam and friends, and find the magic in watching movies under the stars. Now sit back and enjoy the show!
Key Components of a Movie Night
Root Beer Floats
For the kids
Glass (preferably chilled from the freezer)
12 oz Yacht Club Root Beer soda
1 scoop Warwick Ice Cream Moonstone Beach vanilla ice cream
Fill the chilled mug about three quarters of the way to the top with the Yacht Club Root Beer soda. Plop in a scoop of vanilla ice cream and serve with a fun straw.
For adults twenty-one and older
6–8 ounces of Yacht Club Root Beer soda
1 oz Sons of Liberty Spirits Company Single Barrel Bourbon
1–2 scoops vanilla ice cream
Combine the Yacht Club Root Beer soda and Sons of Liberty Spirits Company Single Barrel Bourbon into a chilled glass. Top with vanilla ice cream.
Yacht Club Bottling Works, 2239 Mineral Spring Ave., Centredale, 231-9290, yachtclubbottlingworks.com
Sons of Liberty Beer and Spirits Company, 1425 Kingstown Rd., South Kingstown, 284-4006, solspirits.com
Warwick Ice Cream, 743 Bald Hill Rd., Warwick, 821-8403, warwickicecreamco.com