Who Knew: This Purple Victorian in North Kingstown is a Pig Sanctuary
Don't let the buoys fool you. Pigs are the stars of the show at Smith and Agli's Potbelly Manor.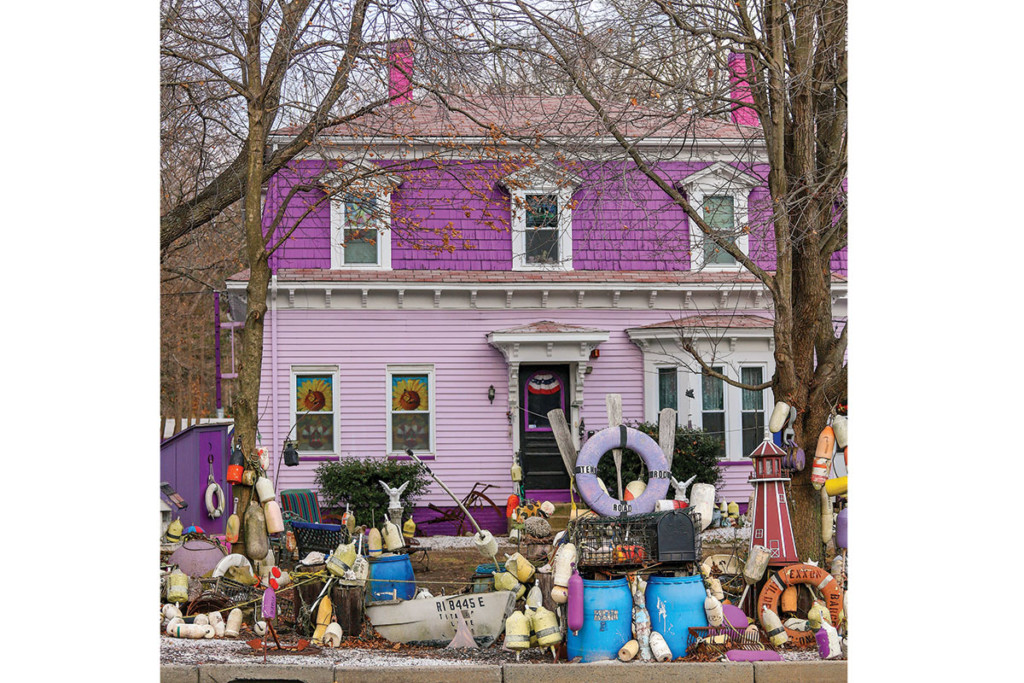 Where to Eat
Back Forty
Serving up American comfort food alongside craft beer and cocktails, Back 40 combines homestyle cooking with a warm and trendy atmosphere. Co-owned by former Miss Universe and Rhode Island-native, Olivia Culpo, the restaurant has been the talk of the town since its opening in 2017. It's a great spot for splitting appetizers with friends, enjoying a meal with the family or catching a game over some drinks at the bar. 20 South County Trl., North Kingstown, 667-4869, back40ri.com.
Dan's Carriage Inn and Saloon
This charming, family-friendly restaurant offers as much character in its food as it does in its ambience. Dan's Carriage Inn is cozy and inviting with its rustic decor and superior service. The restaurant serves American classics, Rhode Island favorites and international delicacies. Treat your taste buds to a variety of menu items from Canadian-style poutine to sweet Asian chili wings to Philly egg rolls. 1065 Tower Hill Rd., North Kingstown, 294-0466, danscarriageinnandsaloon.com.
A short drive away
Jigger's Diner
If you're searching for an authentic diner experience, look no further than Jigger's Diner. Nestled in the heart of Main Street, East Greenwich, Jigger's is a quaint dining car-style restaurant dedicated to providing delicious and hearty breakfast food all day long. Start your meal off with an order of the famous johnny cakes before trying one of nine varieties of eggs benedict, then finish off with a sweet and
satisfying ice cream float or cabinet. 145 Main St., East Greenwich, 884-6060, jiggersdiner.com.
Where to explore
Gilbert Stuart Birthplace and Museum
This exquisitely restored Rhode Island landmark was once the home of renowned portraitist Gilbert Stuart, most famous for his unfinished portrait of George Washington. Take a tour through the 1750 home as you learn about the life and legacy of Stuart and the functions of the property's snuff mill and gristmill. This bucolic local treasure is a must-see for any Rhode Island native or history buff. 815 Gilbert Stuart Rd., Saunderstown, 294-3001, gilbertstuartmuseum.org.
Biomes Marine Biology Center
Sharks, tortoises, octopi — oh my! Treat the kids to a day of hands-on fun and education at Biomes, New England's only private marine education facility. Learn about the marine life of Narragansett Bay and the Atlantic Ocean as you immerse in interactive exhibits. Visit on a Saturday or Sunday to see a variety of live demonstrations, including a dogfish shark and horseshoe crab feeding. 6640 Post Rd., North Kingstown, 885-4690, biomescenter.com.
A short drive away
Riddle Room
This independently owned, Rhode Island-themed escape room is a top activity for any group looking to have some adrenaline-fueled fun. The Riddle Room is an immersive gaming experience that makes you the detective in solving a case as though you're really on the scene. You and your teammates have sixty minutes to piece together a mystery by solving interactive puzzles, finding new clues and unraveling perplexing storylines. 20 Water St., East Greenwich, 398-8177, ririddleroom.com.
Where to Shop
Re Antiques and Interiors
With a unique and specially curated collection of antiques, Re believes in balancing historical richness with contemporary taste and design. The shop's always receiving new shipments of one-of-a-kind products, so you're bound to find something that catches your eye. Visit the two conveniently located storefronts Thursday through Monday or by appointment on Tuesdays and Wednesdays. 7511 and 7512 Post Rd., North Kingstown, 667-5996, rerhodeisland.com.
The Book Garden
For anyone with an eclectic taste, the Book Garden is the perfect place for you to escape to . This little book shop of wonders in the quaint, seaside Wickford Village offers a diverse range of books, antiques, garden ornaments and more . Stop into this quirky and charming corner store and see what treasures await. 99 Brown St., Wickford, 294-3285, facebook.com/thebookgardenwickford.
A short drive away
Sweet Twist
This boutique gift shop offers a diverse selection of local and designer brands to satisfy your every shopping need. From jewelry to handbags to mouthwatering handmade chocolates, Sweet Twist has it all. Its wide selection of nautical accessories and apparel make it a popular destination for anyone looking to give the gift of Rhode Island pride. 5707 Post Rd., East Greenwich, 885-7579, sweettwist.com.