Who Knew: This Purple Victorian in North Kingstown is a Pig Sanctuary
Don't let the buoys fool you. Pigs are the stars of the show at Smith and Agli's Potbelly Manor.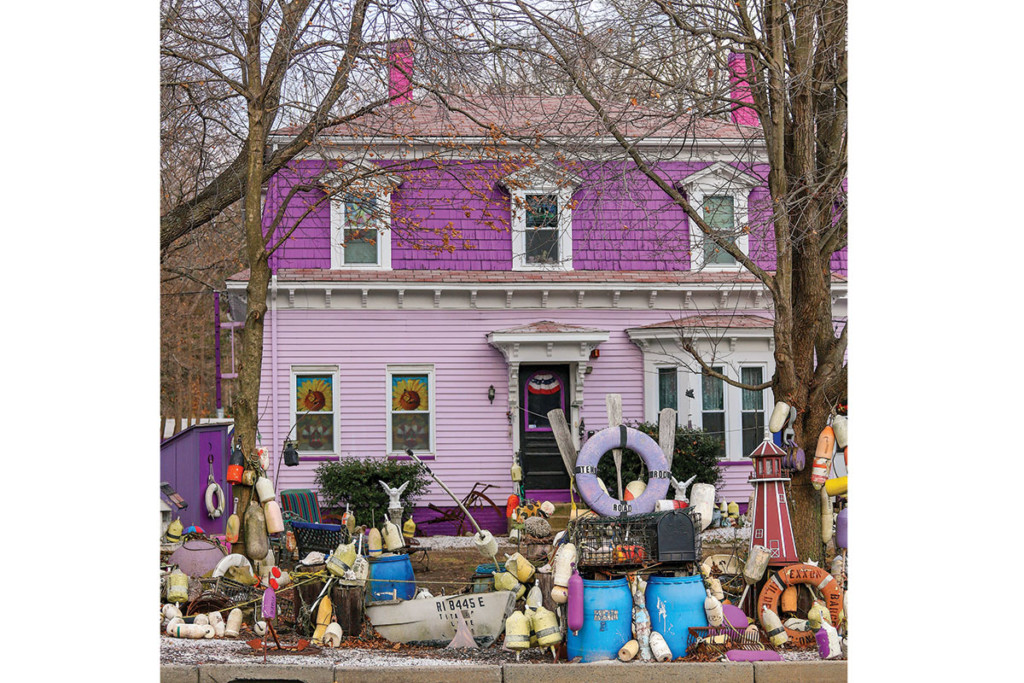 Along an unassuming section of Ten Rod Road in North Kingstown, a lavender Colonial-style house sits in a shroud of mystery. The front lawn is besieged by buoys and trinkets. A cow-themed town car sits in the driveway. Many a passerby has wondered about the enigmatic property: Is it an antique store? A longstanding fisherman's yard sale? The Purple Cow, perhaps?
If you chose D: None of the Above, you'd be correct. Still, with all of the home's more conspicuous quirks, it's understandable how someone might miss the hand-painted boulder sitting on the edge of the estate. In addition to depicting a cartoonish pink pig, the boulder reads: "Smith and Agli's Potbelly Manor."
Making my way up the long driveway to the manor on a cloudy afternoon, I hear a sudden, definitive snort. To my right, there's a squat wooden hut with a matching purple façade behind a chain link fence. Squinting, I can just make out a wet, twitching black snout peeking over its window ledge.
"Oh, that's just Rachael Ray," says Audrey Agli, co-owner and co-founder of the manor, from the front porch. She swings the door wide open in welcome. "Don't worry, she's a sweetheart. Come on in."
A few cats scamper about, weaving between my legs as I cross the threshold and into her home. Inside, I'm greeted not only by Agli's partner, Elizabeth Smith (hence "Smith and Agli's"), but also by a beautiful lumbering St. Bernard named Heaven and a cuddly sixteen-year-old cat named George.
"Liz and I are huge animal lovers, if you couldn't tell," Agli says with a laugh as Heaven lies at my feet and George curls up by my side. After chatting with Agli, a retired state worker and United States Air Force reservist, and Smith, who specializes in tarot card readings, for a few minutes, I learn that their love for a certain type of animal began back in the early 1990s when they adopted their first pot-bellied pig, Randolph.
"We found that there was a great need for rehoming pigs; the '90s were a big time for people buying pigs as pets but not keeping them," Agli says. "We ended up rescuing Skipper, a pig that had been badly abused, soon after. Then we bought this place — which is a grandfathered farm — and established it as the Potbelly Manor in 1995. Believe me, it's been busy ever since."
The timing of the sudden nationwide pig adoration isn't too surprising when you recall that the beloved talking-animal films, Babe and Gordy (each starring adorable tiny pink oinkers), both debuted in 1995. Since then, there have also been a number of high-profile pig owners, including the likes of socialite Paris Hilton and Hollywood hunk George Clooney. More recently, YouTube star Logan Paul and singing sensation Ariana Grande have also joined the ranks, flaunting their pets, Pearl BingBing and Piggie Smallz, respectively, all over social media. But just like the average citizen, many celebrities don't hold onto the pigs for very long.
Agli says this is usually because people don't do their research. For one, many will spend thousands of dollars on what they believe to be a miniature or teacup pig — two basically mythical breeds — but are later unpleasantly surprised when it grows to be a full-sized, 100-pound farm animal. Likewise, many families don't realize that pigs' lifespans normally last anywhere from fifteen to twenty years. Parents will purchase a piglet for their ten-year-old and later resent the decision once their child leaves it behind for college.
"We also get a lot of calls because of zoning," Agli says. "People call in and say, 'I'm in Providence and I just found out I can't have a pig in the city.' Or, 'I'm in an apartment and the landlord found out and says I can't keep it.' "
Plus, Agli says that a lot of first-time swine owners also often neglect to regularly bring them to a vet or get them spayed or neutered. The latter can cause problems down the line that owners just don't want to deal with, including aggressive behavior and certain types of cancers.
Luckily, Smith and Agli's has established itself as a safe place for people to turn to. They don't shame current or previous owners; rather, they've made it their mission to simply improve the lives of pot-bellied pigs across the state and beyond, whether it involves feeding, cleaning and socializing the animals, providing medical care and/or coordinating adoptions.
"When we have a pig up for adoption, we normally put an announcement on our Facebook page and contact everybody that we know; we just keep spreading the word until a new owner comes along," Agli says. "Sometimes we keep the pigs here and sometimes we ask that the previous owners hold on to them until we find a new home."
Agli says she and Smith always try to vet new owners before giving the pigs away, taking applications upfront and often following up with a visit to the home to make sure zoning won't be a problem and that the pig is placed in a safe environment. They also ensure the pig is spayed or neutered beforehand and that the new owner is in contact with a vet who is willing to treat pigs (there aren't many in Rhode Island). In the twenty years since the manor first opened, Agli estimates that she and Smith have helped upwards of 900 pigs — a purely altruistic venture.
"We don't do adoption fees; we only take what we need," Agli explains. "If we just spent money to spay a pig we're adopting out, that's the only price we'll ask for. We're not looking to make a profit…. You don't make profits with this. It's all about helping the animals."
Smith and Agli themselves are no strangers to adopting animals in need. While many of the pigs they help come and go, the manor is home to quite a few permanent residents.
"Let's go meet them," Agli says.
We walk back out to the front yard and I am formally introduced to Rachael Ray, a 200-pound American Yorkshire/pot-bellied pig. As we approach, she runs back inside her hut and again sticks her snout through the window, eagerly awaiting a pat and a scratch behind the ears. "She's like a queen," says Agli from behind me. "Everyone who knows her knows to come up and says 'hi' when they visit."
After doling out an appropriate amount of attention to the queen, we head around to the back of the house. The backyard is much bigger than I would have guessed — a whole acre of cleared-out land broken up by various enclosures and compost pilings. Once the wooden fence door shuts behind me, I notice a snuffling sound coming from the vicinity of my feet. When I look down, I find a small black pig circling me, her little tail wagging furiously.
"Ariel is a Juliana Vietnamese pot-bellied pig and she's about thirty pounds — what some would consider a perfect size," says Agli as I squat down to pat Ariel's coarse hair. "We got her in 2006 from a Pennsylvania woman who owned around 100 pigs, many of which were pregnant and sick. When the farm was seized, a lot of the older pigs didn't make it. Ariel was just a baby; she was lucky."
Between Ariel's compact size, which allowed for easy harness training and transportation, and her happy-go-lucky personality, Smith and Agli soon realized that she would make a perfect pet therapy pig. In the years following her rescue, Ariel regularly visited local schools and camps to teach children about farm animals, and she also brought joy to countless local nursing home residents and adults with special needs.
"We retired Ariel this past summer because her back legs are a little off; she's not walking the way she should," Agli says. "But people can still visit her. She loves people. She was our second pet therapy pig, so we're hoping to get a third sometime in the next couple of years to carry on the tradition."
We then tour the grounds for further introductions. There's the gaggle of ducks, including two brown beauties named Thelma and Louise and three white Pekins called Sarah, Winifred and Mary (named after the Sanderson sisters in Hocus Pocus). There's Gilligan, the Jersey steer from a dairy cow sanctuary in New Hampshire who loves to flip buckets over his head and bang into things to the amusement of his owners. There's Coal and Malachite, an uncle and nephew llama duo who outgrew a petting zoo in Connecticut. There's a large pen with more than forty pigeons, all of which were treated and deemed not suitable for rerelease by the nearby wildlife center in Saunderstown. There are more rescued pot-bellied pigs by the names of Pearl and Holly, and I'm told there's a goat called Truman, though I don't get to see him.
"Truman hides. He was badly hurt before we got him, so he's afraid," Agli explains. "I've had him for three years and he'll only come out for feedings. Gilligan, the llamas, the pigs: They are all friendly because they were treated relatively well before they got here. I've had pigs in the past that were vicious because they'd been abused. They don't know why they were treated so badly, so they lash out."
Back inside their cozy living room and reunited with Heaven and George, I mention how remarkable it is that Agli and Smith are able to take care of all these animals on their own. But then, right on cue, one of their volunteers, Malcolm, lets himself in the front door.
"Malcolm is a student at the Wickford School and comes here afterwards to help out," Agli says. "He works hard and does most of my heavy work, which is nice because I don't lift like I used to. He has a whole system with the animals; they get pretty excited when they see Malcolm because he's the snack guy. He's going out to feed them now."
Smith and Agli have enlisted the help of Malcolm and other volunteers over the years online, while many local schools (like the Met) and local businesses have caught wind of their cause and reached out directly to donate time and money. Even though many a passerby has wondered what the manor is all about, it's clear there are plenty of people that recognize its importance in the community. In fact, they celebrate it: That town car with the cow hide-splattered paint job, complete with a cow figurine standing on the roof? It's a regular staple of local Veteran's Day, Columbus Day and Memorial Day parades.
But still, it always comes back to the animals.
"We're lucky that we have so much support and we're lucky that we found each other," Smith says. "It's worked out for both of us, and for the animals too, hopefully."
Judging by the cheerful and satisfied grunts I catch on my way out, I'd say it certainly has.