Molding Change with Anyhow Studio
Anyhow Studio is a ceramics studio where community comes first.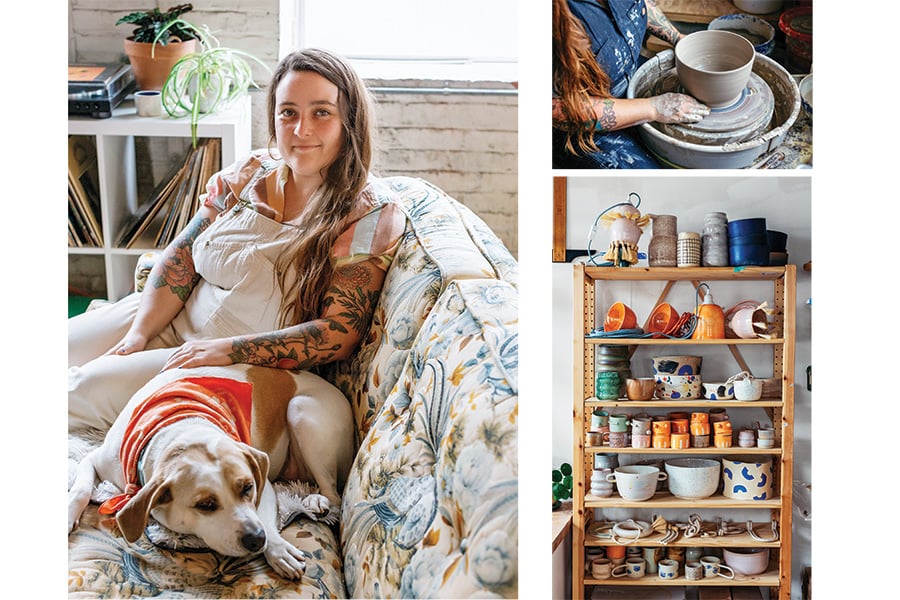 It's a cool Thursday evening, but the heat from a kiln warms a second floor room at 72 Spooner St. in Providence. At a table in the center, students knead mounds of clay like bakers kneading dough, throwing it on the table, pushing it with their palms, then scooping it up and — thwack, back on the table.
Liz Welch wanders the space, giving out pointers and later doing a demo on how to use the pottery wheel. Across the room, a piece of paper is taped to the window. "Begin Anyhow," it reads.
And that's exactly how Welch wants visitors to begin working with clay.
Her ceramics space, Anyhow Studio, which opened in August, is named after the eponymous quote by artist Lisa Congdon, the same quote scrawled on the paper taped to the window.
Welch began her own journey with ceramics after losing her job. With her newfound free time, she attended an artists' workshop, which inspired her to later join a community pottery studio and start working with clay. "When I sat down on the wheel and began throwing I was like, 'This makes sense to me,' " she says.
That was in 2012. Welch has taught numerous ceramics courses over the years and while doing so, came to notice a pattern whenever those classes ended. When people were grabbing their belongings and leaving for the last time, they would often come up to her and say, "I'm totally hooked on pottery" followed by, "what's next?"
"I would usually answer with some version of 'that's great!' followed by 'I don't know!' " says Welch. "And the more I heard this question, the more apparent it became that there was nowhere to go, especially if enrolling in another class wasn't financially possible."
The idea of a community studio, where the "what's next?" would have a tangible, physical answer, percolated in her mind. Then, after receiving help from DESIGNxRI to bring her vision to life, Welch reached out to the community to ask them exactly what they were looking for in a studio.
The answer is an inclusive place where you can come to clay wherever you are in life, or as Welch puts it, anyhow.
"I really want to give folks what they asked for because what else is the point?" she says. Part of this will eventually include scholarships for BIPOC and LGBTQ folks, and an environment that encourages compassion and understanding.
Welch likens working with clay in a community setting to yoga practice. "If you're struggling in a pose, you feel the energy of the room, you kind of get the sense that, okay I'm struggling, but other people are probably struggling, too."
She also sees creating ceramics, molding with your hands and working the clay, as a way to build something and feel a sense of purpose in the world. During a time when isolation has kept us apart, Welch hopes that her studio will become a place where the clay can mold us back together.
"When everything feels so ungrounded and hard and scary right now, if you're trying something new like working with clay, you're the one making decisions and you have some element of control," she says. "And then, hopefully you walk away with a bowl or two. It's physical evidence that you did something hard and saw through it to the end, and then you have this beautiful bowl." 72 Spooner St., Providence, anyhowstudioprovidence.com