Lobster Lovers' Recipes
Sure, you can have your lobster simply steamed or boiled, but we've compiled some more creative ways to prepare crustaceans.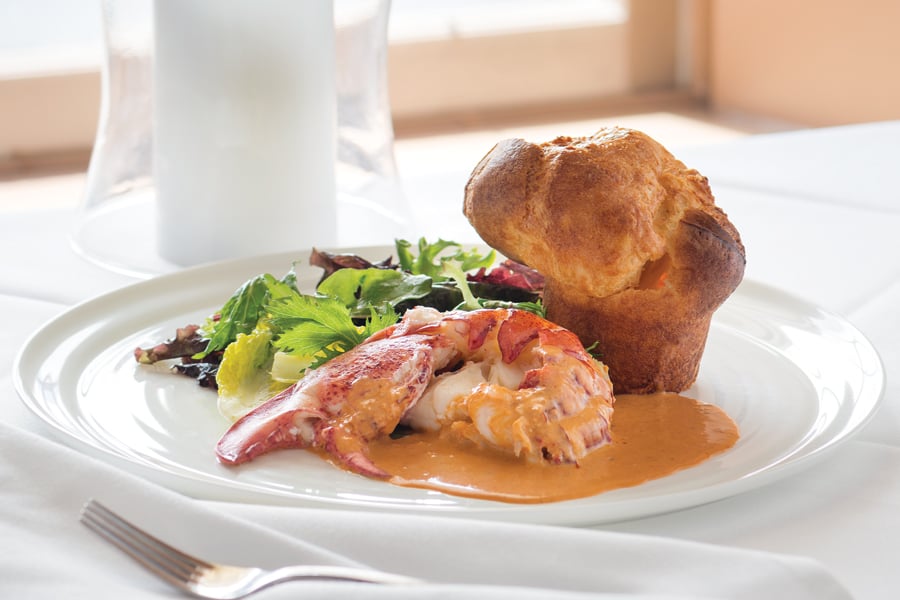 Lobster popovers from DeWolf Tavern
Lobster Popovers
From chef Sai Viswanath, DeWolf Tavern, Bristol
For popovers:
2    (1 ¼ pound) live lobsters
⅔    cup milk
1    large egg
1    tsp salt
6    Tbs and 1 tsp all purpose flour
2 ½     Tbs Wondra flour (quick mix gravy flour)
Sauce:
2    Tbs unsalted butter
6    medium shallots, minced
3    cloves garlic, minced
⅓    cup tomato paste
½    cup sherry
1    cup lobster or fish stock
2    Tbs heavy cream
Salt to taste
Tellicherry black pepper to taste
Drop lobsters into boiling water and cook for 7 minutes. Remove from water and drain. When cool enough to handle, crack shells and remove meat. Cut meat into 1 inch pieces and drain.
While lobsters are cooking, prepare popovers. Whisk together milk and egg in one bowl. Combine salt and both flours in another. Prepare the popover pan by spraying it with nonstick oil. Add milk mixture to dry mixture and combine. Spoon into popover pan, filling each cup no more than half full and place the pan into a cold oven. Turn the heat to 375 degrees and cook until browned and puffed, about 2535 minutes.
Prepare the sauce by melting butter in a medium saucepan. Add shallots and garlic and cook over medium heat, stirring often, until caramelized. Add tomato paste and continue cooking, stirring until tomato paste is caramelized. Add sherry and stock. Whisk to combine. Finish with cream, salt and pepper and cook sauce until a light consistency is achieved. Warm lobster meat in the sauce. To serve, cut a warm popover in half, place cut side up on a plate and spoon the lobster meat and sauce into the popover. Serve with a small mesclun salad. Serves 4.
---
Siena's cioppino.
Cioppino (Italian Fish Stew)
From Anthony Tarro, chef and co-owner, Siena, Providence; Siena Cucina, East Greenwich; Tavola da Siena, Smithfield
Stock:
1    quart water
1    celery stalk
1    small white onion, peeled
1    small carrot, peeled and stem removed
1    bay leaf
6    whole black peppercorns
2    1 ¼-lb hard-shell lobsters, live
2    blue crabs, live
Sauce:
1    small carrot, peeled and stem removed
1    celery stalk
1    small white onion, peeled
3    cloves garlic, peeled
¼    cup extra virgin olive oil
1    cup white wine
1    can whole, peeled Italian plum tomatoes
2    cups reserved lobster and crab stock
½    tsp saffron (optional)
1    tsp fresh chopped Italian parsley
6    large fresh basil leaves, chopped
½    tsp crushed red pepper seed
¼    tsp ground black pepper
kosher salt to taste
8    littleneck clams
8    black mussels
8    medium-sized shrimp, peeled and deveined
8    medium-sized scallops
1    cup swordfish and/or salmon, 1-inch dice
1    cup calamari (squid) rings
Reserved lobster and crab meat and claws
To make stock, boil together water, celery, onion, carrot, bay leaf and peppercorn. Add lobster and crab and cook on high heat for 8 minutes. Remove lobster and crab and allow to cool. Remove large claws and lobster tail. Open up crab bodies and place back into the stock along with heads of the lobster. It is okay to leave the roe and tamale in the stock, but it can also be removed if desired. Simmer stock and allow it to reduce by half. Once complete, strain stock and reserve. Discard any shells and vegetables. Carefully cut lobster tail in half. The shell on the tail remains on. Clean the roe and entrails from the tail and rinse under cold water. Reserve.
To make the sauce, run the raw carrot, celery, onion and garlic in a food processer until finely diced. In a separate large sauce pan, heat olive oil and add chopped vegetables. Cook over medium heat, stirring continuously for 5 minutes. Add white wine and reduce by half.
Hand-crush tomatoes and add pulp and juice to sauce. Add reserved stock, saffron, parsley, red pepper seed, basil, black pepper and salt. Bring sauce to a quick boil then reduce to a simmer for 30 minutes. If sauce thickens too much, add water to thin. Place clams and mussels into sauce and cook until they begin to open. Add shrimp, scallops, fish, squid and reserved lobster and crab claws and tails. Cook for 10 minutes, stirring gently, and season with more salt if needed. Serve family style in a large bowl or over al dente linguine (or any other type of pasta). This dish is great with garlic bread or grilled crostini. Serves 4.
---
Lobster mac and cheese from the White Horse Tavern
Lobster Mac and Cheese
From executive chef Rich Silvia, White Horse Tavern, Newport
2    quarts heavy cream
1    lb mascarpone
1    lb fontina, shredded
1    lb aged gouda, shredded
Salt and white pepper to taste
1    lb fresh rigatoni pasta
1    cup bread crumbs
1    Tbs white truffle oil
1    lb fresh lobster claw and knuckle meat, rough chopped
If using whole lobsters, boil them (about four 1 ¼ lb lobsters yield 1 lb of meat) for 8 minutes, then shock them in ice water before shucking for meat.
Reduce the 2 quarts of heavy cream to 1 quart. Add the mascarpone cheese and stir until it is incorporated. With the burner still on low, add half of the shredded fontina and aged gouda then blend with an immersion/stick blender until incorporated. Season as needed with salt and white pepper. Cool and reheat as needed. Will keep for up to 7 days if needed. Reserve the remaining fontina and gouda for the dish.
Boil and cook rigatoni to al dente.
Mix bread crumbs and truffle oil and toast lightly on the stovetop using a saute pan. Set aside and store in a tight jar once cooled.
Warm the mac sauce in a pan until simmering. Add the cooked pasta, lobster meat and remaining cheese and simmer until all is heated through and cheese begins to melt. Divide the mixture between four individual casserole dishes and top with truffled bread crumbs. Bake in the oven at 350 degrees until the crumbs are browned and the sauce bubbles up the side of the casserole. Drizzle with a small amount of truffle oil and serve. Serves 4.