Kelly Nevins of the Women's Fund of RI
The executive director explains how the nonprofit invests in local women and girls.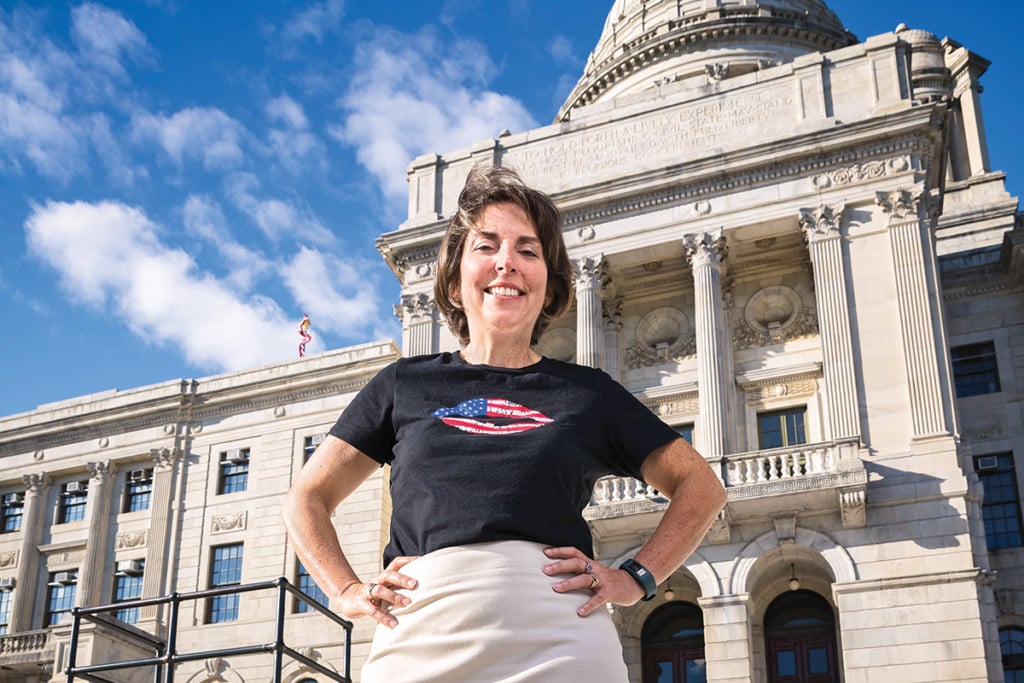 What does the Women's Fund do in Rhode Island?
Kelly Nevins: Our mission is to invest in women and girls and our goal is to achieve gender equity through systemic change. The way we do that is by producing original research on the status of women and girls in Rhode Island, advocating for policies that help women and families in our state and also teaching people to advocate for change. We have a Women's Policy Institute, which takes sixteen fellows through a nine-month program that teaches them how to advocate for legislative change. That program was successful in helping to pass temporary caregiver insurance and workplace pregnancy accommodations and some of our fellows helped to repeal the tampon tax, so we're excited to see what the next class will potentially be able to advance in 2020.
You also advocated for the Reproductive Privacy Act?
Kelly Nevins: The organization advocates for policies that help women and families. This year, our focus had been on the Reproductive Privacy Act but also the Fair Pay Act and increasing the minimum wage. We expect to have similar goals for 2020, although since we passed the RPA, we will be more focused on creating safe environments for women to bring their children into the world, so we'll continue to advocate for the doula health insurance reimbursement bill. We do research, advocacy and grant-making. Each year, we give out $50,000 to other nonprofits that are also working to close the gender gap. This year we gave five grants out, including to Building Futures and the Rhode Island Black Business Association, which has a leadership and pipeline program to help women of color advance to the c-suite (corporate suite, the higher echelons of Rhode Island business) in our state. We also gave grants to Sista Fire, Planned Parenthood of Southern New England and Girls Rock! Rhode Island.
How do you lead research?
Kelly Nevins: Each year we commission research on a particular topic. The research we released earlier this year was on 'Women of Color: A Snapshot.' It was a deeper dive into the research we released the previous year on working women in Rhode Island. It took a closer look at the inequities that women of color face in our state, particularly in the workplace, but also some of the other inequities, such as finding affordable and accessible daycare, and being able to afford to live in the state.
If someone wanted to advocate for a higher salary, what is the best way to approach that?
Kelly Nevins: The Women's Fund teaches salary negotiation courses periodically throughout the year to help women think about the strategy they want to use in advocating for a promotion and/or a raise in salary. We give them the tools they need so they can understand what their workplace value is, because you can put a number on your skills and experience. Then we give them an opportunity to practice in person before they go into their workplace. There's also a 'Gender Equity in the Workplace' toolkit available for download on our website to help employers work towards equity within their businesses.
How can women help?
Kelly Nevins: We would love women to share their personal stories about why the Fight for Fair Pay Act is so necessary as we prepare for the next legislative session. We also need volunteers for our policy and advocacy committee, the events committee and a grants review team. We love volunteers who can bring a specific type of skill to us that we don't have on our very small staff. There's a webpage just for volunteers, so you can learn about all the opportunities there. wfri.org