Inside the Photo-Ready World of Kiel James Patrick
How the designer went from his Warwick backyard to international appeal.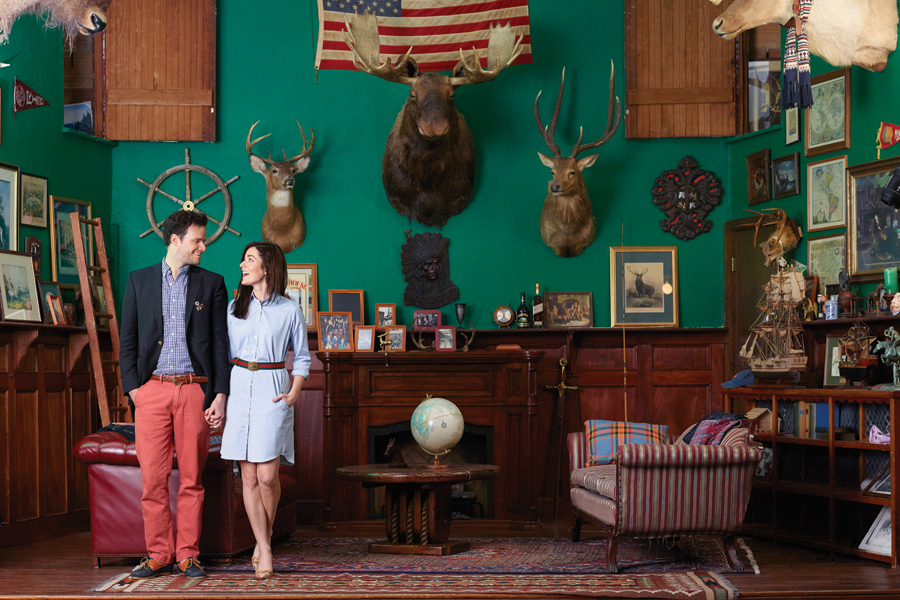 It's a brisk but sunny day on Easton's Beach in Newport and a young, preppy crew has driven down vintage cars from different parts of the state, including a dark green '68 Jeepster and a blue and tan-topped Land Rover Series III. They've passed the lot and parked the cars right on the boardwalk. Today they're producing a photo shoot for the Rhode Island-based Kiel James Patrick accessories and clothing company right in the middle of a beach polo match. Jockeys on horses trot along on the sand, while polo spectators stand by to watch both the match and the shoot.
The thirty-three-year-old creator of American-made nautical accessories and clothing, Kiel James Patrick, is heading up the production, featuring their bracelets that were first created in high school in his parents' Warwick backyard and now appear on the shelves and counters of boutiques, Nordstrom and Brooks Brothers shops around the world. Patrick and friends photograph the scenes themselves, sometimes in rented luxury homes in New England, and they promote the brand on social media platforms Instagram and Twitter, gaining a combined following of 880,000 on Instagram and 122,000 on Twitter. They take lifestyle photos and video for Instagram and Snapchat, a day-in-the-life app that posts live footage and snaps for only twenty-four hours.
Patrick has windswept brown hair, sometimes tamed under a Vineyard Vines hat, and he sports a Barbour jacket, sweater, jeans and leather vintage-style Gucci loafers with no socks. His shoes are scuffed and the soles worn down after a year of hiking, canoeing and running in them, which he says he gets vilified for on social media. His wife, Sarah Vickers, thirty-three, is a classic beauty with long, straight dark brown hair and a wholesome face, and she also dons a Barbour jacket, ripped jeans, a Gucci belt and brown Frye boots, plus big, glamorous sunglasses. Though they wear many different brands, the couple's wrists are wound with their own products, leather rope KJP bracelets, fastened with trademark metal anchors.
A few friends have come along for the shoot. Jenna Sweeney is a sweet blonde with New England style who is from Cape Cod and applying to college, and Jack Leonard, a student at the University of Rhode Island with vintage Hollywood movie star looks including dark tousled hair and piercing blue eyes that match the sweater he's wearing. The company's president and COO, Jeremy Savage, twenty-five, stands by with his younger sister, and the two pitch in by taking photos when Patrick isn't behind the camera himself, which is most of the time.
The polo match goes on for around ninety minutes with four, seven-minute chukkers, or rounds, with breaks in between. The whole time, the KJP crew snaps photos with fans while also producing the shoot that will later be posted on their website, social media accounts and Vickers's blog, Classy Girls Wear Pearls.
The crew is approached by at least a dozen different groups of people, some dapper gentlemen and antique car lovers, but mostly gushing teenage girls who recognize KJP and Vickers from Instagram and own some of their jewelry. The group happily obliges photo opps and enjoys seeing the snaps later posted to Instagram.
At one point, a jockey trots by on his horse, Sugar, and manages to control the animal enough to pose by the Land Rover and become the highlight of the photo shoot.
"That is the randomness you'll see," says Patrick. "We're just chilling with a horse on the beach."
The afternoon's impromptu shoot is directed entirely by Patrick who scouts the best shooting location, up the ramp near the bath houses where he can look down at the scene from above with the cars in view and horses in the background. He crouches down with his Canon camera peeking through the bars of the railing, careful to get a little beach grass in the shot along the bottom. He was also taking photos with his iPhone, but the battery is already dying. "Poor Snapchat," he says with a laugh.
Once he has the perfect angle, he hands the Canon off to Savage, who left a career as a lawyer at Hinckley Allen in Providence to help the KJP brand grow. He is also cofounder of the vintage car business Oxford Motorcars, out of East Providence, and many of the cars appear in KJP shoots. Patrick explains when and how to snap the shot to Savage, then he jogs down the ramp and hops into the back of the Jeepster, arms in the air like they're cruising down the boardwalk, although the car is parked and not running.
On Monday, photos from the shoot appear on the @KJP Instagram account. The car's Pennsylvania plates have been changed to Rhode Island vanity plates, sporting the registration "OCEAN." And the cars are arranged as though they're stuck in beach traffic. A caption on Vickers's Instagram reads: "This weekend cruised by too fast! Can somebody press the reset button." It got 20,000 likes.
Log on to the @KJP Instagram, and images of canoeing on the lake, bonfires on the beach, parties on Nantucket and exclusive visits to Ritz Carlton resorts will transport you into the world of Kiel James Patrick. It's like modern-day Camelot meets Wes Anderson. You will get to know the people in the photos, all friends, interns and KJP employees, decked out in designer labels like Vineyard Vines, Tory Burch, J.Crew, Brooks Brothers and more — but always with the trademark Kiel James Patrick jewelry, clothing and accessories strategically blending in as a part of their preppy wardrobes. They don't mind sporting competitors' products because it helps their own business grow.
Sean Gale Burke, a self-trained photographer from Lake Minnetonka in Minnesota, took on a KJP summer internship in August 2014, called Camp Foxhawk, which led to a year off from college shooting photography and doing social media promotion with Patrick serving as his mentor. Now twenty, he returned to Hobart and William Smith Colleges in New York in January, where he is a sophomore. Burke had the chance to go on a nine-day trip to Japan with the KJP crew, doing meet-and-greets and press events at thirty Brooks Brothers stores that carry the brand. "KJP is all American made and ultra-patriotic. Japanese culture absolutely loves everything about it," says Burke. "KJP is this big sensation over there. There were girls coming up to Sarah Vickers, just crying. It was wild."
The brand is picking up steam internationally. It was recently featured in the Daily Mail and Vickers also earned a spot on Fashionista's "20 Most Influential Personal Style Bloggers: 2016 Edition." Fans follow along on Instagram, idolize the founders and want to live this seemingly perfect New England lifestyle. "People who want KJP want KJP. They don't want a knock-off. They want something on them that they think is a piece of Kiel," says Stacie Browning Hall, owner of Pink Pineapple in Newport, the first retail boutique that sold the bracelets, as well as a second store in Wakefield. Patrick made his way into retail by tracking Browning Hall down through her friend during a late-night phone call from a bar. "Kiel got on the phone and just sold me without even seeing them," says Browning Hall. "He was so into the fact that these are going to sell, I guarantee you…. And ever since we started carrying them, it blows out the door."
Browning Hall explains that even though there are knock-offs of the nautical bracelets, people come to Pink Pineapple specifically looking for Kiel James Patrick products. Bracelets range in price from $40 to $90 for rope, leather and pearl versions, available in small boutiques, major retailers and on the company's website. Browning Hall is launching Kiel James Patrick's first concept shop in Newport this summer at Pink Pineapple, the place where it all began. "You put this bracelet on, you are living the KJP lifestyle," she says.
Patrick's eye for aesthetics began in high school at Bishop Hendricken prep school for young men, when he started collecting vintage clothing. He grew up in Warwick as one of three children, the son of a retired police detective father, who now owns Del's Lemonade businesses in Rhode Island and New Hampshire, and a teacher mother. He chooses not to publicize his last name, and goes by Kiel James Patrick, his given first and middle names. As a teen, he did odd jobs for elderly neighbors — mowing lawns, shoveling snow — and instead of compensation, he asked to peek inside closets and attics for vintage treasures.
He accumulated a collection of classic clothing and antiques that took over his parents' basement, then began selling garments out of his Jeep in the school's parking lot. The business was named Wicked Vintage, and he learned to tailor clothing using his grandmother's sewing machine. Students came to Patrick for plaid jackets, bright pants, quirky ties and preppy pieces from Ralph Lauren, Brooks Brothers, IZOD and other well-made brands. "It got to the point at Hendricken where we started going to school dressed like we were straight out of Caddy Shack," says Patrick. "Then the school started cracking down."
The dress code became stricter and Patrick and friends — who coined the name of their group the Swixtas — had to find a new way to express their sense of style. "I started making accessories kids could wear with their uniforms," he says. He transformed vintage ties and nautical ropes into bracelets. "All the kids were wearing them," says Patrick.
Father Marcel Taillon, who was the chaplain at Hendricken while Patrick was a student there, remembers the young man for his creativity and passion. Sure, he stirred things up, pushing the boundaries in a fashionable way, but he was always respectful to faculty, says Taillon, who often kept a razor and shaving cream in his drawer for boys who forgot to shave for school. Patrick's group of friends would head off-campus for lunches of hot wieners, and they'd all purposely park their cars crooked, far away from other vehicles. Even then, Patrick thought outside the lines. As a part of the faculty, Father Taillon was included in these student outings. "I had to wear my black and even so I was allowed," says Father Taillon, who is now a pastor at St. Thomas More Catholic Parish in Narragansett. "I had the wardrobe exception from Kiel."
Kiel James Patrick and Sarah Vickers. Photographed by Jason Evans.
It was also in high school that Patrick met future wife, Sarah Vickers, also from Warwick, who later graduated from Pilgrim High School in 2000, while Patrick graduated in 2001. Patrick recognized her as someone he had seen before. "I was shopping with one of my friends. She was shopping with one of her friends. We crossed paths," says Patrick. "I remember running home, saying 'I found this girl, she's right out of the 1960s. She's beautiful.' I was head over heels, still am." He thought she had that classic beauty like Jackie O., and he managed to organize a double-date. "My friend and the other girl did not hit it off but Sarah and I have been inseparable ever since."
The couple became a team right away. They created the bracelets together in Kiel's backyard and garage. The first renditions were sold at Gaspee Days in Pawtuxet Village. They sewed strips of old ties into bracelets and hand-dyed white nautical ropes using vegetable dyes in lobster pots, leaving them to dry in the sun. "When I first met him, his hands were all different colors all the time from dyeing the ropes," says Browning Hall.
Vickers did a lot of the prep work — ironing, measuring and cutting — while Kiel sewed all the products using his grandmother's tried and true sewing machine, until, eventually it burned out. "We ended up selling out in a day," says Patrick. "We said this could turn into a business. It seemed like people really liked what we were designing."
They priced how much it would cost to enlist local help to create the bracelets and it was too expensive, so for the first few years, Patrick and Vickers continued doing all the work themselves. And they still do, pitching in to create the accessories during busy holiday and summer seasons, while also producing, taking and editing all the promotional photos themselves and posting to social media sites and their website, oftentimes updating late into the night and early morning hours at home.
Because the business took off, Patrick skipped college to focus on the brand, officially launching Kiel James Patrick in 2008. Meanwhile, Vickers graduated from the University of Rhode Island.
Through Instagram and Tumblr posts, KJP sold more product than they ever imagined on the website and gained attention from national retailers, such as L.L. Bean and, later, Brooks Brothers. They moved operations to a larger home in Johnston, and as more trucks pulled up with shipments of materials, the neighbors became irritated and the couple understood it was time to move on. "We had trucks coming in and out. It turned from a homegrown business in my parents' house to another house, to 'Okay, we need a building,' " says Patrick. "The timing was right. It gave us a little kick."
The red brick Kiel James Patrick factory on Central Avenue in Pawtucket once housed a dance hall and roller skating rink upstairs and an autobody downstairs. It became KJP's new home in 2012, and the company plans to remain here, expanding as they grow. The area surrounding the building is gritty and commercial, but the interior is a whole different world. Go upstairs and peer through the tiny square window on the door and a mounted buck head sporting a bowtie and ball cap and photos of John F. Kennedy on the walls will scream KJP. Then there's the box of firecrackers with a sign that reads, "Please, take one."
The factory floor includes wooden boats made into shelving and an alcove with displays holding dyed ropes in every color of the rainbow. The hall's stage is a meeting room that looks like a misplaced lodge den with more taxidermy (a bison head!), leather couches, mounted vintage photographs, a model ship and even a popcorn machine.
The second floor is constructed like a ship with a wooden bow and stern, all built by contractor Bob Spaziano — whom everyone calls Bob the Builder — and a hammock hangs between staffers' open office space. Patrick and Vickers's office is at the top of the stairs behind French doors that are always open. The office is called Fort Cochickawick, a name that comes from Patrick's childhood exploring Camp Yawgoog as a Boy Scout. The space is furnished with mismatched vintage couches (donated by family or found at estate sales), walls of books and antiques, including old cameras, vintage knickknacks and more taxidermy — much of it from Patrick's high school collection — and an extensive bar stocked with all the best liquor. It's like a Neverland for adults who don't want to grow up.
Vickers and Patrick sit side by side at laptops, Vickers checking emails and Patrick going through 4,000 photos from a recent Ocean House photo shoot. The factory's orphan cat, Merlin, wandered into the factory one day and never left, much like some of KJP's employees. She sits on Vickers's lap as she types and then hops down and moves on to warm up a new visitor's lap.
The couple's visit to the Ocean House involved two shoots for Van Cleef and Arpels jewelry and linen company Thread Experiment. Patrick and Vickers styled the shoots in an ocean view suite for a Town and Country magazine online campaign. They photographed themselves in their own fashionable outfits while Vickers accessorized with the jewelry. A guard kept watch on the jewels, valued at $148,000. Throughout the weekend, the couple took 4,000 photos both inside and outside the property, and they sent edited photos back to the magazine for selection. After a luxurious weekend away filled with long days of photo shoots, they came home to find that the pipes had burst inside their lakefront home. They plugged in heaters for warmth, but that only blew out the electricity. That night, they cuddled together to stay warm.
On the recently completed downstairs workshop at the factory, a group of three jewelry makers is measuring and cutting rope, tying sailors' knots and affixing silver metal anchors onto bracelets. Holly Costa of Pawtucket has wavy long blond hair and wears a light gray hoodie and faded jeans. She has been working here two years. Her nimble fingers — flecked with chipped white nail polish — grasp a pair of cable cutters ("Harbor Freight Tools special for $2," she says with a laugh) to fasten metal clamps to the ends of navy blue, white and burgundy nautical ropes.
From left, a photo shoot at the Ocean House; Narragansett; the Orchard Mansion in Newport. Photographs provided by Kiel James Patrick.
Costa began working at the KJP factory after responding to a Craigslist ad. Previously, she had been working for Charisma Manufacturing making jewelry for QVC since she was fifteen. But when they sent the work overseas, Costa began communicating with manufacturers in China by computer. Finally, the company shut down and Costa was without a job. When she had applied to work at KJP, she didn't know the company existed although she remembered the building had been a dance studio. Now her daughter with black hair and blue streaks works alongside her helping to prep materials so that she can save time and assemble the bracelets faster. Twenty-seven people are employed at Kiel James Patrick in different roles.
The metals used to make the anchors and clasps come from a company in Cranston, and the ropes are ordered from various locations in the United States, including New Bedford, Hawaii and North Carolina. A company in East Providence braids and twists the ropes in advance, which saves time, because they used to do that themselves, too. "I would say 90 percent of our product is from Rhode Island," says Patrick.
Factory floor manager Mery Carlson wears a plaid blanket scarf, sweater and leggings, while filling orders that come through the website and wholesale accounts. Shipments are being prepared by two young women who collect the accessories stocked inside 800 wooden cubbies like those that hold library catalog cards, labeled by each item's name: Miss Hepburn, Brunch on Fifth, Jackie Valentine. Each piece is wrapped in tissue paper emblazoned with a map of Nantucket Sound and placed in a navy box tied with a white rope fastened into a slipknot. Customers also receive a KJP sticker featuring Patrick's Jeep Wagoneer, and sometimes a handwritten note. "You can see the customers who are fans," says Carlson.
"A couple of weeks ago, we had an order from one who was obviously following on Instagram and they asked for a brunch menu to the Dorrance. We printed a menu and included it with their order."
Carlson, thirty-one, met Patrick and Vickers while managing a Starbucks. The couple often came in for iced coffees. After touring the factory, she seized the opportunity when a job came up. "I am learning a lot about working for a small business," says Carlson, "but I'm also trying to implement some routines and operations that a big business would have."
Having a successful company and attaining celebrity status doesn't come without its drawbacks. Vickers says fans try to track them down through social media. They don't share details about where they live, other than "Indian Lake." They've also had cars speed up on the highway and slow down to snap pictures while Patrick drives his recognizable Jeep Wagoneer, nicknamed Griswold, or Vickers in her vintage Volkswagen Bug.
"I get tons of tweets all day of kids taking pictures on the highway," says Patrick.
"It's the worst. You'll be driving and they'll make their moms slow down the car, and it's almost like they are going to cause an accident," Vickers says.
In fact, maintaining any sense of privacy is a challenge. "We are so public, but there is a huge piece to us that is very private. We decide what we share with the world," Patrick says. "People have to remember that we're creating a brand here, and that's the image we're trying to project. This is ideal Rhode Island. But we also have our personal lives."
They say many of their friends outside of work do not have social media accounts, and they don't dress in similar styles. "They have their own careers and when we get together that's not what we're talking about," says Patrick. "It's kind of nice to have our own life that not the entire world is viewing."
Patrick and Vickers married this past November in an intimate setting at Henry's Christmas Tree Farm in Hope, Rhode Island, a place they visited for years as a couple, picking out a Christmas tree. They posted a few images from the day, which exploded across social media sites and ended up on websites for Town and Country, Cosmopolitan, Glamour, the Knot, Huffington Post and more.
Even though these photos made the rounds in the public eye, there are moments that will remain a mystery. "We have our own photo albums at home that no one will ever see," Patrick says.
Critics on social media will complain that the KJP shoots are too staged, the people in them are too young or that the KJP crew doesn't do actual work. Friend and former staffer Richard Ross, twenty-six, posted some behind-the-scenes videos on his YouTube vlog, just to show how much actually goes into building the brand. Watch the crew manually push around a vintage car that all of a sudden won't start and wait for the perfect time of day for lighting. "There are a lot of comments on Instagram that are like this whole thing is pretentious; do you guys even work? You are running around having fun all day, just living on easy street your whole life," Ross says. "To generate that ease, it takes a considerable amount of work in order to get it that way, all of the time. You can't put out that much content without working really, really hard."
Though Ross is from Texas, he began following KJP on Instagram and was drawn into their world. He wanted to be a part of it. After some email and social media correspondence, he drove up to the factory one day on his way to Boston, and knocked on the door. Patrick and Ross hit it off, and Ross was soon adopted by the brand for his video skills. He worked throughout the spring and summer for KJP, but eventually returned to Texas to begin a career as a photographer and filmmaker for A. Larry Ross Communications.
Ross stresses the amount of dedication Patrick and Vickers put into the brand themselves. Patrick takes every single product and lifestyle shot himself, featured on the retail website, plus most of the social media photos. "With such a small team, they are able to do it in house, so it's cost-effective and they have a great return because people follow along and get invested," he adds. "They are along for the ride."
Patrick and Vickers are in their early thirties, and many photo shoots involve college kids and twenty-somethings. Look at who their biggest fans are and you can connect the dots. "There are a lot of younger kids, but that's the target audience. It makes sense," says Ross. "He's also big on investing in people and teaching them what he knows. There is a good mission and purpose to help the next kids coming up learn these new skills and apply them everywhere they go."
Ross occasionally travels back to the Ocean State to hang out with the KJP crew. The most recent visit was to officiate Patrick and Vickers' wedding. Before seeing KJP's social media world, he says he didn't think much of Rhode Island.
"From a Texas perspective, Texas is huge and Rhode Island is the smallest state, so it's an easy jab. I always thought of it as a joke," says Ross. "But he's really unearthed on a great, large platform, all that Rhode Island has to offer. It has rich history, great places to visit, great food and he's creating an intrigue that I am sure has had an impact on people visiting Rhode Island."
An aerial camera hovers over the Orchard, a sixteen-bedroom mansion on Narragansett Avenue in Newport, a property for sale by Lila Delman Real Estate International. The shot swoops down in front of the chateaux-like stone estate to focus on a stylishly dressed young man pulled up in a vintage sports car being greeted by a young lady. The fifteen-second Instagram video's background music is a song by Tears for Fears and the clip transitions between shots of young preppy people soaking up the luxury atmosphere and angles of the estate's architectural details.
The manager of the Lila Delman Instagram campaign is none other than Kiel James Patrick. The aerial shots are filmed by Clint Hodnett, son of John Hodnett, owner and broker for Lila Delman. The Hodnetts met Patrick and Vickers during a New Year's 2015 vacation at the Mount Washington Hotel while the couple produced another KJP shoot. Clint had already been following KJP on Instagram, and that weekend, they took a group photo together.
The worlds of fashionable accessories and real estate collided as Patrick and Vickers used Rhode Island's scenery, including some of Lila Delman's luxury properties, as the backdrops for their photo shoots and summer internship program. Instead of spending money on advertising, the team rents homes across Rhode Island and New England, brings along their crew and produces elaborate photo shoots at the properties and VIP events with the young and beautiful wearing some KJP products.
The partnership between KJP and Lila Delman came about because the exposure these properties received on KJP's and Vickers's social media accounts began to lead to quicker bookings.
"We used to rent all of our favorite houses for our summer internship program or just to take a break from the factory for a week," says Patrick. Then Pottery Barn came calling for a collaboration on a Fourth of July photo shoot, and the couple contacted Lila Delman to see if they could use one of the homes as the backdrop.
Because of that partnership, Lila Delman's website traffic doubled overnight. Now Patrick and crew spearhead Lila Delman's Instagram campaign, showcasing some of its listings with lifestyle marketing, creating video vignettes and photos featuring their friends enjoying the properties for sale as well as driving vintage cars borrowed from Oxford Motorcars to complete the backdrop. "It's a different approach, not just having images and videos of open and empty rooms," says Melanie Delman, owner and broker for Lila Delman. "We want to inject actual people having a glass of wine, enjoying the property or playing tennis. Our clients envision themselves living in these homes. It really is a different approach that no one else is doing."
The images and videos are shared with the fast approaching 1,000,000 followers of Patrick and Vickers combined with Lila Delman's audience. "Since this collaboration, Lila Delman's followers have increased by 1,000 percent on Instagram," says John Hodnett. Even if the audience is dominated by young people living vicariously through photos, sometimes their parents look on. Not to mention the high-end brands that also keep track of KJP's posts. "He is very popular with a certain demographic, but believe it or not he is followed by a lot of people in the fashion industry, the art industry, photography, film production," says Hodnett. "There's a broad spectrum of followers."
KJP is now helping other Rhode Island businesses expand their reach by adopting the company's social media tactics. They've collaborated with Keel Vodka, Barrington Books, Havas Public Relations and Governor Gina Raimondo's office to boost Rhode Island's social media presence in the tourism sector. This June, KJP is also launching a new program called American Adventurists, for which they're hiring four summer interns and four staff members to build a team of creative minds to redefine the way local companies market themselves using social media and digital content.
"It's nice to be able take what we've done and shed some really positive light on what we love in Rhode Island, between businesses and restaurants and reasons to travel," Patrick says. "It's really important to us and it's another piece of the puzzle that we want to expand on — helping Rhode Island and bringing more talented people here."
And Kiel James Patrick and crew might make them come and never want to leave.