Inside Industrious Spirits Company, Providence's First Distillery Since Prohibition
The Industrious Spirits Company bottles and serves its own gin, vodka and bourbon.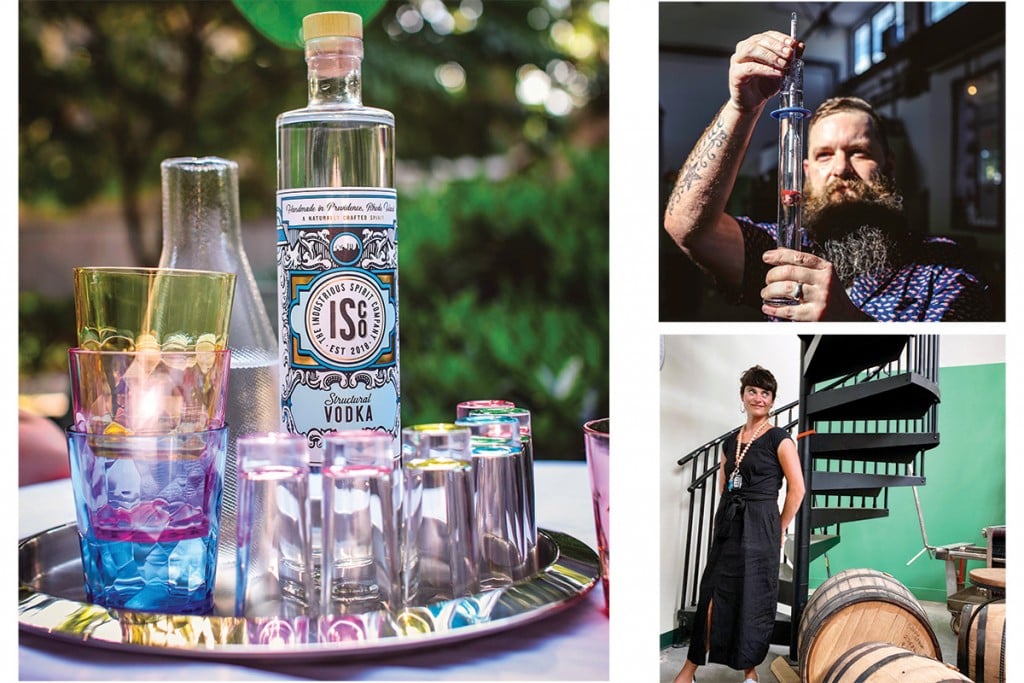 Providence's first craft distillery since Prohibition is pouring pretty cocktails. The Industrious Spirits Company — located next to the Steel Yard and affectionately called ISCO Spirits — has been bottling and serving its own gin and vodka made from organic corn and is in the process of producing bourbon and other seasonal spirits using special landrace corn.
The historic building was once home to Providence Steel and Iron Company, where it fabricated steel and iron pieces for more than 150 years and then became artists' studios before it was recently transformed into the microdistillery. The showpiece of the vast production space is its Vendome copper still that was custom-made and shipped from Kentucky, flanked by an expansive covered courtyard that accommodates social-distancing drinks over live music and visits from food business pop-ups.
"Everything we do here we make from scratch, which is not always the practice for startup distilleries since it's very labor-intensive," says Manya Rubinstein, CEO of ISCO Spirits who founded the microdistillery along with artist and distiller Daniel Neff, CFO/COO Doug Randall and partner John Curtin, who is also owner and founder of the Albany Distilling Company. "We think it's worth it."
ISCO Spirits starts the process with non-GMO organic corn from upstate New York. It named its spirits in homage to the building's industrial past, and the entire tasting room is designed with pieces made by local artists, including paintings, murals and the bar and its handmade tiles on the back wall. "This place was founded out of a makers' and artists' community and we are very inspired by our community of chefs and farmers," Rubinstein says. "We made our first two products, Structural Vodka and Ornamental Gin, modeled off of the two types of steel that they made here because we felt like they really encapsulated what we wanted to do with the company, which was to focus on something that was well made but also beautiful and enjoyable."
Vodka is made on site in small batches and charcoal filtered at least twenty times for a pure finish. The gin is flavored with juniper and a special mix of fifteen botanicals including elderflowers, passion flower, citrus and hops, some sourced from local farms. Once the spirits are bottled, bartenders garnish and flavor seasonal cocktails with foraged and locally grown herbs and flowers. Patrons can also purchase bottles and drinks to-go at the distillery or find products in local liquor stores. Spent grain goes to feed animals at Simmons Farm in Middletown.
Back when the coronavirus pandemic hit, the distillery halted production for a time to produce much-needed hand sanitizer for the city of Providence, as well as some Knock It Off-branded hand sanitizer in collaboration with Frog and Toad gift store. By summer, ISCO Spirits was back to producing spirits and serving drinks in the outdoor space. The business has partnered with Garden of Eve Caribbean restaurant down the street to serve up a set menu of chef Yveline Bontemp's Haitian specialties and jerk chicken, and it also welcomes mobile food vendors like Big Feeling ice cream, Black Beans PVD, Providence Ramen and the Burgundian Coffee and Waffles. Biweekly live music events hosted by PVD Live sell out quickly, so be sure to sign up for the ISCO Spirits email newsletter and make reservations for the patio. 1 Sims Ave., Providence, iscospirits.com