In This Narragansett Beauty, Mid-Century Meets Traditional New England Design
The home's aesthetic was inspired by a childhood collection of beach stones.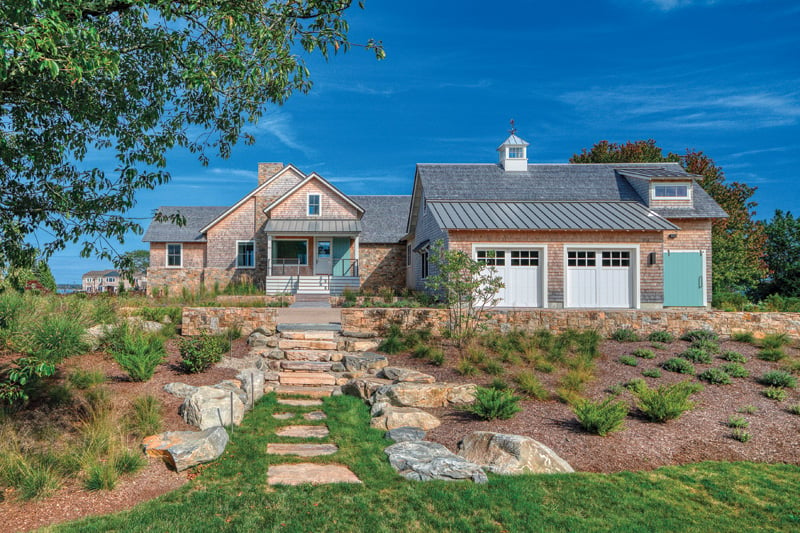 Mix It Up
Some of life's biggest decisions are made on instinct and that was the case for these homeowners, who claimed their new nest in Narragansett in one day. The couple, who had lived in Chicago for many years, were on a week's vacation in Newport when they decided, on impulse, to go by their grandmother's former home. Across the street was a dilapidated, 1970s two-story house destined to be replaced, with a For Sale sign. "It can take us an hour to decide on dinner," says the wife, a Rhode Island native, with a laugh, "but a quick drive by became a lifestyle change."
The couple love the clean, contemporary style of Southern California, where they'd spent a lot of time, but "we didn't want to build this crazy modern thing," they say. They instantly clicked with Jamestown architect Ron DiMauro, a surfing pal of the family. "He was up for a brain stretch, and we were off and running. If mid-century modern and traditional New England style had a baby, this house would be the result."
No Muss, No Fuss
From the time she was a child, the wife kept a collection of polished beach stones in hues of grays and blues. They reminded her of summer visits to Narragansett. "This is the feeling I want," she told the pros at DiMauro Architects and Kirby Goff, the designer, "simplicity and calm."
The color palette and textures throughout nod to those childhood treasures. And because the couple wanted this to be their forever home, it's designed for aging in place. The self-contained main floor has a kitchen, dining and great room, studio, office and ensuite bedroom.
The kitchen is minimalist and sculptural, but also easy to care for. Case in point: the huge, low maintenance flooring tiles by Porcelanosa. "I brought beach sand to the tile store to be sure it blended in," the wife says. "I'm not vacuuming this every day!"
A lower level for guests has three ensuite bedrooms, a family room, a gym and laundry. The top floor is a great hangout space with a roof deck and panoramic water views of the bay. And right inside the front door? A small niche holds a jar with beach glass the wife and her brothers had filled as kids. "It used to live on a shelf at my grandmother's and now it's back in her neighborhood," the wife says. "I'm pretty sure she'd be as happy about
that as we are."