HYPROV Coming to Woonsocket, Turning Everyone Into Improvisers
With the snap of his fingers, hypnotist Asad Mecci turns the mic over to improvisational comedian Colin Mochrie and lets the audience come to life.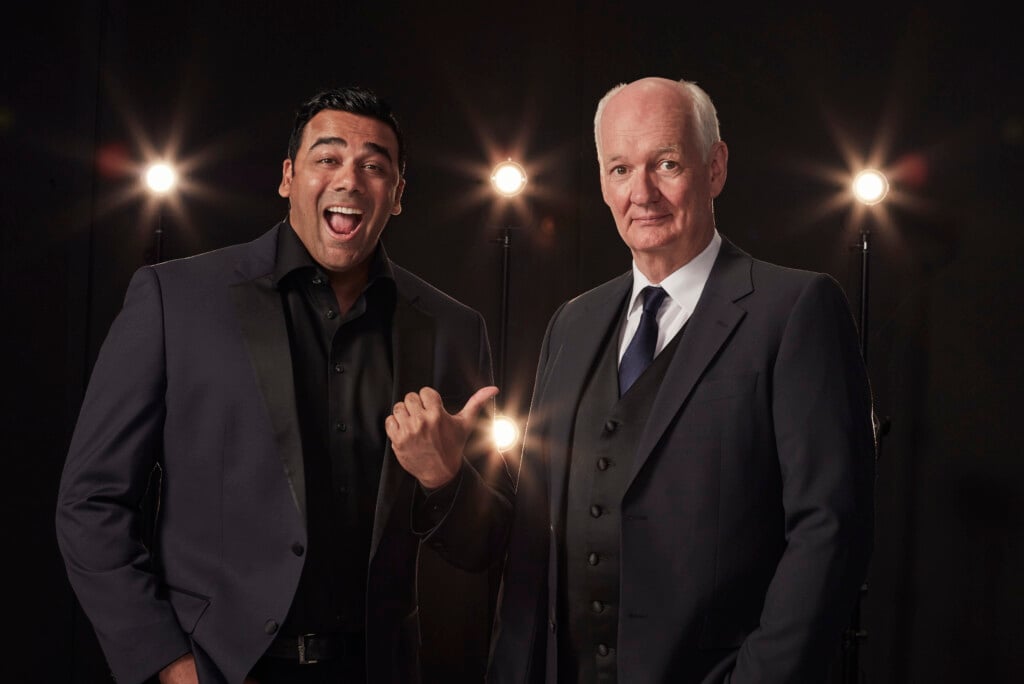 What happens when you combine hypnotism and improvisational comedy? HYPROV takes from both arts and gets the audience revved up for a one-of-a-kind show. Master hypnotist Asad Mecci and seasoned improv comedian Colin Mochrie from "Whose Line Is It Anyway?" have teamed up for a national tour to leave audience members in awe.
"It's a once-in-a-lifetime thing," Mochrie says. "It was all Asad's idea; I was a helpless pawn."
Mecci was taking classes at the famous Second City, an improv sketch and comedy bar that has launched many comedians and had a solo show as a hypnotist on cruise lines. Mecci says he wanted to get better at his craft. During his courses at Second City, instructors would often say "get out of your head" to first-time improvisers. He realized the instructors wanted unconscious comedy, a knee-jerk reaction rather than an exuberant effort to become funny. With hypnosis, you're moving the conscious mind aside, which is the critical analytical part of the mind, and delving directly into the unconscious mind that controls natural habits such as breathing and blinking, Mecci says. Using his extensive background in hypnotism, he thought, "can I take somebody with no improv experience and hypnotize them and turn them into a great improviser?"
To up the stakes even further, he brought in what he believes as "the world's greatest improviser," Mochrie. Without prior interaction, Mecci sent out the concept to Mochrie and they got to work. They piloted it in a show at Second City and took it to Just for Laughs Montreal and London, and it took off, continuing in more than sixty-five shows in North America and seventy off-Broadway shows last year. It was so much of a success that it sold old Yuk Yuk's one of the most prestigious theaters.
Twenty random volunteers from the audience are placed under hypnosis by Mecci and are methodically whittled down until the five best participants are left on stage. With the final contestants, Mochrie uses them as improv banter within several on-stage games and creates unique shows at every tour stop.
"Everything that occurs that night will only occur that night," Mecci says. "There's new volunteers, no plants, and that magical moment will never be replicated again."
Don't be fooled: the volunteers aren't asleep. Observably, they seem as though they are asleep, but they are aware of what is happening. They know they are under hypnosis, but the physiological response is whatever the hypnotist is telling them. Mecci emphasizes that nothing is done against morals or values when hypnotized. To put it simply, "it feels like you're caught up in a movie and you move to a physiological response," he says, comparing crying to a tear-jerker film or heart palpitations in response to a horror movie.
"It's totally different from anything out there," Mochrie says. "There are lots of misconceptions out there about hypnosis, but it's truly a fascinating and hilarious show."
Novice improvisers use filler words such as "um" and "uh," but they don't exist in HYPROV. The contestants are fully committed and answer prompts without hesitation. Audience members experience the crescendo of the show when it gets down to the best of the best as they keep up with Mochrie playing characters, unlocking vocal tonality and personalities.
"They become pure improvisers, but with more life in the eyes than Ryan Stiles," Mochrie jokes about his "Whose Line" colleague. "I've worked with great improvisers, but these people give them a run for their money."
When attending the show, Mochrie advises the audience to just let go and have a fun a time.
"People are skeptical of both improv and hypnosis, but we're hoping they'll have more of an understanding," he says. "When hypnotized, they are not given the ability to improvise. The thing that stops them from improvising is taken away. We improvise from moment to moment in life, but we stop ourselves when on stage from fear of embarrassment. When you open up your mind, it can lead you to a whole different area of your life that you'd never expect to be exposed to."
Mecci has been training and studying the art of hypnosis for more than two decades after seeing it used as a medical treatment to sooth a sunburn in college. Mochrie began improv in 1980 and besides starring in "Whose Line," he has toured the world and trained with others in his field to improve his craft.
HYPROV is a one night special show on Friday, April 21 at 8 p.m. at The Stadium Theatre in Woonsocket. Tickets $36-51.