How Has Gentrification Changed Providence?
Some neighborhoods are on the cusp of a turnover that favors well-heeled newcomers over longtime residents.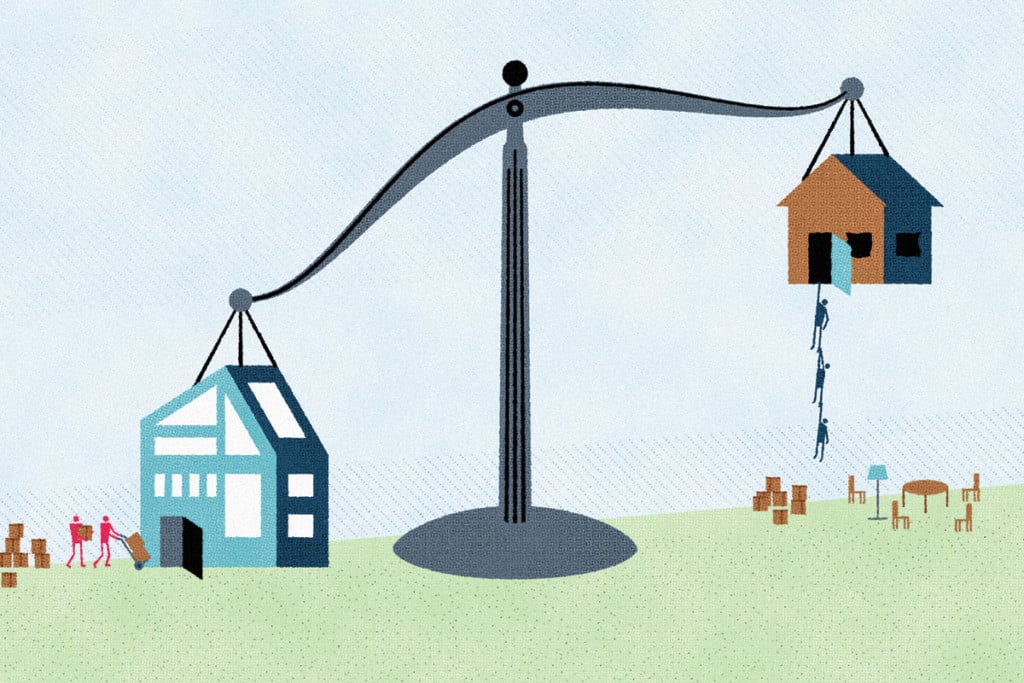 Nine days before Christmas, Frog and Toad's new Westminster Street location bustles with shoppers weighing the gift potential of handcrafted leather bags. Meanwhile, Eugene Brown's Grove Street apartment hisses with the effort of four blazing stove burners he turned up to warm the space.
Frog and Toad owner Asher Schofield moved into the neighborhood in October, taking advantage of "a fantastic opportunity" to open a second location closer to some of his existing customers and to own his retail space in an up-and-coming neighborhood.
"It's just been fabulous," he says. "Business is great and we've gotten so much wonderful feedback from people who are thanking us for adding to this community."
Brown is moving out, evicted in a rent dispute over the three-bedroom apartment's general state of disrepair and a non-functioning heating system for two years.
"It's been horrible," says Brown. A manager for a travel company's call center, Brown makes "very good money," he says. "I'm looking everywhere in Providence for something decent, but anything less than $1,200 a month is old, not kept up or in a bad neighborhood."
Neighborhoods change, cities want capital, residents — at every income level — need a safe and affordable home. How policymakers juggle the three determines whether a deteriorated area is revitalized or gentrified. The numbers say that some city neighborhoods — like the West End and Federal Hill — are on the cusp of a turnover that is already displacing long-time inhabitants in favor of better-educated and better-heeled white residents trailing coffee bars and yoga studios.
"We have a lot of cautionary tales out there to learn from as we see so much direct investment and so many new projects," says the city's planning director, Bonnie Nickerson. "But we want to make sure we are growing in an equitable way and that the projects and initiatives we support are those that are advancing all Providence residents. Mayor Elorza is very clear that growth has to be equitable growth."
Providence, with a 3 percent vacancy rate in the fourth quarter of 2017, is now a "tight" market, according to the HousingWorks RI 2018 Factbook. And, if you are a household with a $50,000 income, you can no longer affordably buy a home or rent a two-bedroom apartment there, the report says. From 2016 to 2017, the median household incomes of owners and renters statewide rose 2 to 3 percent; median home prices and average rents rose from 6 to 8 percent. In 2017, only 209 long-term affordable units were added in the entire state.
Barbara Fields, executive director of Rhode Island Housing, says the nation is short two-and-a-half million housing units.
"We weren't producing enough housing before the recession," she says. "In Rhode Island, the average home price is going up, but the number of sales is going down. It's an inventory issue. We don't have enough to meet the demand."
Finding the capacity in a city like Providence isn't easy, says Carla DeStefano, executive director of Stop Wasting Abandoned Property (SWAP), a nonprofit affordable housing development corporation.
"We're in a built environment; we don't have big swaths of land zoned for the development of entry-level housing," she says. The city's list of 700 or so abandoned properties never really gets smaller. A third must be knocked down — a financially daunting prospect for the city.
"The cost of building and renovating is as difficult as it has been in the last twenty years," DeStefano says. "It doesn't matter if it's affordable housing; we all buy the same two-by-fours."
The end of the foreclosure crisis, combined with the media's annual proclamations of the city's charisma, has opened the door to market forces. But, so far, it's only ajar. In June of 2017, MIT master's degree candidate Fay Strongin published the results of her study on gentrification in Providence. Strongin combined rent and income growth, demography and education levels data with interviews with community development leaders to determine if Providence was gentrifying, and how quickly. She concluded that select Providence neighborhoods were being gentrified, but at a slower pace than other cities where the real estate market is stronger. Strongin identified areas within eleven census tracts clustered in the city center, and parts of South Providence, Elmwood, Washington Park, the West End, Olneyville, Smith Hill, Valley and Mount Pleasant. From 2000 to 2015, the average city rent rose 26 percent; in those neighborhoods it rose by an average of 48 percent.
"The wolf is at the door for certain people, because Providence has such a high concentration of very low-income people and low levels of housing production," she says. "That means people are extra vulnerable to increases in housing costs."
Displacement is harder to measure, although Direct Action for Rights and Equality (DARE) has been conducting a tenant survey with a goal of 1,000 responses to better understand why people move. Anecdotally, DARE's tenants and homeowners organizer Christopher Samih-Rotondo says an older generation of longtime homeowners who rented their properties at below-market rates to low-income tenants are selling out to investors.
They capitalize on the demand for student housing or "look at renting to a young, white couple who can pay $1,600 a month. Those tenants who have been in place are seeing these dramatic changes," Samih-Rotondo says. "The people buying into the market know they can get properties relatively cheap and the returns will be big because of the changing demographics in places like the West End. What current residents need is secondary."
Cornell Law professor Joseph Margulies, who has been documenting the changes to Olneyville for a forthcoming book on community well-being, observes that gentrification also threatens businesses and community institutions.
"The tension is playing itself out in real time on Valley Street, where you have Troop, a gentrified restaurant, Riffraff bookstore, a Pilates studio and Clinica Esperanza, which provides free health care. It's a perfect example of the fragile coexistence of the gentrified and working poor, steps from each other. And, it's a story not yet written if that will be sustainable because the property values could go up and the economic pressure could increase. Without some control, [Clinica Esperanza] could be forced out."
Gentrification adds the corollaries of race, class and social justice to the basic equation of supply and demand. Will a green space stay a baseball field for the established Dominican residents who love to play, or become a dog park for well-intentioned urban homesteaders? It's an uncomfortable conversation, say community organizers.
Teresa Guaba of Neighbors 4 Revitalization argues for "a platform to elevate those voices in so much need. We can create some strategic partnerships and transform neighborhoods without displacing anyone."
Newcomers like Schofield are acutely aware of the delicate balance. Independent of his move to the West End, he started HopeWorks, a jobs and mentoring program based at Hope High School on the East Side, which has placed forty-eight high schoolers in part-time jobs. On that busy December Sunday, two of his mentees furiously wrapped customers' purchases.
The prescriptions for affordable housing at all income levels are many and community organizers and development nonprofits, planning experts and city officials have a list. The latter points to programs like its Every Home initiative to rehabilitate abandoned properties; community development block grants to create affordable housing; financial assistance for home repairs; lead abatement; and First Source Providence, which matches city job seekers and employers.
Taino Palermo, director of Roger Williams University's community development program, says employment comes first.
"It doesn't matter if we give people Section 8 housing; if they don't have a source of income, they can't have housing at any price," he says. "We wouldn't be so crazy over Fane Tower if it were a cultural practice to include affordable housing or jobs development in economic development projects."
Deed restrictions and inclusionary zoning, in which the developer is required to include a percentage of affordable units in exchange for extra density, is another.
"It's important that kind of policy be in place," says Scott Wolf of GrowSmartRI. "We're at a very strategic juncture in our trajectory; we see pockets of revitalization, but not the dramatic rapid transformation. We have an opportunity to get it right."
A coalition of affordable housing advocates complains that the city is still too timid to make new demands on developers, and have protested tax stabilization agreements as giveaways with nothing in return for the local community.
Those on the frontier have philosophy: "Affordable housing for the city is above my pay grade, but I can play a small part by being respectful of who has historically been there and doing what I can to support these communities that could potentially be displaced," Schofield says.
And Craigslist: "In some ways, gentrification works for me. I like it when they take a sad gas station and turn into some neat place to eat," Brown says. "But when it comes to places to live, it doesn't work at all — unless you are a doctor or a lawyer."