How Chepachet Farms Turns Sap into Syrup
In these early spring days, the family-operated maple sugaring business is all hands on deck.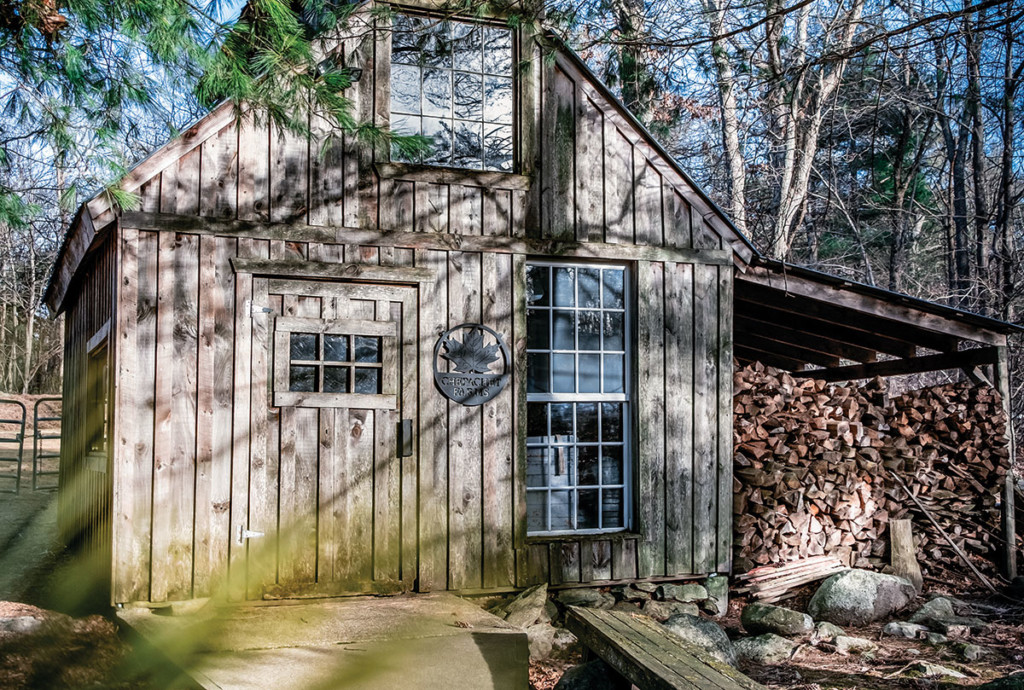 While you may associate maple syrup with northern New England, fear not: You don't have to travel to mom and pop shops in Vermont and New Hampshire to get the real deal. Tucked in the northwest corner of Rhode Island is Chepachet Farms, where a husband-and-wife duo make their own local maple syrup.
Here, you can purchase a bottle of the sweet syrup and learn how the farm's very own golden goodness stacks up.
What started out as a hobby for Neil Esposito, making syrup quickly became part of the day-to-day life at Chepachet Farms. After visiting other sugar houses and learning the ins and outs of maple sugaring from a mentor in the industry, Neil and his wife, Jody, launched their own maple sugaring business.
In the beginning, they tapped maple trees on their property with about fifty buckets collecting sap. A little more than twenty years later, the couple now taps about 300 trees in nearby areas, including around the town hall, the local cemetery and even a neighbor's backyard sugar bush. Because the trees tapped in their neighbor's yard are in such close proximity to one another, the process to collect sap from these specific trees isn't quite as drawn out as it used to be.
Now, the trees are under vacuum with a pipeline running between them. Rather than having to collect buckets of sap from trees all over the area, Neil and Jody collect and pump the sap from one tank at the end of the pipeline to another tank on the back of their truck. This allows them to easily transport the sap back home to the farm. From there, the sap is pumped into tanks at the sugar house and the maple syrup process begins.
Of course, maple sugaring isn't as simple as it sounds. The season is very limited (only six weeks long, beginning in February or March) and is solely dependent on Mother Nature.
"In order to sugar and make maple syrup, we need consistent temperatures of nights below 32 degrees and days above freezing," says Jody. "Another factor we have to consider is how the year's weather may have affected the trees. If they are devastated, the sugaring can yield different results."
Last year, the sugar content in the sap they tapped was only at 1 percent. Ideally, the Espositos say the sugar content should be at 3 percent and water at 97 percent. This means when the sugar was at a mere 1 percent, eighty-six gallons of sap made only one gallon of syrup. This year, the Espositos hope to get 500 to 750 gallons of sap per day, equaling about six to nine gallons of maple syrup.
"It really is quite a scientific process," says Jody. "We hope the sugar content in the sap is better this year."
So how do they transform sap into the sweet syrup we love?
"The sap goes into large tanks in the back of our sugar house and is fed into the evaporator," she says. "We do the process the long, hard way, meaning that the boiling down and evaporation happens over a hot wood fire rather than a fancy machine."
The process is not a one-man job, either. Three people help to boil the sap down, each with an equally important role. One person watches gauges, another fills the wood bin and the last person puts the wood into the evaporator to keep it going. The hotter the fire, the more quickly sap burns off. However, because making maple syrup relies on evaporation, the sugar house becomes so steamy that the roof must open, otherwise those making the syrup wouldn't be able to see their hand in front of their face.
Overall, it takes the Espositos more than eight hours per day, from the time they collect the sap to bottling the syrup, to make your favorite breakfast condiment. But maple syrup isn't only for drizzling over pancakes and waffles, says Jody. It serves many more purposes including as a topping on ice cream, an added bonus to oatmeal or yogurt or even a replacement for sugar in your morning cup of joe.
"It is nutritionally so much better for you than refined sugar. Plus, it is richer in natural minerals, calcium, zinc and more," Jody says.
The experimenting with maple syrup doesn't stop there. Besides offering original, pure maple syrup in 3.4, eight, sixteen and thirty-two-ounce jugs, Chepachet Farms also makes infused maple syrups, including cinnamon, vanilla and walnut. Even more out of the box? "We created a delicious maple vinaigrette salad dressing," Jody says. (Sounds like a win-win to us.)
Guests can visit the farm to purchase their own bottles and take a weekend tour with the maple syrup makers. The few trees that are tapped right on the farm allow Jody a chance to educate the public on the full tree-to-table experience.
"We show them how to drill and tap the tree and hang the buckets, then we teach them how to test the sugar content in the sap and finally we bring them to the sugar house and walk them through the evaporation process," Jody says.
The best part? "Guests also do a taste test between our pure maple syrup and the fake, store-bought stuff," she says. "The real deal is 67 percent sugar and 33 percent water. It's just sap that has come from a tree that has the water reduced. Nothing is added and that's all there is to it."
Chepachet Farms' maple syrup can also be found for sale locally at Wright's Dairy Farm, Lightning Ridge Farm, T.F. Green Airport and at several orchards seasonally.
Once the short six-week sugaring season is over around mid-March, Chepachet Farms will offer horse-drawn carriage rides once again on the back-country roads around the farm.
---
Recipes from Jody Esposito's Kitchen
Mixed Green Salad with Maple Vinaigrette Dressing and Candied Nuts
Ingredients
1 Tbsp salted butter
1 Tbsp brown sugar
1 Tbsp Chepachet Farms maple syrup
1 cup shelled pecans or walnuts
4–6 cups mixed greens
⅓–½ cup Chepachet Farms maple vinaigrette dressing
2 oz. gorgonzola or feta cheese
1 cup grape tomatoes, cut in half
¼ cup thinly sliced red onion
⅓ cup cucumber, peeled and thinly sliced
½ pint blueberries or strawberries, quartered, or 1 ripe pear, cored and sliced
Instructions
❶ Preheat oven to 350 degrees.
❷ Heat the butter, sugar and maple syrup in a small pan on medium heat, stirring until it comes to boil. Toss in the nuts.
❸ Cook another 3 minutes and then pour the nuts on a baking sheet covered with parchment paper.
❹ Separate the nuts into a single layer and place in the oven for 6–8 minutes. After 4 minutes, stir the nuts; bake for another 2–3 minutes. Take out of the oven and let cool.
❺ Place the greens in a large bowl, drizzle on the dressing and toss to coat.
❻ Add cheese, vegetables, fruit and other toppings if desired.
Steel Cut Oatmeal
Ingredients
2 cups water
2 cups milk
1 cup steel cut oats
Pinch of salt
2 large ripe bananas, mashed
1 Tbsp ground flax
1 Tbsp chia seeds
1–2 Tbsp Chepachet Farms cinnamon or vanilla-infused maple syrup
Instructions
❶ In a medium-sized pan, bring water and milk to a boil. Add steel cut oats and pinch of salt. Reduce heat to low. Stir in mashed bananas, ground flax and chia seeds. Simmer on low, uncovered, for 20–25 minutes, stirring every 5 minutes.
❷ When oats are creamy and tender, remove from heat and stir in maple syrup to taste.
❸ Serve immediately or allow to cool before transferring to air-tight containers in the fridge.