Barrington Man Turns Love of Puzzles Into a Burgeoning Business
In Hope Puzzles, located in a turn-of-the-century Pawtucket mill building, Jerauld Adams has found the perfect fit.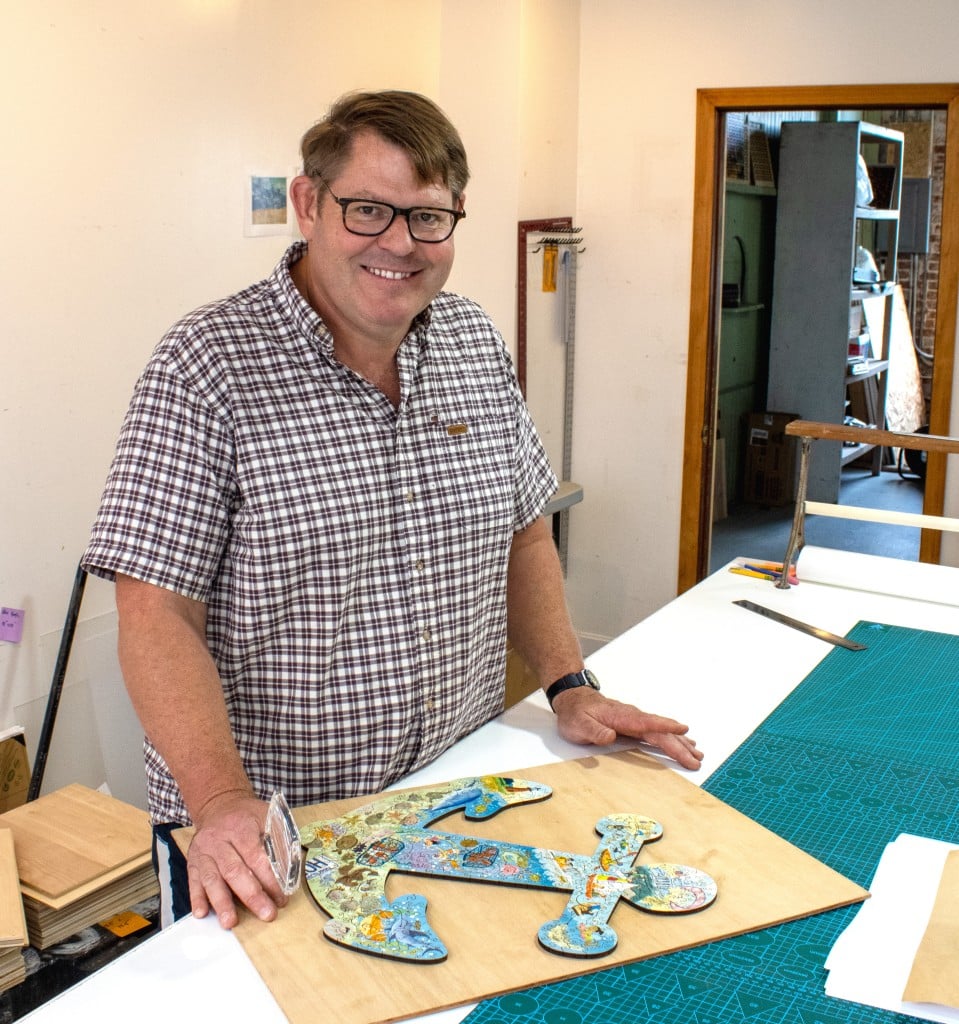 The warm smell of singed wood hits your nose as you ascend the stairs of 180 Weeden St. in Pawtucket.
Once home to the Jenckes Spinning Company, the circa 1882 textile mill now produces wares of a different sort: Instead of looms and weaves it houses three laser cutters that precisely sear swirls and whorls into pieces of plywood to create Hope Puzzles' heirloom quality puzzles. (And that homey aroma.)
The company is the brainchild of Jerauld Adams, a Barrington resident who's always been a puzzle fanatic, piecing them together with his wife Sara and their four children, especially during the long, housebound days of the pandemic.
Hope Puzzles now sells more than twenty whimsical designs from its second-floor digs. Many are Rhode Island-centric, like an anchor-shaped puzzle featuring Little Rhody landmarks and a fish-shaped design that pays homage to the diversity of marine life in Narragansett Bay. Others are devious, with similar repeating patterns and colors, while some showcase textiles and paintings on display in the RISD Museum (think Monet and van Gogh).
"It's been both rewarding and overwhelming," Adams says of the venture, which often means leaving before his children go to school and getting home in time for dinner … or later. "But I'm lucky to have three great people to help me out."
In 2020, Adams sold the Hemphill Mill complex in Central Falls after developing the space into art studios and offices. He needed a new project.
"Have you ever thought about making puzzles?" Sara asked.
The idea made sense: They had been doing puzzles ever since they got married, collecting them and giving them out as presents to friends and family.
But making them was a whole different ball of wax.
He researched everything: How does one make a puzzle? What materials do you need? (He settled on a blend of maple, birch and poplar.) Do you need glue — and what kind? What about boxes? Thankfully, he at least had a building in the Weeden Street parcel, which he purchased from his father.
There was a lot of and trial and error, but now the firm has settled into a groove: Three contract employees support Adams' vision, doing everything from designing puzzles to taking pictures and creating marketing materials and assembling and shipping products.
"It takes a great team to do what we're doing," he says.
And, of course, family members help out as well. Sara helped narrow down what images to use from the RISD Museum, while eldest daughter Audrey, 15, gave some tech tips.
"Dad," she said, "you really need to spruce up your website."
The puzzles have several difficulty levels, and won't tear or bend since they're made of wood. Each puzzle features "whimsey" pieces, fanciful designs that play into the puzzle's theme. In the Rhode Island Map puzzle, for example, you'll find pieces shaped like the Rhode Island State House, a Rhode Island Red rooster, a sailboat, surfers and — of course — a bottle of coffee milk.
Each box also comes with the company's signature piece — an anchor with the word "Hope" emblazoned on it — and a wheat penny for good luck.
Adams hopes to eventually expand into more of the building and set up a retail space on the first floor.
"It's been a long road," he says, "but we've really created something special here."
RELATED ARTICLES
Support Women-Owned Businesses in Rhode Island
Oak Bakeshop Has Soft-Opened and Here's What You Need to Know
A Former Beef Producer Is Creating a Plant-Based Mecca in Lincoln