I Left My Heart at the Corner of Greenway Street
A writer reflects on happy days spent at her grandparents' house in the Cranston, Rhode Island, suburbs.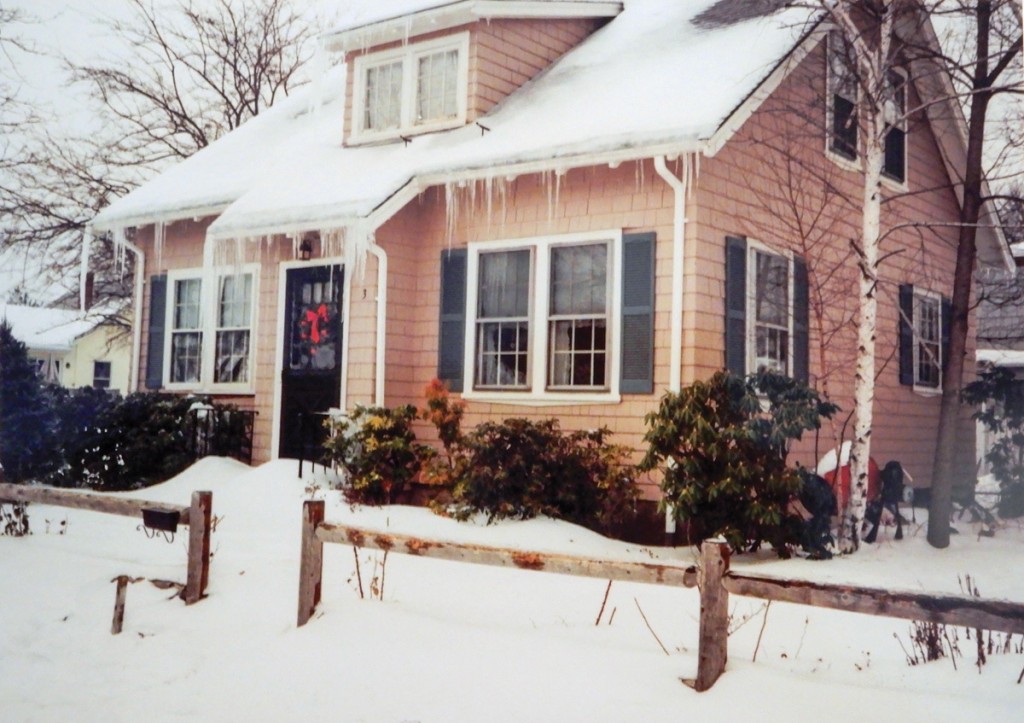 Cranston is a city distinctly divided by its east and west sides, the very best place to grow up. I define it by its thick accents, its creamy iced coffees with mounds of sugar, no matter the temperature outside, its chipped shingles on modest homes, backlit by walls of lilacs in late spring. And there are its distinctive sounds: bass from the trunks of Toyota Camrys at every intersection, clanking skateboards, cheerful screams and splashes from Budlong Pool, screeching rusty swing sets, that unmistakable stillness of a snow day interrupted by shovels scraping our way out, drafty school hallways, hissing radiators. Peeks of crocuses after a long winter's melt give way to this same audio and visual cycle.
At just more than 80,000 residents, I'd bet that number mostly comprises families who, like ours, are just trying to do their best. Many save up to move from neighboring Providence for better schools, just as my parents did. As I understand it, Cranston was originally made up of Lutheran Swedes and Catholic Italians. As I grew, its diversity did too. I went to school with descendants of these same Swedes and Italians, but also with kids who were Cambodian, Lebanese, Filipino, Armenian, Jewish, Muslim, Guatemalan, Dominican, Haitian — the list goes on.
My lineage started in Eden Park, affectionately known as Sweden Park, in the mid-1800s, as my great-great-grandfather Oscar Per Nordquist immigrated from Sweden alongside his wife, Amalia. Oscar was brilliant, designing and building four homes in Cranston and Providence. He and Amalia had four children. Their sons went on to URI, becoming civil engineers. Their daughter, my great-grandmother Esther, would meet her husband, Arthur Hogberg, who enlisted in the military. For their wedding, they were given one of the houses that Oscar built on Greenway Street in Cranston. Arthur would fight in World War I and be mustard gassed. He returned home to Cranston, terminally ill, forced to spend many days and nights in the basement where the air was cool and thin and breathing was easier. He made the best of the situation. Rumor has it that he brewed beer there in the basement, quite scandalous for those churchgoers.
Arthur and Esther raised two children on Greenway Street: Bob, my great uncle, who by all reports was charming and suave, and Charlotte, my Gram, still known for her stoicism and low threshold for "foolishness," however quick her wit and sharp her tongue. Gram lived here her entire life, but for a few short months after her marriage to my Pop, Kenneth Baker, a slightly younger guy from Seekonk. The Bakers got married in the yard of Greenway Street on a sweltering day in late August 1948. She sweated right through her satin gown, and he through his tux. Gram threw her bouquet to her circle of childhood girlfriends from the front steps. My great-grandfather Arthur watched this joyous day from the basement window.
This young couple lived briefly on the top floor of a tenement apartment on Hamlin Street in Providence, another house built by Oscar Nordquist. Esther, recently widowed, soon urged Charlotte and Kenneth to move back home. That apartment was too small tobring up a child! She helped raise their new baby, Ken, between cleaning the homes of the wealthy of the East Side in Providence. Esther would not only raise Ken, but his siblings: my mother, Carol, and my aunt, Beth. Each of them speaks about their Nana with the same love and reverence I have for mine. Just like Gram, being a grandmother softened her Swedish edges.
Raised by Depression babies, my uncle, mother and aunt watched their parents work hard to provide, leaning on their community of friends at Bethany Church on the corner of Rolfe Street. Pop was a milkman at Hillside Dairy but with the mind of an engineer, brilliant in his ability to understand the mechanics of just about anything, his specialty being cars. My grandmother pulled in money as seamstress and a baker, pairing with her church friend Mrs. B. to make cakes and other treats for weddings, showers and special days of parishioners. Just about anything they'd need was right up the street — the grocery store, the barber, a penny candy shop. They would run errands for neighbors, they would ask Gram if they could give something tattered to the Rag Man as he made his call from the street each week.
Greenway Street was a hub of activity. Consummate bachelor, Uncle Carl, stopped by often and moved in during his battle with lung cancer. Gram's girlfriends were a constant presence as they gathered for coffee or called to gab, Gram listening intently while the phone cord wrapped around the kitchen as she cooked. Pop's strikingly beautiful and hip sisters, Barbara and Hazel, with their husbands, Dick and Frank, were fixtures in both my mother's lifetime and in mine. Pop loved a house full of people and always found an excuse to serve a meal or an afternoon coffee and sweet treat.
My mother, Carol, met my father, Dennis Schmedinghoff, in the early 1970s. She left Greenway Street to rent space in the family house on Hamlin Street after marrying. This is where my brother and I were brought into the world. The cousins, seven of us, made our entrance in clusters after my brother had a precious four years as an only child. Three girls in '87 (me, Sara, Julie), two rascals in '89 (Will, Amy) and one sweet kid to finish in '91 (Nolan, who will kill me for this reference). Hailing from Indianapolis, Wakefield and eventually Cranston for us, our world centered on Greenway Street: where epic summers were shared, birthday cakes were baked, from where fishing excursions departed, and where we'd excitingly pack into cars for "fancy dinners" at Evelyn's and Olive Garden.