'Good Burger 2' Filming is Well Under Way in North Providence
The old Friendly's in North Providence has been converted into the iconic eatery, and its stars have been popping up at local businesses all over the state.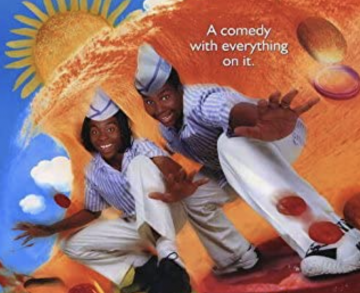 Welcome to Rhode Island, home of the Good Burger — the Good Burger 2, that is.
Much to the delight of local 90s kids, production for the sequel we never knew we needed to the beloved Nickelodeon classic officially began in mid-May and filming is now well under way in North Providence. Locals will recognize one of the central filming locations as the old Friendly's on Mineral Spring Avenue, which has been converted into the Good Burger restaurant for the film. Across the street, local businesses have also undergone some temporary changes in order to mimic the fictional businesses that surrounded the Good Burger in the original film. Syroya's Bakery (learn more about the city's first minority owned bakery here), for instance, now sports a sign that reads 'Wilcox Workout Supplies.' Owner Syroya Eugene took to Facebook to ensure customers that she is still open during filming — she's even had the pleasure of feeding some of the cast and crew on more than one occasion during production.
Good Burger 2 will see Kenan Thompson and Kel Mitchell reprise their starring roles as Dexter Reed and Ed (respectively), two characters who were first introduced in a recurring sketch on Nickelodeon's wildly popular comedy sketch series, "All That."  Nickelodeon will again be at the helm of the project and partnering up with Paramount+ to bring it to our screens. According to Deadline, the sequel will be set in present day and catch up with our favorite duo after Dexter has fallen on hard times and accepted an offer from Ed — who has been managing the Good Burger for the past twenty years — to return to his old stomping grounds as a cashier. The synopsis also promises a whole new (equally hilarious) staff, and teases that Dexter will be up to his old tricks, thus putting the fate of the fast food restaurant at risk once again.
Some of the stars have also already been spotted throughout the Ocean State, with locals snapping photos with Thompson at the Ocean House in Westerly as well as Layali, Moonshine Alley, the Capital Grille and Olneyville Ny System in Providence.
View this post on Instagram
View this post on Instagram
View this post on Instagram
View this post on Instagram
The film's release is slated for later this year, but in the meantime be sure to watch this space for local filming updates and celebrity sightings.
RELATED ARTICLES