Get Artsy at Paint Nights in Rhode Island
Tap into your creative side — and some good wine or beer — at these local paint nights.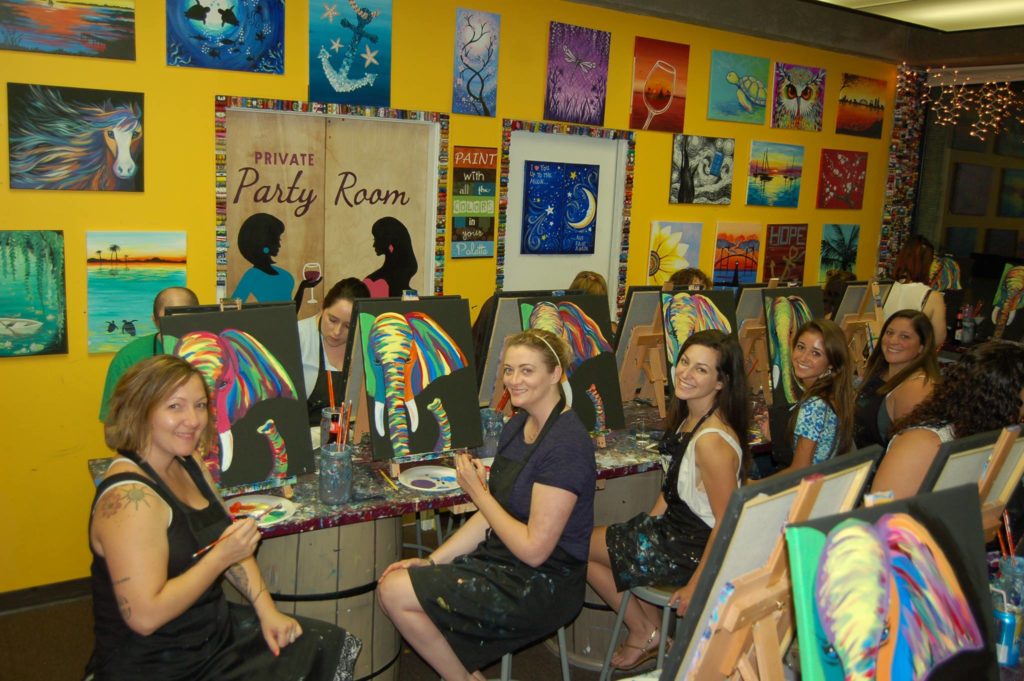 If you've been looking for new places to meet your friends or a date, we don't blame you. Restaurants and bars are great most of the time but it's nice to switch up date night or GNO. Maybe you are even looking for a place to spend alone time while having a little fun.
Paint nights have been gaining popularity over the past couple of years and for good reason — what is better than having a couple of laughs and drinks while creating artwork that you can take home and cherish for good?
Thankfully for you and us, most paint nights require no artistic experience. But you may be surprised by what you can learn in one night.
We've compiled a list of places where you can drink and paint all across the state.
Not an experienced painter but always wanted to explore your creative side? No problem: Paint and Vino embraces all levels of painting abilities. Book a private holiday party, bachelorette event, birthday party or join one of its scheduled calendar events.
What you'll paint: A Dancing Dragonfly on November 15, an Enchanted Forest on November 16, a Midnight Owl on November 17, Romance in Paris (a couple's event!) on November 18 and a Castle Hill Sunset on November 19. You don't need to bring any supplies, but be sure to wear your painting clothes. You must register online for all events and you can do that here by clicking on a calendar event and adding it to your cart.
When and where to? The events listed above start at 7 p.m. and guests should come ten to fifteen minutes beforehand. The address is 150 Main St., Pawtucket. For parking in the back of the building, put 34 Roosevelt Ave. into your GPS.
The price: $35 per person, including two drinks.
The drink and snack situation: At Paint and Vino, choose from two glasses of wine, beer or soda. You must be fourteen to attend each of the events and twenty-one to be served alcohol. Paint and Vino allows you to bring in your own snacks and has a food table just for that purpose. Create your own little party; Paint and Vino has the drinks covered.
What's your muse? One of ours is this cute paint bar on the East Side of Providence. With events going on daily through the end of the month, Muse Paint Bar has a lot to offer (including a drink).
What you'll paint: On November 14, get creative while painting the theme, Branching Out: pick a tree branch, place a birdie on it and let your brush do the talking. On November 15, paint the prompt, Crescent Sky — interpret the sky in any way that you do. The following week, paint the Evening Twilight — no better time than now to paint a dark and starry night since we lost some daylight last week. November 22, paint a Red Fall while we close out the final weeks of autumn and take your memory home for you to hang in your house throughout the winter season.
When and where to? Each event in November runs 7 to 9:15 p.m. and guests are urged to arrive at 6:30 p.m. 117 North Main St., the East Side of Providence.
The price: The events listed here are $29 per person and include one drink. Check the events calendar for more paint classes, including ones for more advanced painters (some are sans-wine).
The drink and snack situation: Enjoy one glass of house wine or one beer while you paint and check out Muse's food menu here; try warm bites like a hummus platter, classic bruschetta or garlic bread for purchase, in case you get hungry or feel like munching.
Paint the town, literally, at Paint the Town Studios in Cranston. Come alone or come with a group; either way, enjoy this stress-free zone on a night when you need some self-diagnosed TLC.
What you'll paint: Paint a giraffe while supporting Alpha Sigma Tau Sorority at their fundraiser on November 15. It's never too early to tune into your holiday spirit: On November 16, paint your best "Oh Christmas Tree" in any setting you enjoy. On November 17, have the chance to Paint Your Pet; paint the one you can count on the most for love and care. On November 18, get back in the holiday spirit and paint two poinsettia bowls — they may make a great holiday gift for someone on your list or a conversation starter in your living room. On November 19, channel your love for Winter Friends and paint a snowman either simply or with intricate detail (that's up to you!).
When and where to? Next week's events, listed above, begin at 6:45 p.m., with the exception of the poinsettia event which begins at 7 p.m. Arrive ten to fifteen minutes prior to the event. Registration is required; sign up here by clicking on an event. The address of Paint the Town is 1150 Oaklawn Ave., Cranston.
The price: $35 per person
The drink and snack situation: With your ticket, enjoy all the supplies that are needed to create your masterpiece, two beverages — wine, beer, soda, coffee or tea — and complimentary snacks.
Three hours of wine, painting and friends: We are in. The Mint Art and Artisan Gallery is hosting another wine and paint night. Its last event was on November 4, which was a paint party titled First Fridays Bristol. On November 16, join the Mint Gallery for another celebration of art and wine.
What you'll paint: This paint night's theme is Autumn on the Waterfront. Since the Mint is located in the heart of Bristol, it only makes sense for guests to paint what they currently see. Bristol's trees are slowly losing their leaves, but it is unusual to watch the leaves fall on a waterfront town that is so summer-oriented. Paint what you see or paint what you imagine. Either way, the one rule is to have fun. Check out the Mint Gallery's Facebook page for more details and purchase tickets here.
When and where to? The November 16 event runs from 6:30 to 9:30 p.m. at the Mint Gallery, 433 Hope St., Bristol.
The price: $35 per person
The drink and snack situation: The wine is taken care of by the Mint Gallery; at the Mint's last event on Oct. 25, the Mint provided pepperoni and cheese to snack on.
The Purple Cat Vineyard and Winery
Different from most wine and paint nights at art studios or galleries, this event is located in an ingenious setting: a vineyard. You can trust the Purple Cat to woo you on your next girls' night out or date night and be sure that the wine is a top priority. Paint, snack, drink and be relaxed; this destination has got your needs covered.
What you'll paint: You will paint one of the Purple Cat's favorites: the New England Farm. Lisa Andrews, owner and artist of Artique paint bar in Putnam, Connecticut, will lead the class in instruction. Andrews is a native of Rhode Island and has an appreciation for wine; the Purple Cat and Artique complement one another nicely. Paint the New England Farm alongside Andrews and learn more than you previously knew about your artsy side.
When and where to? The November 15 event begins at 6:30 p.m. and the wine tasting takes place right at the beginning. The event goes until 9 p.m. The Purple Cat is located at 11 Money Hill Rd., Chepachet.
The price: $35 per person
The drink and snack situation: With your ticket (purchase it here), you will receive a wine tasting, light snacks and the option to purchase more wine right from the vintner.