Friday Food Truck Feature: Hometown Poke
Tropical flavors come home with this fresh food truck.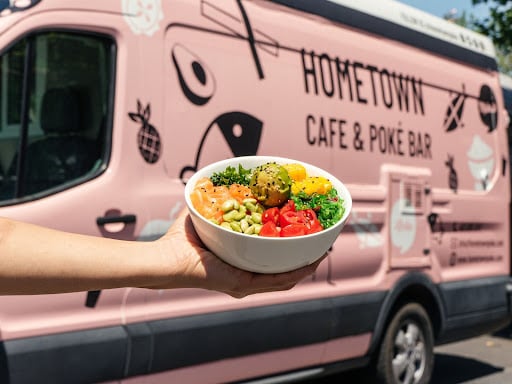 Rhode Islanders love their seafood, but they don't usually see it like this. Experience sushi unwrapped yet still on a roll with this fun and fresh food truck. We spoke with owner and chef Tiffany Ting of Hometown Poke to get the low-down on what this food truck is all about.
Q: Where did the idea to start a food truck come from?
A: I started with a food truck because the initial capital required was lower and I could test out different markets to figure out where I wanted to eventually open my brick and mortar.
Q: What's on the menu?
A: We serve Hawaiian poke bowls ("sushi in a bowl"). We have a variety of sushi grade raw fish, cooked options like chicken and shrimp, veggies and bold, flavorful sauces. Our bowls are completely customizable and we can accommodate most allergies and food preferences such as vegan, gluten, nuts, etc.
Q: Where do you get your recipes from?
A: I came up with all the recipes by combining my familiarity with Asian sauces and ingredients and fresh Californian produce and flavors I grew up with.
Q: Where can your truck be found most often?
A: Our truck does not have a set schedule, but you can count on finding us at all the big seafood related events in Rhode Island: PVDFest, RI Pride, Newport Folk and Jazz, RI Seafood, Bowen's Wharf Seafood and chowder fests.
Q: What sets you apart from other food trucks?
A: The freshness of our food and speed of service are what really sets us apart. Traditionally, food trucks are known for serving hearty or fried meals that are not the healthiest. We pride ourselves in fresh, mostly raw ingredients that are good for you. Since most of our food is prepped before service and served raw, that enables us to dish out meals very quickly (less than sixty seconds per bowl) and why we tend to focus on high volume events where we have to serve large groups in a short amount of time.