Vintage Pet Rescue Offers Old Dogs a Fur-Ever Home
The Foster-based nonprofit provides end-of-life care to senior and hospice pups.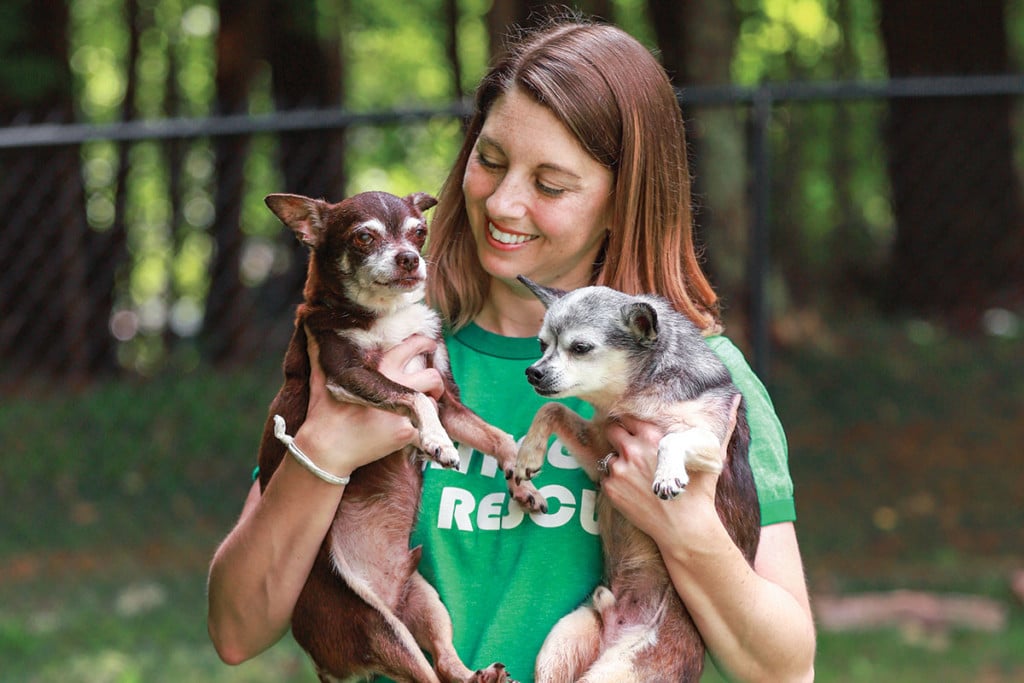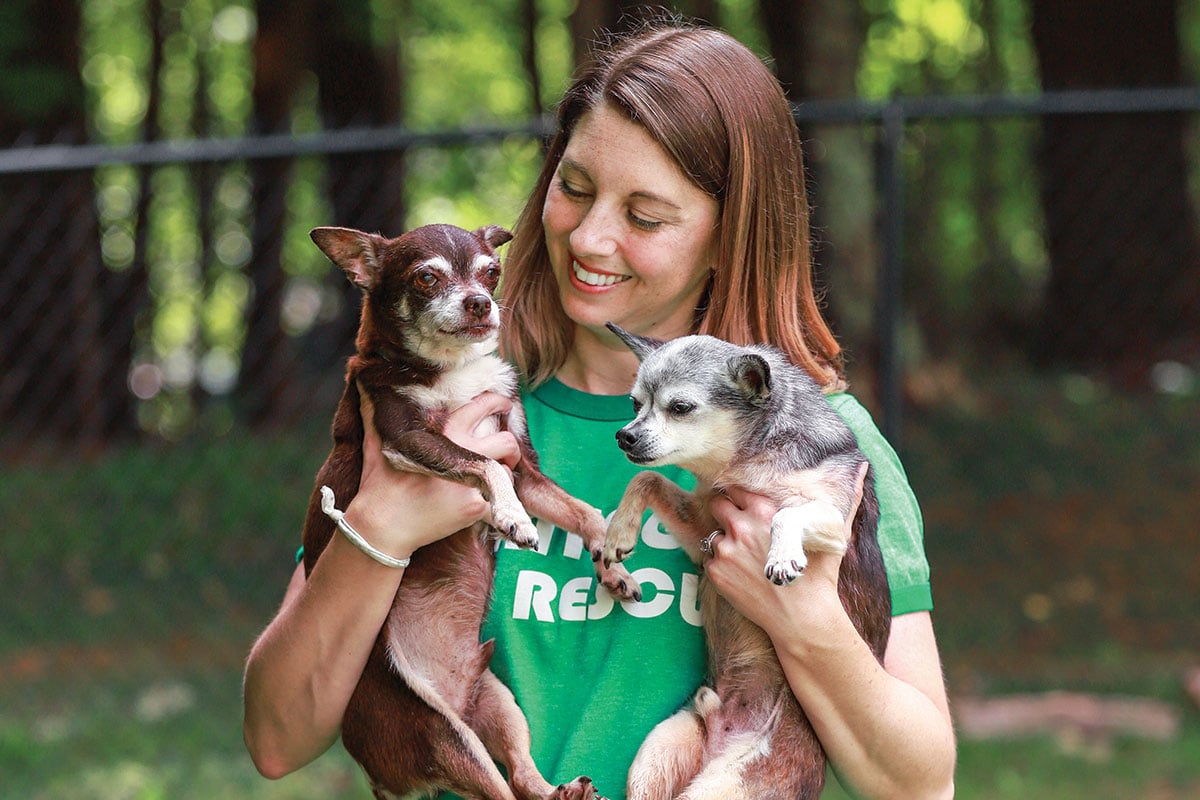 I show up to the Vintage Pet Rescue in Foster fully expecting to cry. Even on my best days, the ASPCA's Sarah McLachlan commercials are a sure-fire way to send me out of any room in tears, and the sight of feeble old men eating alone in a restaurant can fling me into a tailspin. So, visiting a sanctuary devoted to providing end of life care to senior and hospice pups?
Forget about it. I'm just hoping I can be professional enough to save any weeping for the long car ride home.
The rescue's co-founder, Kristen Peralta, meets me at the front gate with a big smile and leads the way. Inside, we're met with a spacious, colorful environment complete with a retro counter, walls covered in dog-themed pop art and floor-to-ceiling windows. The brightest spots in the room, however, are the tenants. A dozen or so little furry bodies come scrambling to my feet, offering enthusiastic yips and kisses. Even the ones who have stayed put in their cozy corners of the room thump their tails in greeting.
"We live upstairs and all the dogs hang out down here," Peralta explains as she shows me around. "This was actually an Episcopalian church in the seventies before it was converted into a residence. We just bought it and moved here last November."
By then, the rescue was already in full swing. It all started when Kristen met her husband, Marc, in Los Angeles in 2013.
"My husband works for Best Friends Animal Society and used to run two shelters for them out there. I was volunteering with a rescue group, met him in one of the shelters and we started dating. He had two pugs at the time, and together we took in a hospice foster, a little old dog that we thought we'd only have for two months. We named her Rue McClanahan after one of the Golden Girls."
The couple had Rue for a year and a half. When she died, they decided to adopt another old dog in her memory. From there, it snowballed.
"We became the people who took in old dogs — we love it."
They eventually brought that love with them to Rhode Island, her home state, in 2017, setting up shop in North Kingstown for about a year before they decided to look for a space that better suited their needs. Between the space's multiple entrances, large backyard, second kitchen for dog-meal prep, a huge tub for bath time and tons of storage space for various supplies, the Foster location was ideal. As I'm writing this, the rescue is home to thirty-one good boys and girls — a majority of which are itty bitty things in their teens.
"Everyone down here has to be under twenty or twenty-five pounds because we have a few who aren't great with larger dogs. We do have two upstairs, though, and we have taken big dogs in the past," Peralta says. "But most of our requests are for smaller dogs."
Since Rue, Peralta estimates that she has helped rescue between forty-five and fifty dogs. So, where do they all come from? When Peralta first started, she assumed they'd mostly be dealing with local shelters that were having a difficult time placing senior dogs who were getting passed over for puppies.
"But the shelters out here are really great at finding homes," she says. "So, honestly, most of the dogs have come from owners — people that just can't care for them anymore."
Unfortunately, a lot of this stems from situations where the dogs outlive their owners or can't accompany them to assisted living or hospice care facilities. Some have been abandoned, like Tia, a sweet toothless chihuahua who was found in an empty apartment. Or there's a situation like Roscoe's, a black and white terrier mix whose owner lost her job and had no choice but to rehome him. Between the shelters and owners, the rescue gets about five or six requests per week. And though its population is often in flux between fosters, adoptions and crossings of the rainbow bridge, they can't accommodate them all.
"If it's a dog that really has nowhere else to go, we'll take it in. But sometimes people will write to us about their eight-year-old lab, and that's a dog that can find a home," she says. "I try to help everyone as much as I can, though, whether it's giving advice on how to care for an older dog, putting an owner in touch with a local shelter or posting a dog on our social media. I created a Facebook group for that purpose; we've actually found quite a few homes that way."
Judging by its 8,000 Facebook likes and nearly 9,000 Instagram followers, the Vintage Pet Rescue has quite the fanbase. With people reaching out from all over the country, Peralta says social media works as a great networking resource. For local admirers, though, the rescue hosts visiting days twice a month. Peralta plans them a few weeks in advance and encourages those interested to email her for dates and times. Both the pups and the visitors get a real kick out of the time together, and some even form special bonds.
"We're a little different from other rescues where, when we take in the dogs, our intention is to take them in for the rest of their lives. We don't do adoption events or Pet Finder," she explains. "But, if you came in and were like, 'I can't live without Jameson,' we would figure that out. Our overall goal, though, is to provide a retirement home."
A retirement home with some pretty swanky digs. In addition to rescuing vintage pets, Kristen has also made a hobby out of rescuing vintage furniture from yard sales, antique shops and roadside dumps and adapting them into unique dog beds. Over the years, she's used everything from old wardrobe drawers to suitcases to TVs.
"It's funny, when I was in LA working full-time and we only had ten dogs, we seemed to have a lot more time for it. But now, the rescue takes up all of my time — it's non-stop," she says. "I still like to do little projects whenever I can. Right now, we have a camper outside and I painted it to make it look vintage. We're going to put our logo on the side and hopefully bring it to events."
Such events have included Pawchella, where about 300 people came out to show their support this past August, and an annual Halloween party — this year's will take place October 20.
"People can bring their dogs and we'll have a costume contest, a whole Harry Potter area where we'll sort the dogs into their Hogwarts houses and a table of items from local pet vendors, like Andrea's Custom Collars and Hope Rope Co. It's so much fun," Peralta previews.
Another venture she's looking forward to, albeit in the distant future, is branching out.
"My husband is good friends with Jackson Galaxy — he does "My Cat from Hell" on Animal Planet — and, once we're ready, we might try to get him to help us turn this empty, closed off space over here into a cattery," she says. "But right now, we're just trying to keep our head above water!"
Luckily, they have a lot of people in their corner. The rescue not only has a great relationship with NorthPaws Veterinary Center in Greenville, but also a dedicated team of volunteers who come in once a week to help with cleaning, feedings, playing and cuddling. And then there are the contributors.
"We're a nonprofit run 100 percent by donations. We are very lucky; whenever we're running low, or need any sort of food or cleaning supplies, I just post our Amazon wish list and we'll have twenty-five boxes waiting outside the next day," Peralta says. "We don't buy food or cleaning supplies — pretty much our only expenses are vet bills, which are astronomical, but people doing birthday fundraisers for us on Facebook has been so helpful. Just yesterday, someone posted one and the goal was $200. He's already raised $650 for us in less than twenty-four hours. It's incredible."
While she posts wish lists every couple of months or asks for help covering large expenses (such as when Roscoe had six bladder stones and had to be rushed to surgery), Peralta mostly focuses on filling her followers' feeds with the dogs' fun and adorable antics.
"I try to keep it positive," she says.
But, as comes with the territory, the task of caring for elderly animals isn't always joyful. One bureau surface in the "dementia ward" (a gated area dedicated to providing a safe space for those with disabilities like sight and hearing loss) is covered in stones inscribed with the names of dogs who've died. Peralta admits it can be difficult.
"I have a wall up. You have to. Obviously, when we lose them, I'm upset, or when they're in surgery, I'm a nervous wreck. But, for the most part, I just know the good we're doing here. A lot of them would have been put down if we didn't take them," she says. "We know what we're getting into and we try to make them as happy as we can."
Looking around, I remark that they all certainly look happy. They have a comfortable life surrounded by friends.
"They really do like their pack," she points out. "They see what everyone else is doing and they follow the group. Like, 'Okay now we're going to go over here and get treats. Now we're going to sleep.' It's really cute."
On my way out around 2:30 in the afternoon, I see what she means. Peralta, standing by the counter, has attracted a crowd of expectant faces.
"We do dinner early around here, it's the bluebird special for these guys," she turns to the dogs. "Right? Senior Citizen Special!" A few bark in agreement.
When I get in the car, I realize I'm smiling. In fact, I've been smiling the whole time.