For One Family, Adaptive Design Turned a 1960s Ranch House into a Home
The renovations are both beautiful and functional for the couple, their daughter and their young son, who uses a wheelchair for mobility.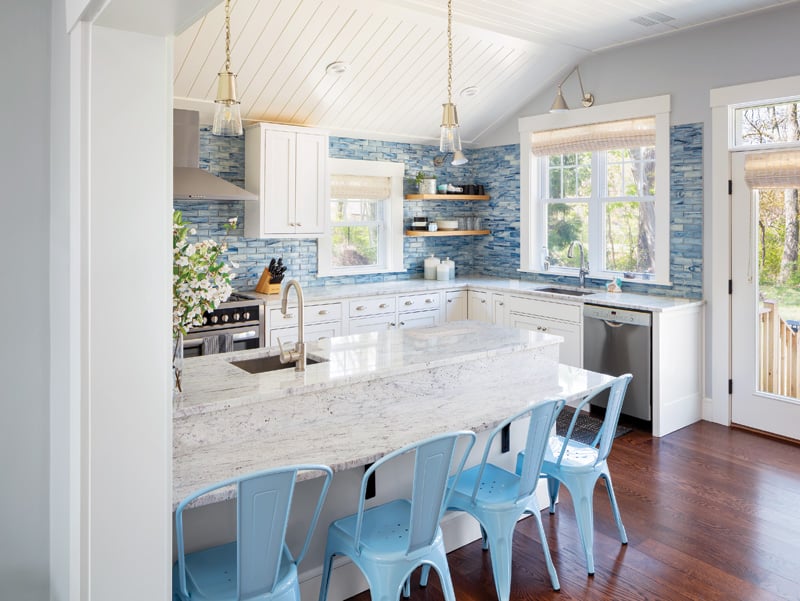 Starting Point
When Jackie and Jonathan Orent realized it was time to move, one requirement topped their must-haves: a single-level floor plan that would allow their son to live like everyone else in the house. Ben, nine, has cerebral palsy and is on the autism spectrum, and because he's in a wheelchair, Jackie had to carry him up and down the stairs of their two-story Colonial in Pawtucket.
As Ben got older and heavier, the family's priority to find a more comfortable living space became pressing. When the Orents spied a 1960s ranch near the Barrington bike path, they decided an imaginative renovation could turn it into a home that would work for everyone.
"They wanted Ben to have access to every part of the house," says Pat Connors of Brewster Thornton Group Architects, who led the project and has years of related design experience.
Since Ben needs constant monitoring, other items on the parents' checklist included a kitchen with good sight lines into the dining and playrooms, an accessible bedroom and bathroom, and doorways with a five-foot turning radius. "We wanted a cozy, casual house where Ben could have his freedom," Jackie says. "We also didn't want that institutional look."
It's All in the Details
The home's exterior got a refresh. A graceful ramp weaves its way from the driveway to the porch and front door. The sidewalk has a low enough slope that it doesn't need a handrail. The enlarged entrance not only connects the garage to the main living space, it also provides an accessible approach to the backyard. Rolling barn doors throughout offer easy access to the mudroom and ramp, don't eat up floor space and close off the dining area during breakfast. Features like these ensure the house is both attractive and workable.
Something for Everyone
Clever design elements conjure a light, airy feel. Jackie loved the entryway's deep blue Caitlin Wilson carpet so much she slipped its colors in here and there throughout the house, from the barn doors to the Lunada Bay backsplash tiles and funky Cottage Home bar stools in the kitchen. Skylights in several rooms lighten the spaces and the original brick fireplace in the living room sports a gray granite facelift.
As part of the reno, Connors enlarged the footprint from 1,700 to 3,000 square feet, incorporating a new full bath for Ben, complete with heated floor. The accessibility is a game changer, his parents say. Connors also created a master suite for Jackie and Jonathan that includes a bedroom with a vaulted ceiling and windows on three sides, and a spa-worthy master bath with an oversized shower, body sprays and double vanity. "It's their own private Idaho back there," he says.
When the family finally moved in eighteen months later, they knew they'd found their forever nest where they and their six-year-old daughter, Abby, and Ben can live like any other family. "It's his happy place," they say.