Fish Tales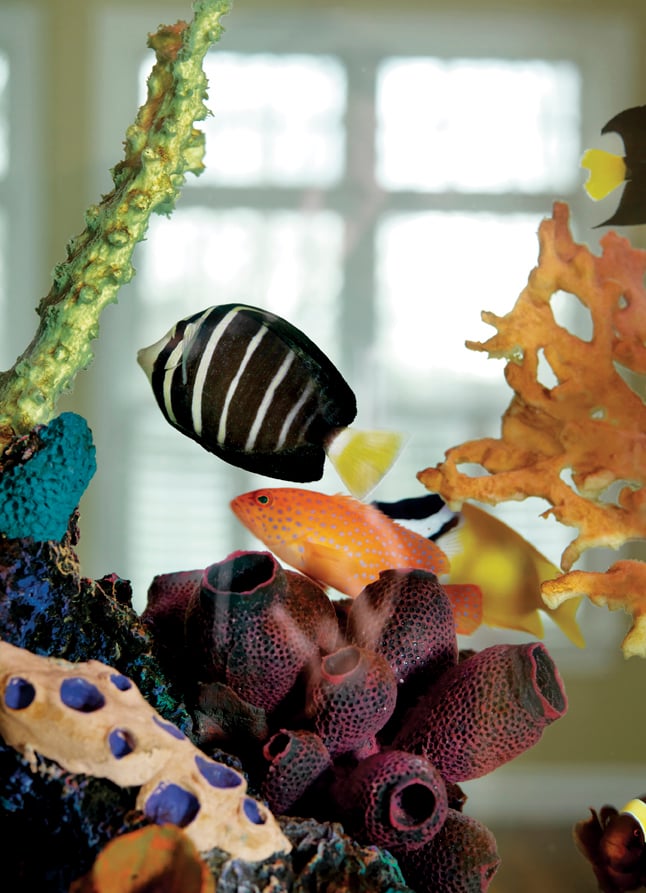 Jewel box
Sure, a blaze on the hearth is lovely. But inspired by an aquarium they spotted on their travels, the owners of this new South County house recruited Warwick-based Something Fishy to install a 207-gallon saltwater fish aquarium as a focal point instead. Surrounded by a bounty of handsome wood cabinetry designed by the co-owner, the tank also acts as a room divider separating the living room from the study. And no accident — the rich tones of the synthetic coral, even the flashy fish, among them a bright foxface rabbitfish — seem to play to the sunny room's palette. Unlike a reef tank, which is forever experiencing subtle changes, a fish-only system like this requires monitoring just every two weeks. The enjoyment level (are you aware that smart fish recognize their feeders?): constant.

Down under
Coral reef tanks — like this Portsmouth beauty designed and installed by Brandon Bassett, who heads the Aquaculturist in Barrington — are becoming increasingly popular. Mimicking ocean environments, these audacious water worlds include fish as well as a variety of soft and stony corals. "The corals come in all shapes and sizes," explains Bassett. "After establishing themselves, they grow and spread rapidly, covering the live rock and even spreading onto the glass. The long-er the tank is in operation, the better it looks, just like a perennial garden." The rock, a Fiji import, serves as a base for the corals and also as a biological filter.
Lights simulate the progress of the sun: first "sunrise," accompanied by an intense blue light that makes the colors pop, then daytime, followed by a "sunset" in the evening. All the systems — lighting, filtration and wave-making — are automated. Bassett arrives once a week to clean and monitor the tank's progress. The owners only need to feed the fish, and that's a chore aquarium aficionados, like Tina and Angelo Grilli, look forward to. In fact, the Grillis recently updated to this 265-gallon tank to give their stunning coral collection more room to grow.
Surrounded by custom cabinetry decoratively painted to blend with the creamy wall, the spectacular aquarium helps link the house to its stellar waterside location.

Scene-stealer
This luxe four-sided, 420-gallon coral reef tank — designed, installed and maintained by Something Fishy in Warwick — began as a surprise. Plans were being drawn for the Narragansett house when the wife decided to incorporate an aquarium as a treat for her husband. Her enthusiasm proved contagious, and in the end, the tank — not unlike a piece of sculpture —was awarded a place of honor on a custom stand in the very heart of the first floor. "One in every eight homes has an aquarium," explains Something Fishy's CEO Kurt Harrington. "Aquariums serve as fine art. We can design them in different forms and fill them with a host of amazing colors. They're eye-catching status symbols, but they're also healthy for you." Harrington is referring, of course, to the fact that watching fish has been proven to soothe the soul and lower blood pressure. Here, the young family can stay happily in touch with their amazing marine vignette twenty-four-seven.

In the swim
Aquarium prices, from hobby to wow!, range widely. As a starting point, figure about $3,000 for an entry-level saltwater tank on up. Here's a sampling of experts who will help you design,
install and maintain the tank of your dreams.
The Aquaculturist, Barrington, 247-7904
Something Fishy, Warwick, 732-9970; www.somethingfishyinc.com
This story has been updated from a previous version.