Hoppy Days are Here at Tilted Barn Brewery
The family-owned business is Rhode Island's first farm brewery.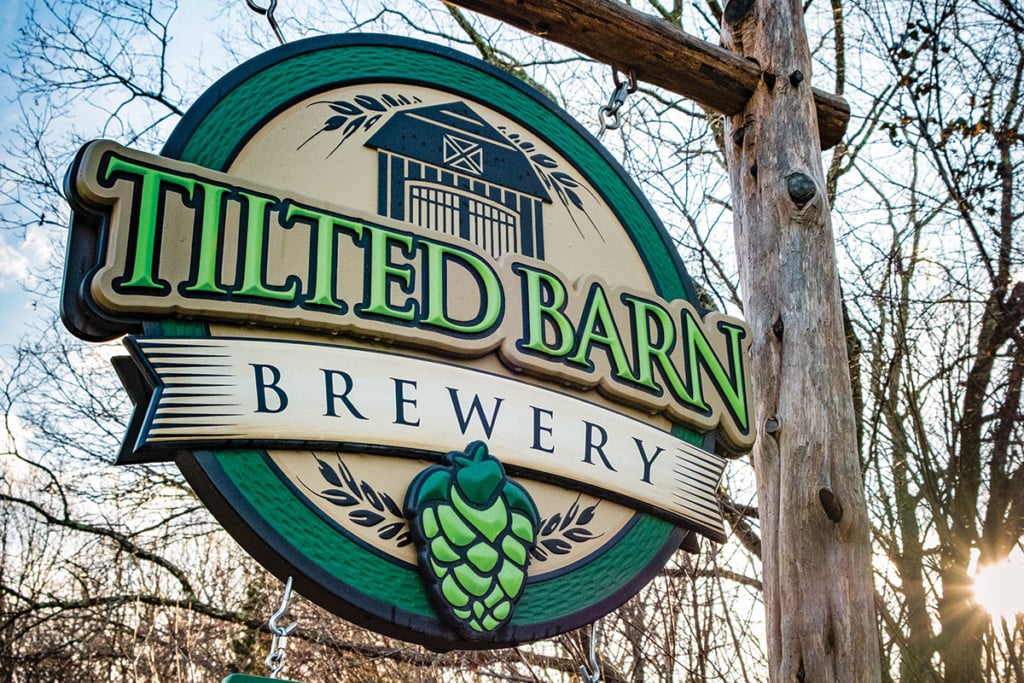 Despite it being a snow-flecked Tuesday afternoon in the middle of January, Tilted Barn co-founder Matt Richardson and his brother-in-law, Joel Littlefield, are hard at work. When I pull up onto the brewery's secluded yet expansive property in Exeter, Richardson takes a quick break and beckons me inside a quite literally tilted barn (which I'm later assured is, wonky ceiling beam not withstanding, entirely safe and sound).
Two sweet pups — black and yellow Labradors by the names of Tupelo and Summit, respectively — greet me with enthusiastic tail wags at the door while Littlefield, in the middle of fitting together a metal storage shelf, waves hello from the floor.
Richardson leads me past the pile of tools and behind a large wooden bar toward a backroom that's lined with tanks and hazy with the aroma of yeast and fermentation. Fiddling with a knob on one of the tanks, he says he hopes that I don't mind if he works while we chat.
I couldn't think of a more perfect setting.
"This," Richardson gestures to the barn around us as he stands back up, "used to be my wife, Kara's, and Joel's grandparents' farm; they pretty much grew up here."
When the property was purchased back in the '50s, farming was never intended to be the family's primary source of income, but rather a hobby. The space was used as both a metal and a woodworking shop as well as for raising animals and growing and selling Christmas trees.
"As her grandparents aged, we used to come down here all the time and help them out," says Richardson. "It's such a great spot. When Kara and I were thinking of opening a brewery, we knew it would be the perfect setting for people to get their beer and then hang out and explore. So, we eventually bought the farm from them — we love that we get to keep her family tradition alive in that way."
But before Tilted Barn's claim to fame as little Rhody's first farm brewery, Richardson and Littlefield were already quite the pioneers. The duo got their start by establishing the state's first commercial hop farm, known as Ocean State Hops, in 2007.
"Joel and I grew hops on his and my wife's parents' land up the road," Richardson explains, "and we would sell them to various local breweries."
Although I've always tended to enjoy hoppy beers because of their characteristically bitter taste, I admit I know next to nothing about the legendary brewing plant.
"It's a vine, kind of like grapes," says Richardson, indulging my lack of beer knowledge. "They start to emerge in April, but you don't harvest them until September when they're fully grown. Hops have what look like little pine cones [like the one seen on their logo] and that's what you strip from the vine and dry out to use in the brewing process. The oils and resins in the cones are what give the beer that bitter flavor."
While Ocean State Hops was successful during its seven years of operation, Richardson and Littlefield were all too aware that hop farming was an awful lot of work — especially for a secondary job — with very little return. They eventually came to the conclusion that they needed a change.
"For me, the passion was always the beer," Richardson says while tinkering some more with one of the tanks. "I went to college in Vermont and they have some great beers up there; that's when I really started to get into craft brews. When we came back here, though, we realized there wasn't much going on. Newport Storm was the only brewery and there were a couple of brew pubs around, but that's it."
While a couple more breweries popped up by 2014, Richardson found that none of them filled the void for the types of craft beer he preferred. So he decided to fill the void himself, leaving Ocean State Hops behind in favor of opening a brewery. But while Richardson, a soils major, and Littlefield, a horticulture major, had some experience to back their hop farming, brewing was an entirely new venture.
"We were completely self-taught; there was a lot of reading and experimenting in the beginning," Richardson says with a laugh.
But their hops knowledge worked out in their favor. Instead of sharing the homegrown hops with others, they used them in their own brews, establishing themselves as an IPA-forward, farm-to-pint brand.
"Fortunately, people have been gravitating towards hoppy beers over the last few years," he says. "We're in a bit of a craft beer renaissance right now."
Tilted Barn's most popular and most requested brews have always been their double IPAs — especially the aptly named "The Chosen One" — but they don't limit themselves and brew delicious brown ales, red ales and blonds. Moreover, they regularly use their farming backgrounds to produce seasonal drafts, mixing in homegrown, seasonal ingredients like pumpkin and spruce tips.
But does the brewer have a favorite?
"That's tough because we have a beer named after each of our kids, so that would be like picking a favorite child!" Richardson says with a laugh. "But I will say that Peeptoad, which is a citrussy American pale ale, always seems to be one of my go-to's."
And while some breweries have a flagship brew that's always on tap, Tilted Barn likes to keep more of a continuous, equal rotation of all its beers. Richardson explains that it takes about two weeks, give or take, to brew each batch of beer, which involves a constant cycle of emptying the tanks, canning the contents and then refilling them with a new variation. This ensures that in addition to a good number of beers on tap each week, the brewery always has at least two canned beers available for purchase. The demand is real, though. With their beer only available on tap at select restaurants or when purchased directly from the maker itself, Tilted Barn fans (of which there are many) take full advantage of the brewery's limited hours.
"We're only open on Fridays from 12 to 8 p.m. and Saturdays from 1 to 4 p.m. People sometimes ask why we don't have better hours, and I'll say, 'Because we almost always sell out!' We can't open without beer."
There are some plans in the works to up the beer count, thanks to the recent acquisition of two new foeders, a.k.a. large wooden vats that will allow the brewery to store and age beer for months at a time. In fact, Richardson tells me that the beer being put into the foeders around the time of our interview should be ready to debut not long after this article is published.
"It will be made from a couple of native yeast strains that have been growing on various fruits and crops that we've isolated all around the farm, and the finished results will go in bottles," Richardson says, excited. "So that will be cool and new for us."
But don't fret; the cans aren't going anywhere.
"Have you seen them?" he asks.
When I shake my head, Richardson leads me out of the brewing room and back behind the bar area. He points above us to a shelf displaying a dozen or so colorful cylinders.
"Kara designed all of these," Richardson says with pride. "Believe it or not, she draws them all up and then cuts images out of local magazines, like Rhode Island Monthly and Edible Rhody, before gluing them together, collage-style."
He takes down a can labelled "Fermented" and shows me how the lever on the base of the fermenter rendering is actually a button.
"And then this is supposed to be dirt down here growing all the crops," he says, "but if you look close, it's actually water. There's a guy surfing and I think those are the Block Island Bluffs behind him."
When I remark on Kara's talent, Littlefield's head pops up above the bar. "She's incredibly talented," he says of his sister. "She can do anything… She does everything. Matt and I just phone it in."
In addition to constantly churning out new and innovative labels, Richardson tells me his wife and co-owner also handles a lot of the behind-the-scenes work, including sorting out the rotating food truck schedule throughout the summer.
"She used to brew with us," he reveals. "She has a background in farming too; obviously because of her family but also we actually first met while working at Schartner Farms as teenagers. But now we have four kids and that takes up a lot of her time."
Speaking of, I want to know: Do they realize how cool their parents' jobs are?
"They're somewhat into it. They like to come and play and hang out — help dad if they can," he muses. "But it gets hot in here in the summer. Our oldest, Violet, is seven and I've asked her, 'Are you going to help me out around here when you're older? Are you going to work here someday?' She said, 'Nah, I want a job with air conditioning.' I laughed and told her she can work in the office then."
Luckily, Richardson can take the heat.
"I love it. It's funny, I left a very cushy, reliable, federal job to do this," he reflects. "I worked there full-time and did this nights and weekends, which was tough timing-wise. When we finally made the decision to jump all in, it was scary. I thought, 'We're in this little farm out in the middle of nowhere. Who's going to come find us?' But people did, and we're packed almost every weekend. I wouldn't have it any other way."