Hoppy Days are Here at Tilted Barn Brewery
The family-owned business is Rhode Island's first farm brewery.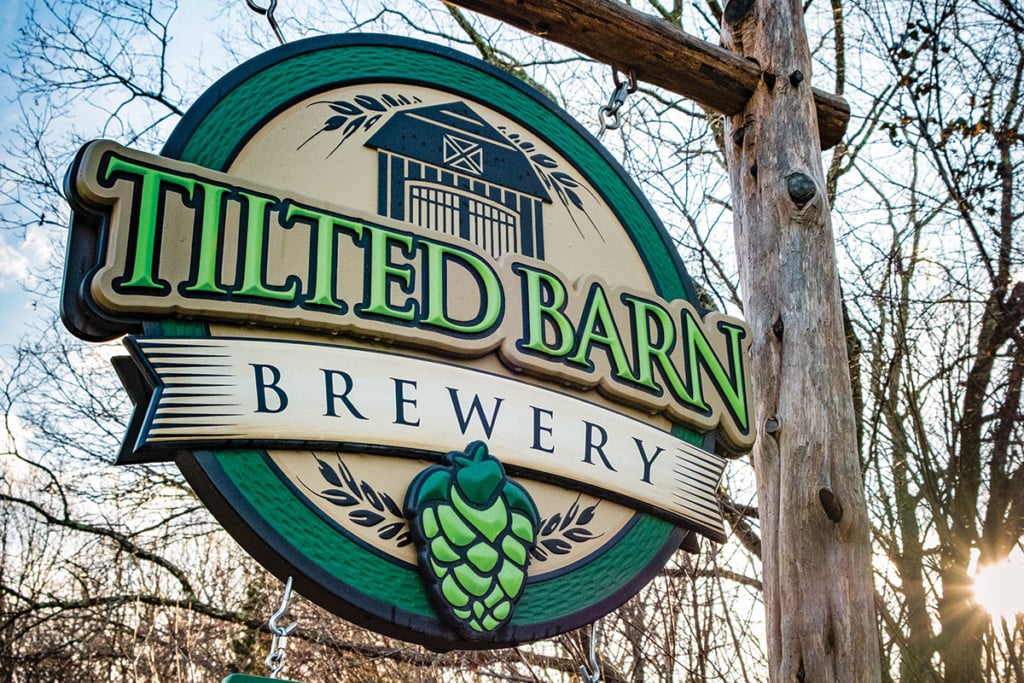 Where to eat
Sophie's Brewhouse
This trendy coffee house located along South County Trail serves up an array of locally sourced coffees, espresso beverages, sandwiches and more. Indulge in one of the scrumptious homemade pastries while sipping on a fresh cappuccino or chai latte. With a diverse breakfast and lunch menu and beverages served just the way you like them, Sophie's Brewhouse is not one to miss. 699 South County Trl., Exeter, 295-4273, sophiesbrewhouse.com.
Celestial Cafe
This hidden gem in Oak Harbour Village specializes in farm-to-table comfort food and offers an extensive drink menu of craft beers, spirits and cocktails made to your liking. Accommodating most dietary requests, Celestial Cafe has a little something for everyone. After feasting on a tantalizing entree, be sure to save room for one of the housemade desserts like the bananas foster baked Alaska or key lime and cherry bar. 567 South County Trl., Exeter, 295-5559, celestialcaferi.com.
Cornerstone Pub
Serving up pub fare and drinks, Cornerstone Pub is a classic American restaurant known for its friendly service and warm atmosphere. Always buzzing with activity, Cornerstone is a fan favorite among locals and is a nice place to catch a sports game over drinks with friends. Split a serving of chicken wings tossed in one of fourteen different sauces and rubs before biting into a signature burger. 273 Nooseneck Hill Rd., Exeter, 385-3025, cornerstonepubri.com.
A short drive away
Dan's Place
Known for mouthwatering handmade pizzas, Dan's delivers irresistible homestyle cuisine in a lively family-friendly environment. This barn-style restaurant offers a seemingly endless menu of traditional pub fare and unusual house specials. With trivia nights and live entertainment every weekend, Dan's is the perfect medley of food, family and fun. 880 Victory Hwy., West Greenwich, 392-3092, danspizzaplace.com.
Tilly's Cheesesteaks
No need to make the drive to Philly for a good cheese steak; Tilly's has you covered. Serving up a selection of zesty handcrafted sandwiches, Tilly's is sure to excite your taste buds with bold flavors. Keep it classic with the Philly beef, cheese and onion cheese-steak or spice things up with the PB and J (a.k.a. pork belly and jalapeno). 3711 Kingstown Rd., West Kingston, 783-7711, tillyscheesesteaks.com.
Where to explore
Arcadia Management Area
Extending 14,000 acres across Exeter, Richmond, Hopkinton and West Greenwich, Arcadia Management Area is Rhode Island's largest recreational spot. Take in the lush forest views on a hike or enjoy the serene ponds and streams while fishing or kayaking. This well-maintained stretch of land is densely packed with breathtaking scenery and wildlife. 260 Arcadia Rd., Hope Valley, 539-2356, riparks.com.
Tomaquag Museum
The Tomaquag Museum is Rhode Island's only native-operated facility dedicated to education about indigenous culture. Dating back to 1958 through the work of Narragansett/Pokanoket-Wampanoag native Princess Red Wing and anthropologist Eva Butler, the museum seeks to engage visitors with the history of indigenous peoples and the issues they face today. Curators offer a variety of specialized tours that take you through exhibits showcasing the rich cultural history of southern New England tribes. 390 Summit Rd., Exeter, 491-9063, tomaquagmuseum.org.
A short drive away
Stepping Stone Ranch
Whether you're looking for a quick afternoon of trail riding or are interested in horseback riding lessons, Stepping Stone Ranch has something for you. Known for its superior safety and education opportunities, this family-oriented ranch offers guided trail lessons, riding camps and more focused on fun and learning. 201 Escoheag Hill Rd., West Greenwich, 397-3725, steppingstoneranch.com.
Leyden Farm Vineyards and Winery
Stop in Friday through Sunday for a wine tasting at Leyden Farm Vineyards and Winery. Along with the winemaking business, which launched in 2010, Leyden's offers a unique selection of homemade red, white and fruit wines. Enjoy the taste of complex flavors with some cheese and crackers as you learn about each of the wines. You can even keep your logo glass as a souvenir. 160 Plain Meeting House Rd., West Greenwich, 392-1133, leydenfarm.com.
Where to shop
Shanbri Farm Gifts and Garden
This quaint antique and garden center offers a variety of trinkets and treasures. Nestled along South County Trail, Shanbri Farm is a hidden gem of eclectic gifts and decor. From plants and garden tools to candles and dishes, you never know what may catch your eye. 332 South County Trl., Exeter, 295-5151.
Cookie Shop Antique Store
Packed with one-of-kind antiques and more, Cookie Shop Antique Store is not one to miss if you love taking a few hours to rifle through the past. This classic shop is always filled to the brim with well-priced knickknacks, decor and more. 331 Nooseneck Hill Rd., Exeter, 397-7059.
A short drive away
URE Outfitters
Servicing Hope Valley since 1985, URE Outfitters is a family-owned outdoor supply and apparel store that offers high quality products for your outdoorsy needs. Whether it's hiking, camping or fishing gear, URE has you covered. Check out the extensive selection of thermal wear, boots, cookware, canoes, kayaks and more before heading on to your next adventure. 1009 Main St., Hope Valley, 539-4050, ureoutfitters.com.
Peter Pots Pottery
Handcrafting elegant and durable stoneware since 1948, Peter Pots Pottery is a Rhode Island icon. The artists at Peter Pots are dedicated to creating pieces that are functional and affordable as well as timeless and beautiful. Visit the showroom in West Kingston to shop an impressive selection of intricately designed tableware, home and garden decor, bakeware and more. 494 Glen Rock Rd., West Kingston, 783-2350, peterpots.com.