Dining Review: Chomp Kitchen and Drinks in Providence
Chomp's capital city outpost takes burgers and beer very seriously.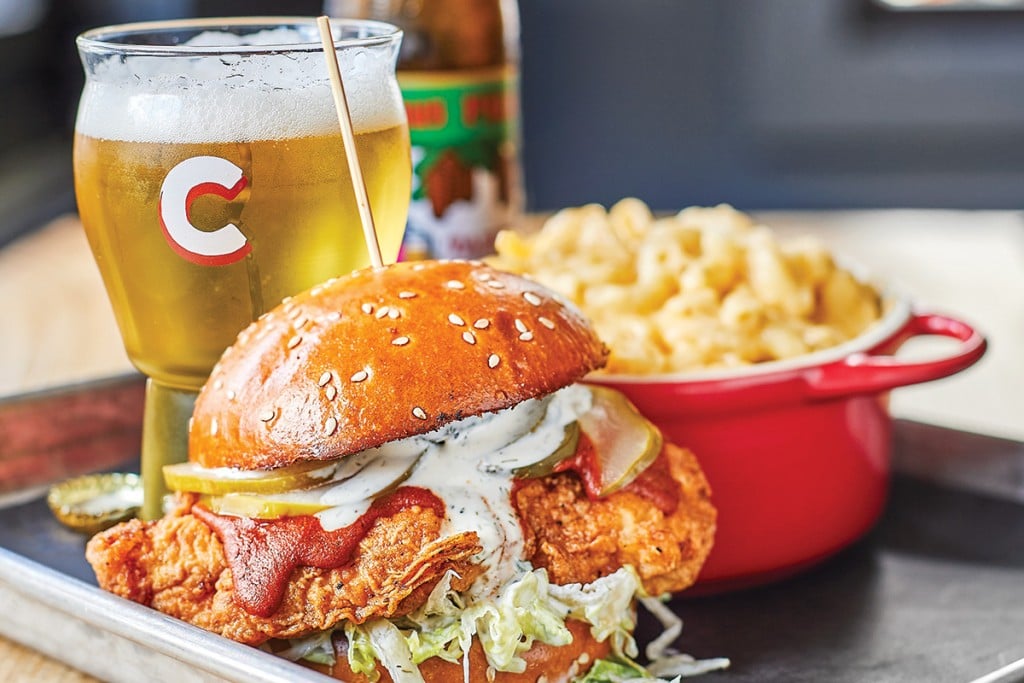 Chomp has its own irreverence but expresses it in tones of defiance you often hear from fraternity brothers at an Ivy. Intelligence is channeled into good-natured dares for those with social ambition.
It's ostensibly a burger joint but — particularly at the new Providence location — it reads more like a bar. The soundtrack is a mish-mash of '80s favorites from Billy Squier to Tom Petty and the taps never get a rest. On most nights there are a dozen drafts and Chomp offers beer the way Big King puts down sake: seriously.
Want a Belgian? Allagash's River Trip is "brewed with local grains and spiced with coriander for an extra hint of citrus." Drawn to something unpredictable? Proclamation Ale's Vic Secret is described as "a unicorn on a farm of Shetland ponies." If bottles are your thing, Equilibrium Wavelength NEIPA is "the distance between identical points in the adjacent cycles of a waveform signal propagated in space and describes the flow of Photons." Uhhhh…. Drink early and often is clearly the common refrain.
As for sandwiches, Chomp plays a game of rotation in which they dictate the extras and you can choose your base: fried chicken or burgers are a canvas that the kitchen loads up with as much paint as possible. Prepare to get dirty as sauces ooze out of everything and napkins are put down by the fistful. Fried chicken sandwiches ($16) are coated in amalgams of hot sauce, ranch dressing, honey, Alabama barbecue, Mozambique sauce and jalapeno cream cheese. If you didn't think chicken was capable of spilling, think again because the ritual includes licking your hands like a dog and cleansing your palate with an IPA. Burgers are equally debaucherous, particularly if you order the Bolognese ($16), which is topped with a thick-skinned sausage, tomato puree, mozzarella and enough basil aioli to keep the wheels greased. It's a Federal Hill entree poured over a pork and beef burger just to see who would survive the experience.
It's important to know, however, that Chomp backs up their brazenness. These sandwiches are good, even if they give you the meat sweats. Their signature burger, overflowing with housemade mac and cheese and sweet tomato jam ($16), looks like a stunt. But it's impossible to put down, even when you should. Exhibit A: A ninety-pound woman wiping her brow in cartoon fashion goes after the errant elbows of pasta with equal amounts of delight and self-shame. Next to her, a friend shrugs sheepishly and says, "Yeah, you don't really have a choice." All one can do is opt for a side salad instead of fries in an effort to clear the pathway for more. Servers clad in black circle frequently to cheer people on — "You went to town!" — and to refill the pint glasses. After all, the party doesn't end just because summer has.
Chomp Kitchen and Drinks
117 Ives St., Providence, 537-7556, 440 Child St., Warren, 289-2324, chompri.com
Must get: The mac and cheese burger, any hot chicken, a parade of draft beer.