Classic RI Restaurants
Bon appetit to a bygone era at must-revisit dining institutions.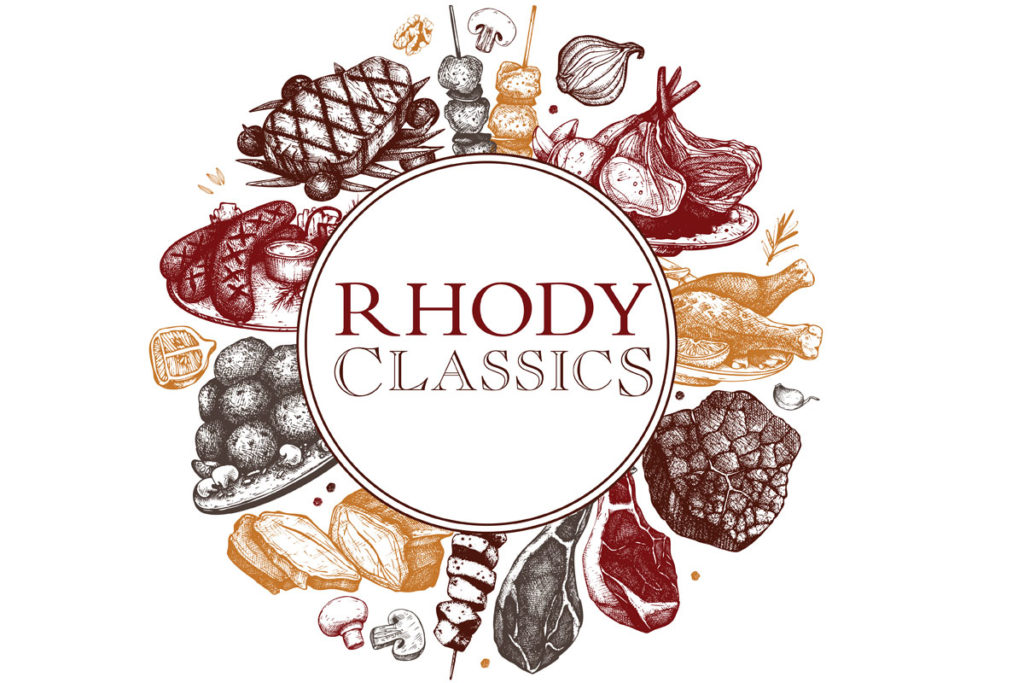 With dining trends that come and go and customers who flock to try the latest treat, it's a feat for any restaurant to endure in this day and age. But put down your smartphone and suppress the urge to Instagram. Instead, bon appetit to a bygone era with our list of must-visit (or re-visit) Rhode Island dining institutions that have withstood the test of time.
By Jamie Coelho, Jamies Samons and Nicole Mineau.

---
CAV
Years in business: 28
Cuisine: New American with a French twist
Get: Crab cake, sesame hijiki-encrusted tuna, North Atlantic salmon with pomegranate beurre blanc
CAV is synonymous with cave, and the magical design of CAV — with its priceless art, historical bar, lofty thirteen-foot ceilings and brick walls — is meant to resemble a French mansion's wine cellar. But CAV also stands for Cocktails, Antiques, Victuals. A visit includes not only reasonably priced and outstanding cuisine, but warm greetings by staff and a peek at one of the most impressive international antiques collections in the state. Each dish is plated elegantly, from a simple bruschetta with garlicky toast points, a vessel for fresh tomatoes with tangy feta and an acidic balsamic marinade, to the decadent pistachio-crusted crab cake stuffed with generous chunks of crab meat perfectly packed together with only as much breading as essential. Try it for brunch with 
a poached egg or as an appetizer, topped with sriracha aioli and taro root chips.
14 Imperial Pl., Providence, 751-9164, cavrestaurant.com
---
Mill's Tavern
Years in business: 14
Cuisine: Contemporary American
Get: Anything cooked on the wood-burning grill including chops and steaks
Taverns trigger an image of work weary patrons sitting on stools lifting pints while a TV blares in the background. Mill's Tavern is an upscale version — sure there's a friendly bar where oysters rule — but a more formal dining experience complete with linen tablecloths and multiple courses can be had in the dining room. Executive chef Edward Bolus's cuisine is consistent and the service always on point for a flawless night out. Alaskan king salmon is prepared creatively, encrusted in chia and white sesame seeds and bathed in a citrusy miso broth. The New Zealand rack of lamb is served pink with a pungent pommery mustard, and venison lovers will rave about the meaty loin with bacon and bittersweet lingonberry gastrique that offsets any gaminess. As for dessert, well, this isn't the place for an average brownie sundae; the Nutella ganache takes a dark chocolate brownie and tops it with toasted brown butter marshmallow, candied hazelnuts, malted milk foam and coffee cardamom sherbet.
101 North Main St., Providence, 272-3331, millstavernrestaurant.com
---
Al Forno
Years in business: 37
Cuisine: Northern Italian
Get: Baked pastas, grilled pizzas, brownie sundae
Critics rave about Al Forno's famous grilled pizzas, but veer from the expected and zoom in on the pastas, handcrafted by chef David Reynoso and team. Better than any found on the Hill, each one is made with the simplest and best ingredients, from baked versions accented by ingredients like pumpkin and crisp pancetta to handmade buttery ravioli stuffed with tender beef short rib or chicken, ricotta and more pancetta. Wood-grilled entrees also tempt, including the spice-rubbed and crackle-skinned half chicken with a herbaceous sauce. Think ahead and order dessert with your meal; hand-churned ice cream is wedged between a moist brownie for a sweet sandwich, and the cookie plate includes an assortment of delicate varieties. Upstairs dining offers an elegant, well-paced meal in quieter confines, while the seasonal outdoor patio and bar provide gastronomical atmosphere en plein air.
577 South Water St., Providence, 273-9760, alforno.com
---
Ten Prime Steak and Sushi
Years in business: 16
Cuisine: Steak and sushi
Get: Sushi sandwich grilled with truffle oil, sushi boat, aged Certified Angus steaks
Build your own sushi platter to share or order a dingy (thirty pieces) or boat (sixty pieces) and have the chef choose assorted rolls and nigiri for you. The sushi sandwich is a deconstructed roll with tuna, salmon and hamachi nestled between triangles of white rice and topped with spicy mayo, a healthy dose of sriracha and truffle oil. Instead of being sliced into rolls, it's cut into triangular pieces. Luxurious steaks, from bone-in New York Angus sirloin to Wagyu flatiron, are aged for twenty-eight days or more and can be prepared in a myriad of ways. From au poivre or as steak Diane, they're all good, but naked is also always an acceptable option. Then there's the forty-ounce Angus double porterhouse; finish it all and get inducted into "Club 10." Your reward? Your name put on a plaque commemorating the event. The sexy upscale atmosphere boasts soothing blue lights, a tropical fish tank and a pulsating soundtrack; it's a place where big meat never gets outdated.
55 Pine St., Providence, 453-2333, tenprimesteakandsushi.com
---
Garden Grille
Years in business: 21
Cuisine: Vegetarian with vegan options
Get: Butternut squash quesadilla, tofu BLT
A healthy diet trendsetter, owner Rob Yaffe and his mother first opened a health food store in Providence in the '70s, with the restaurant following later. It's a tight space with no reservations (grab a small free coffee at Wildflour Bakery next door to kill time and avoid standing in the doorway), but it's worth the wait; all types of restrictive dieters eat well here, from vegetarian and vegan to gluten-free and kosher. While the menu offers current updates like the ever-popular Instagram-worthy avocado toast, old favorites like the hearty butternut squash quesadilla stay put. A whole wheat tortilla stuffed with roasted butternut squash, organic black beans and pristine avocado is cut into quarters and served toasty with jalapeño jack melted cheese oozing out the sides (or order with or without vegan cheese). The BLT includes housemade tofu bacon, vegan chipotle mayo, sliced tomatoes and arugula, and you can add avocado as an extra. Freshly made smoothies blend up daily nutritional needs into something sweet to drink. Like the menu, the interior, designed by Kyla Coburn, appreciates nature with a curvy wood sculpture and branchlike limbs hovering above the bar. Garden Grille is the tree of life, dishing out wholesome foods while supporting our local farms whenever possible.
727 East Ave., Pawtucket, 726-2826, gardengrilleri.com
---
Pot au Feu
Years in business: 45
Cuisine: French comfort food
Get: Beef bourguignon and coq au vin
Happenstance would have it that the first time Julia Child visited Pot au Feu, the owners, Robert I. and Annie Burke, were travelling in Paris. The couple called the restaurant by payphone to check in during their trip — feeding the phone francs the whole time — and were alerted by the manager that Child was dining in the restaurant at that very moment. And then the payphone went dead. The manager explained to Child that the owners were in Paris doing food and wine research. "That's just where they ought to be," Child said with her famous chortle. Luckily for the Burkes, she invited the couple to meet her in Boston, and returned again for their French comfort food, autographing menus during her visit. This is not dainty French cuisine. Plates are piled high with portions of tender braised beef with the flavors of wine and fresh herbs, and coq au vin's chicken quarters boast crackling skin and deep-fried sweet potatoes as a side. Potatoes gratinee is like decadent French lasagna with thin layers of potatoes alternating blanketing cheese and cream and baked with gruyere melted over the top. It's a very special spot that's like taking a trip to Paris right in Providence.
44 Custom House St., Providence, 273-8953, potaufeu.businesscatalyst.com
---
Capriccio
Years in business: 40
Cuisine: Northern Italian/Mediterranean
Get: Beef Wellington, steak Diane or shrimp scampi
The moment the valet takes the keys, the fine dining experience begins. Pull open the heavy embellished doors and descend into the subterranean space carved out of the cellar of an 1800s Providence historic landmark that played a role in the city's revitalization. Politicians and businessmen sport dinner jackets while servers wear crisp white shirts and bowties for service that lingers well into the evening. Crack open the book of a menu that starts with a wine list worthy of the most lavish expense account and one of the largest cognac menus in the country. Can't spring for a whole bottle? Ask for a glass of red or white; even though options aren't printed, they're available. Out of more than sixty entree options, opt for a dish that offers tableside presentation; Capriccio is one of the surviving places where you can witness the lost art of flambe. Steak Diane, shrimp scampi and beef Wellington include dinner and a show. Capriccio is also known for procuring some of the rarest proteins available, including pheasant, ostrich, quail, Dover sole and snow crabs. Enter a time warp and leave without half your paycheck, but it's bygone hospitality every Rhode Islander should witness at least once.
2 Pine St., Providence, 421-1320, capriccios.com
---
Broadway Bistro
Years in business: 9
Cuisine: New American comfort food
Get: Ribs and grits
Outside Broadway Bistro, a mural of a black dog exhorts passersby to sit. Once inside this West Side institution, diners can appreciate the canine's insistence: for almost a decade, owner, Patrick Lowney, along with chef, Benjamin Sherman, have comforted appreciative palates with amped up versions of American classics. Lasagna is free-form, breaking from its traditional rectangle and including tweaks such as a mushroom Bolognese and fried shallots. The braised short rib comes with a deceptively hearty butternut-sage crepe, and the ribs and grits puts an Asian spin on the Southern classic, adding soy and sesame. A 2012 expansion brought high-gloss polished concrete counters to a full bar and seasonal, semi-permanent steel and mahogany outdoor seating for al fresco diners. Herbs and flowers for the restaurant grow in outdoor planter boxes in warmer months.
205 Broadway, Providence, 331-2450, broadwaybistrori.com
---
Parkside Rotisserie and Bar
Years in business: 21
Cuisine: Contemporary American
Get: Anything roasted in the rotisserie
Parkside buzzes like the bustling streets of Manhattan; all generations merge into the dining hotspot as servers glide from table to table delivering plates filled with rotisserie fired meats and flourishes of edible art. The namesake red rotisserie, imported from France, is visible from the open kitchen where whole chickens, duck, pork and nightly specials like rack of lamb are skewered on the spit and rotated to baste in their own juices. The checkerboard floor in front of the kitchen simulates a game of chess as chefs hustle plates off to hungry guests. In a spot where pace is valued, relaxed attentiveness convinces many to extend a midday lunch to a two-martini meal. The rotisserie chicken never disappoints, but give more complex dishes like Thai dumplings a try, too. Lively atmosphere dominates the front of the restaurant and the bar, but if you're hoping for a more romantic afternoon or evening, request a table toward the back. But when it's busy, it's surely the place to be.
76 South Main St., Providence, 331-0003, parksideprovidence.com
---
Pane e Vino Ristorante and Enoteca
Years in business: 14
Cuisine: Italian
Get: Calamari, three versions of 
veal scallopini, carciofi, saltimbocca and funghi
A restaurant is only as good as it is dependable, and Pane e Vino is one of the old reliables that successfully marries local seafood with Italian heritage. Anytime we're entertaining visiting family or are in need of a good date night, this intimate enoteca garners positive reviews from all. When true Rhode Island-style fried calamari is the goal, Pane e Vino delivers delicately fried tentacles and rings from squid landed in Narragansett Bay, accented by the trademark zing of hot peppers, sharp sundried tomatoes and a tangy white balsamic vinegar finish. Don't miss the $24.95 three-course prix fixe menu available Monday through Friday until 7 p.m. and on Sundays, or the special gluten-free menu where even the wheat-intolerant can enjoy the very best penne and gnocchi. Owners Joseph and Esther DeQuattro make each guest feel as though it's a dinner party in their personal home, where conversation can be heard across tables and larger groups are welcomed to take their time and enjoy the meal.
365 Atwells Ave., Providence, 223-2230, panevino.net
---
Coast Guard House
Years in business: 72 (seasonal), 37 (year-round)
Cuisine: Seafood, 
contemporary American
Get: Seafood, steamed lobster, steaks
The Coast Guard House was built in 1888 by legendary architects McKim, Mead and White (famous for the Rhode Island State House and New York's original Penn Station among other buildings) as a United States Life Saving Service station. In 1945, it was reborn as the Coast Guard House restaurant serving locally harvested seafood on a seasonal basis, and in 1979, it became a year-round favorite. A recent renovation after Superstorm Sandy allows the Coast Guard House to be better protected during storms and improved the functionality of the space. Sweeping oceanfront views of Narragansett Bay provide a stunning backdrop for a bounty of Rhode Island-landed seafood and locally sourced produce and meats. The seafood-focused menu changes twice per year, and it also includes pasta, a raw bar and steaks. According to co-owner Bob Leonard, "We love being part of family traditions and we are proud to be taking care of this building for the next generation."
40 Ocean Rd., Narragansett, 789-0700, thecoastguardhouse.com
---
Joe Marzilli's Old Canteen Restaurant
Years in business: 61
Cuisine: Italian
Get: Steak a la mama, shrimp scampi
Not everyone has Italian grandparents, but when they want to feel as if they do, they follow the blinking sign to the Old Canteen. The pink walls, blush napkins and floral patterned curtains are part of the charm, as well as the seasoned, well dressed waitstaff. Channel the late, great Providence mayor Buddy Cianci by sitting at the corner table by the window, or better yet, bring the whole family for a celebratory meal; it's a Rhode Island rite of passage. Time stands still at this eternal spot — the oldest family owned Italian restaurant in Rhode Island — where dishes come out of the kitchen just as patrons always remembered. Each meal can be ordered as an all-inclusive seven-course feast (if you include the bread, antipasto, soup, macaroni, dessert and coffee) or a la carte. Steak a la mama features a sirloin broiled with garlic sauce, and another revered favorite is veal, pounded thin, and served at least a dozen different ways. Raise a glass to Buddy while you're there, and order a side of cold beets just as he would have done.
120 Atwells Ave., Providence, 751-5544, theoldcanteen.com