Let's Go Clamming!
Start digging around the Ocean State for the best fresh shellfish this summer.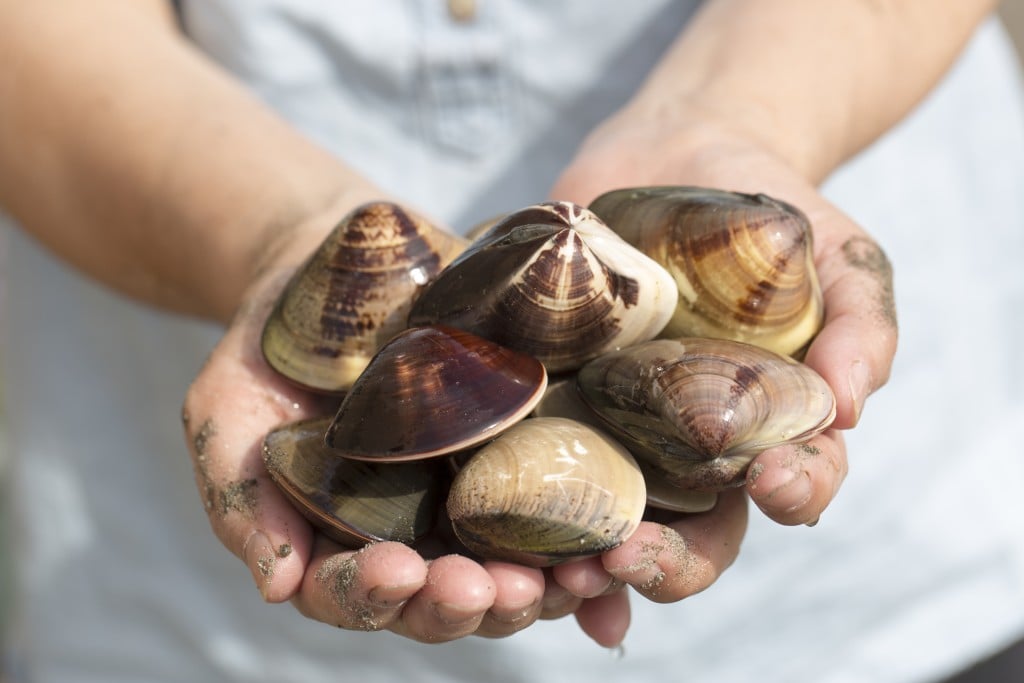 Here comes the seafood cravings! With the hot blazing sun drawing us closer to the water, clamming is the perfect activity for families to get outside while bringing home their findings. Here's a few spots around the state to get your hands (and toes) down under the sand.
Where to go clamming
Point Judith Pond, located in Galilee, is part of the state's largest fishing port and aquaculture operation, inhibiting seven acres. Diggers can find Moonstone Oysters, quahogs, and bay scallops. To access the pond from Galilee, follow signs on Route 108 south toward the Block Island Ferry and park along Galilee Escape Road. When you walk toward the water you will find mud exposed by low tide and several groups of diggers to accompany.
Potter's Cove/ Taylor Point
Located along the coast of Jamestown, Taylor Point is home to a long narrow beach hugging Potter's Cove just off the shore. Diggers can reach the spot by the stairs that descend from the parking lot. It is also a popular spot for boating, and it is popular among Rhode Islanders in the summer.
Bristol's beautiful state park is home to some of the most spectacular views of the Narragansett Bay, as the entire western border of the park is open to the water. Colt State Park is not only a great spot for clamming and fishing, but also for picnics, walks and bike rides. Make sure to check if the bay is open for recreational use before planning a visit, though. Sometimes the bay near the park must be closed for environmental reasons.
Calf Pasture Point Beach in North Kingstown is another hidden gem of the Narragansett Bay. While parking is resident only, it can be reached by non-residents through the Quonset Bike Path. It is a beautiful spot to dig for clams and quahogs.
If you are looking for a more quaint, quiet location to go clamming, Sapowet Marsh in Tiverton is a more remote waterfront to explore. Parking can be found on the west side of Sapowet Avenue by the bridge. A small rocky beach leads to Sapowet Point that overlooks the Sakonnet River, and the marsh is a great place to dig for clams and quahogs.
For those who aren't into the digging process, here's a few places to buy them local and fresh, ready to cook up in some white wine butter or even a seafood paella.
Best Places to Buy Clams in Rhode Island
Gardner's Wharf Seafood Market sits right on the water on Narragansett Bay in Wickford. Every day, fresh fish, live lobsters, mussels, oysters and clams (a full variety of littlenecks, cherry-stones, quahogs and steamers) are unloaded and processed for purchase. If you are new to preparing seafood at home, their website provides cook times for lobster, crabs, shrimp, steamers or littlenecks and stuffies. If you find yourself getting hungry while you're looking around the market, check out Chevy's Shack to get a fresh bite to eat. 170 Main St., North Kingstown, 295-4600, gardnerswharfseafood.com/market.php
Andrade's Catch is a cash-only shop that helps local quahoggers make a living by giving them a place to sell their haul. Clams are dug daily in Rhode Island waters and sold onsite along with many other types of seafood. Andrade's Catch serves the local community by practicing sustainable fishing methods to protect and educate Rhode Islanders. They offer to sell local merchandise in their store. 186 Wood St., Bristol, 253-4529, andradescatchri.com/shop
Providence's Fearless Fish Market offers online ordering to be picked up in store for the convenience of their customers. They keep up on social media and their website to share what products they have in stock, answer commonly asked questions, and share recipes. Locally sourced clams are a part of their exciting menu. 425 West Fountain St., Providence, 415-8905, fearlessfishmarket.com
Twin brothers Tim and Marty McGiveney started Twin Shellfish L.L.C after forty years of shellfishing on Narragansett Bay. They started the business in 2005 with a mission to bring the freshest quahogs, littlenecks, top necks, cherries, and soft-shell steamers to customers at great prices. 5 Harrop Ave., Warwick, 737-1575, twinshellfish.com
For twenty years, Ocean Pride Seafood has been supplying Cranston, Providence and surrounding towns. In addition to their delicious menu, they sell fresh seafood, including littlenecks, cherrystones, and quahogs. 270 Atwood Ave., Cranston, 943-6690, oceanprideseafoodri.com