Say Cheese with These Great Rhode Island Purveyors
Local cheesemakers are producing all-natural, just plain yummy selections.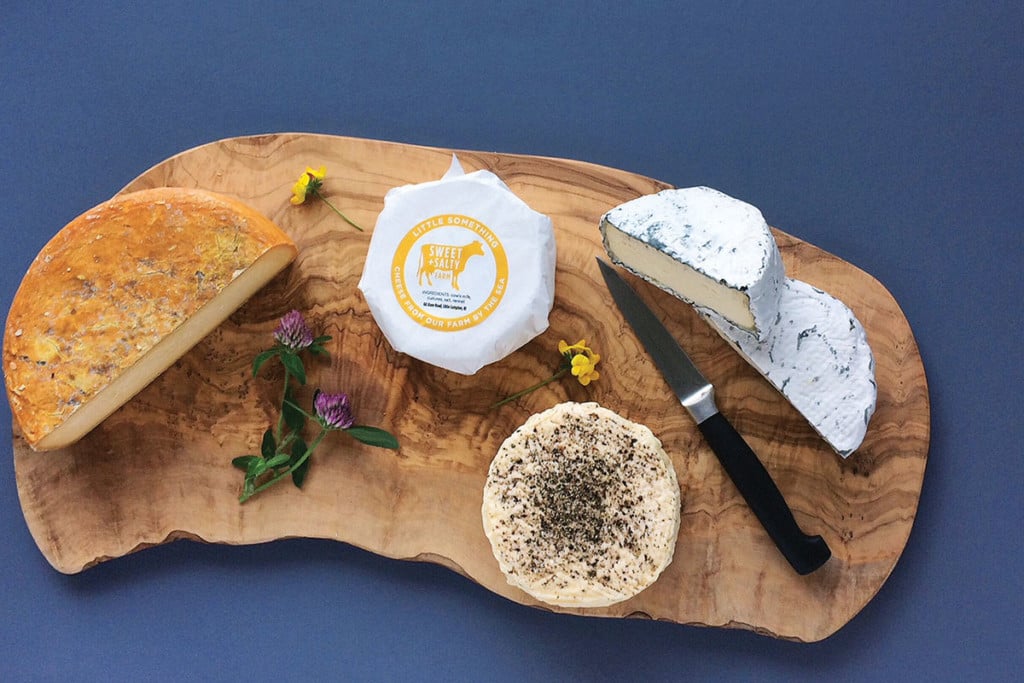 Sweet and Salty Farm
Grass-fed Jersey cows are the source of the aged and soft, young cheeses created by husband and wife team, Andrew Morley and Laura Haverland, in Little Compton. Their creations have whimsical names such as Little Pepper (a gooey, yeasty cheese) and Peach Fizz (a firm rind cheese that's washed with sparkling wine from nearby Westport Rivers Vineyard). "We enjoy what we make," says Morley. "We eat it all the time." The dairy also produces yogurt (available at stores). Look for the products at farmers markets in Providence and the farm stand, which is open late spring through early fall on Saturdays from 10 a.m.–1 p.m. 68 Shaw Rd., Little Compton, sweetandsaltyfarm.com
Narragansett Creamery
Family-owned Narragansett Creamery in Providence produces fourteen varieties of cheese, including mozzarella, Gouda, ricotta and burrata, and the cheese world has taken notice. The company's tangy Crescendo, a creamy rindless cheese, and Salty Sea Feta have earned awards. Local favorites include Renaissance Ricotta and Mediterranean-style Grilling Cheese. "It's like grilled cheese without the bread," says owner Mark Federico. The company also produces yogurt. Find products at farmers markets and supermarkets. richeeses.com
Simmons Farm
Goats rule at this 120-acre farm that's been family-owned since the seventeenth century. They're star attractions of the farm's goat yoga classes and petting zoo. And for the past eight years, co-owner Karla Simmons has been transforming their milk into creamy chevre. Flavors include plain, herbs de Provence, cranberry walnut and candied ginger and seasonal creations such as blueberry, pumpkin and arugula pesto. The farm also sells beef, pork and poultry, eggs and veggies. Buy products through the Simmons CSA program, at the farm stand and at farmers markets. 1942 West Main Rd. (across from Prescott Farm), Middletown, 848-9910, simmonsorganicfarmri.com
Cheese-Worthy Shops
Cheese takes the stage at these stores. Most also offer gourmet food items such as baguettes, charcuterie and pate, and will create custom cheese platters.
Edgewood Cheese Shop and Eatery
This shop stocks about fifty goat, sheep and cow's milk cheeses, domestic and imported, as well as an eat-in and takeout menu of cheese and charcuterie boards and grilled panini. BYOB and enjoy wine or beer with anything on the menu. Buy a 'Gift of Cheese' and choose a half-pound of any cheese monthly, or sign up for Cheese 101 classes. 1828 Broad St., Cranston, 941-2400, edgewoodcheeseshop.com
Grapes and Gourmet
Tucked in the old ferry landing in Jamestown, this shop offers domestic, imported and raw cheeses as well as an impressive selection of wine (organic and natural wine too), craft beer and liquor. Wine tastings are held Fridays from 5–7 p.m. 9 East Ferry Wharf, Jamestown, 423-0070, grapesandgourmet.com
The Cheese Wheel Village Market
New to Tiverton, the shop offers about 100 types of cheese, both imported and domestic, plus charcuterie and snacks. A local favorite: Triple Play, a Wisconsin cheddar made from cow, goat and sheep's milk. 3838 Main Rd., Tiverton, 816-5069, thecheesewheelri.com
Milk and Honey
This longtime Tiverton resident has opened new digs in Portsmouth. There you'll find about fifty to eighty varieties of domestic and imported sheep, cow and goat cheeses — raw as well as pasteurized. 1016 East Main Rd., Portsmouth, 624-1974, milkandhoneyri.com
Newport Wine Cellar and Gourmet
The gourmet side of this pair of shops carries about fifty imported and domestic cheeses. Bonus: A lunch menu includes a cheese plate and assorted sandwiches. The wine cellar stocks more than 600 labels of vino. 11–13 Memorial Blvd. East, Newport, 619-3966, newportwinecellar.com