Castles in the Sky
Can Rhode Island meet the crushing demand for affordable housing?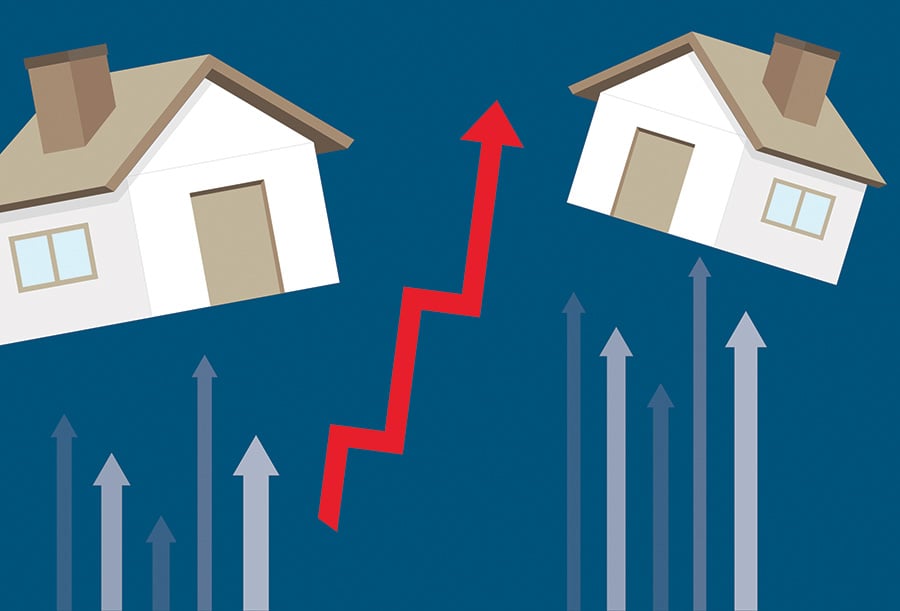 Scene: A woman in a white tank top stands before a large patch of bare earth. The day is hot and sunny; the woman cups her hand over her eyes to shield them from the glare. The camera is steady, but the image is blurry.
Off-camera Male Voice: "Welcome to your new home."
The smile on the woman's face teeters between disbelief and joy.
Woman: "We got approved? For real? Did Daynah call you?"
Off-camera Male Voice: "Just now."
Long pause. Woman scans the lot behind her. Her smile grows as if the Publishers Clearing House Prize Patrol is behind the camera with balloons and an oversized check.
Woman: "We have a house?"
Off-camera Male Voice: "We have a house."
Woman squeals with happiness, jumps up and grabs the camera man.
The shot goes sideways, then to black.
The video on NeighborWorks Blackstone River Valley's YouTube channel captures the moment Thea Fielding-Lowe's husband tells her that the couple has been accepted into the U.S. Department of Agriculture's Mutual Self-Help Housing Program. The sixty-year-old program provides mortgage financing for low- and very-low-income borrowers who work together to build each other's homes in rural areas. It funds organizations, like NeighborWorks, to administer the program and supervise the construction, says program manager Daynah Williams.
The clip also wraps up the state's affordable housing crisis in thirty-seven seconds.
The United States is currently short of about 6.8 million units of housing. The National Low Income Housing Coalition reported in July 2021 that a minimum wage renter can only afford a one-bedroom apartment in 7 percent of counties, because median rents have been galloping past median renter income since 2001. The upshot, according to the Center on Budget and Policy Priorities: about twenty-three million low-income renters pay more than half of their income for housing.
The numbers in Rhode Island are no better. More than a third of Rhode Island households spend more than 30 percent of their income on housing costs. Of this group, 43 percent spend more than 50 percent of their income on housing. The homeownership rate for minorities is significantly lower than that of white households — 68 percent for whites, 34 percent for Black households, 30 percent for Latinos and 48 percent for people of Asian descent. State rates for minority households trail the national averages anywhere from 10 to 20 percent.
So, if getting into a program that gives low-income borrowers a shot at a decent, affordable home feels like winning a sweepstakes, it's because it is.
But for the first time in a long time, current and aspiring policymakers have put the production and maintenance of affordable housing at the top of their to-do lists. December alone saw more decisive action from political leaders than in entire years past. The Housing Resources Commission granted nearly $31 million of previously approved affordable housing bond funds to produce or preserve more than 600 units in thirteen Rhode Island communities. A sixteen-night camp-out on the State House brick and marble plaza to protest a lack of emergency shelter beds ended with Governor Dan McKee's announcement that the state had created 150 new shelter beds, opened a non-congregate shelter at the old Memorial Hospital site and established a new quarantine facility. McKee, House Speaker K. Joseph Shekarchi and Senate President Dominick J. Ruggerio agreed to allocate $29.5 million of federal American Rescue Plan Act (ARPA) money for affordable housing. Urban planner and affordable housing specialist Josh Saal was hired as the state's first deputy secretary of commerce for housing.
"It's a unique time for us," says James Comer, deputy executive director of Rhode Island Housing. "The need has not abated in many years and, for a very long time, housing advocates in the community have been ceaseless in their efforts to make people aware. We are finally finding receptive ears in the media and among our elected leaders. We now have the opportunity to move the needle in a bigger way."
This new focus is the marriage of necessity and resources.
Affordable housing is a catch-all term for any unit — rented, owned, privately or publicly funded — serving the population that must spend a disproportionate share of their income on housing, which as the numbers above illustrate, is a lot of our fellow citizens. The shortage has been building over five decades. From the early 1930s to the early 1970s, the federal government played a key role in producing and maintaining affordable housing. But, in 1973 President Richard Nixon halted the production of new rental units and homeownership programs administered by the Department of Housing and Urban Development. And although the moratorium was lifted the following year, it marked the federal government's sharp shift away from producing affordable housing to leaving it to the states and the private market. The structure of federal programs changed to tax incentives and rental subsidies, but there was no new significant federal investment. In the early 1980s, homelessness became a national issue, but after the public's initial shock, it simply became institutionalized with no real coordinated national strategy to address it.
Advocates have long argued that the lack of affordable housing was a hindrance to economic development. Then came COVID and the associated economic downturn to exacerbate the problem and give it greater visibility — especially among the lowest-income people facing eviction.
"The problem has also crept into the middle-income group," says Brenda Clement, director of HousingWorks RI. "There is no community in Rhode Island where the average median income of $63,000 for a family of four can afford to buy a home. That's a big workforce retention and attraction issue."
The NLIHC estimates 21,678 rental units are needed just to serve the bracket of very-low-income households in Rhode Island. A 2016 analysis by HousingWorks RI, which factored population and household incomes under two scenarios, estimated that the state would need between 34,600 to 40,000 new units of housing by 2025.
The size of the ARPA package — $1.8 billion over two years — gives the state an opportunity to finally make a substantial investment instead of relying on periodic housing bonds. Since 2006, the voters have approved four affordable housing bonds totaling $190 million dollars, which has been leveraged to develop and rehabilitate nearly 2,000 units. However, Rhode Island finally created a small permanent revenue stream for affordable housing via an estate conveyance tax for properties valued at more than $700,000. Should Congress pass the Build Back Better Act, which allocates about $170 billion for affordable housing, the state would have more.
Rhode Island Foundation president and chief executive officer Neil D. Steinberg says that, in all his years of sitting around conference tables brainstorming policy solutions, "this is the first time the money showed up first. But we need to plan it and we need implementation and oversight."
Developing a strategy — the remit of new housing czar Josh Saal — will be challenging. In Rhode Island's densest cities, the vacant lots are few and the deteriorated housing stock is plentiful. The state boasts dozens of affordable housing development and management organizations, but there is little coordination among them. Municipal land use laws, which have stymied the development of affordable housing for years, need reform, says Shekarchi.
"The cities and towns, no matter what they say, prohibit or discourage development of housing," he says. "For example, more than half of the communities in Rhode Island prohibit multifamily zoning. There's no multifamily housing by right. You need a variance, and they make it very expensive, time-consuming and difficult. The State Planning Commission hasn't updated our land use laws in thirty years."
It will take years to bring new units online, as the cost of land, labor and materials goes up. And, in the meantime, existing affordable rentals need help with operating costs.
"It's hard to build units that serve the lower income bracket — those at 50 to 20 percent median income — because the rents they generate are very low, yet the operating costs are the same, if not higher," says Jay O'Grady, a lending officer for the Local Initiatives Support Corporation, one of the country's largest community development financial institutions. "The state used to have an operating subsidy funded out of a line item in the budget, but that went away in 2010. Rhode Island Housing stepped in to fund the existing contracts, but has not issued any new ones."
There appears to be some consensus that the priority should be the very-low income.
"I want to see income targeting for the people most in need," says Providence College sociologist and long-time housing advocate Eric Hirsch. "We should start with permanent supportive housing for the chronically homeless."
In October, the Rhode Island Foundation recommended that the state devote $405 million to produce at least 5,150 units of affordable housing by investing in rentals and permanent supportive housing, as well as homeownership, along with lead paint remediation for 2,850 units and renovations to at least 4,000 homes.
"We have people working minimum-wage and lower-wage jobs earning an honest living who can't afford a place to live," Steinberg says. "That's not right."
Thea Fielding-Lowe and Paul Lowe Jr. moved into their 1,500-square-foot saltbox on George Eddy Road in Pascoag in November 2016. Six years later, program manager Daynah Williams still loves that video.
"It reminds me why I do the work I do," she says. "They never thought they would own anything."
Eventually, the Mutual Self-Help Housing program will build thirty houses on this winding street a stone's throw from the Pascoag Reservoir. Phase three is now underway. Another small crew of new owners shrugs off the finger-stiffening cold of a Sunday morning before Christmas to get to work. Jeannette Arroyo is helping construction supervisor Paul Brais hang sheet rock in one house. Across the street, future neighbors Cindy Desautel and June Degre stuff insulation between the ceiling joists of their little castle.
"Sweat equity. That was our down payment," says Arroyo, a single mom with two young sons who worked every weekend off from her job at a medical device manufacturer in hopes of moving in by the spring. "I love it and I built it."
Desautel steadies the ladder, while Degre takes a turn with the insulation.
"I'm working from the heart," Desautel says. "I always wanted to own my own home, and I always wanted to build things."
She gestures to studs. "This is an even bigger dream."
Ellen Liberman is an award-winning journalist who has commented on politics and reported on government affairs for more than two decades.