Can Providence Schools Survive State Control?
Two years into the takeover, the district has weathered terse union negotiations and an assault scandal.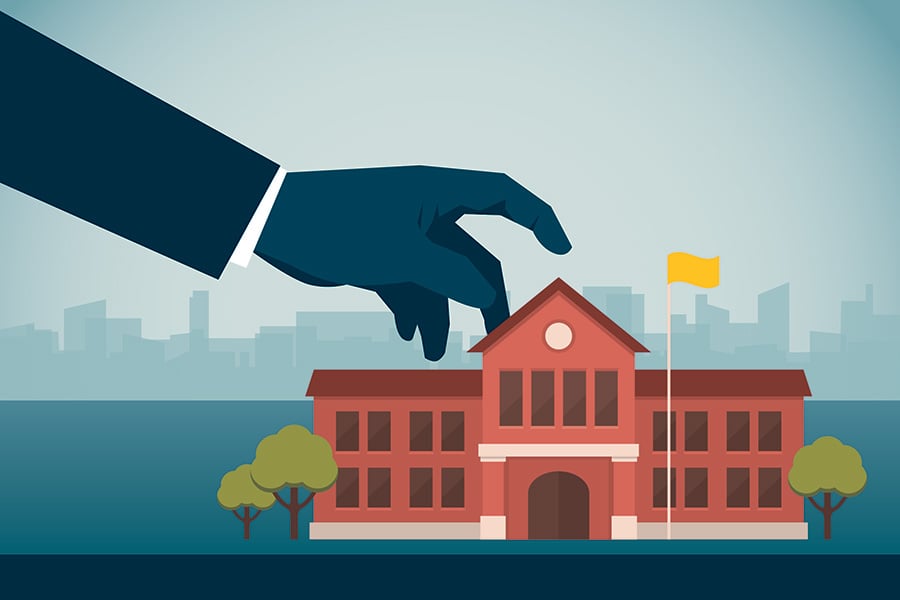 A few years ago, Emlyn Addison, along with other parents, volunteered to paint classrooms at Vartan Gregorian Elementary School on the East Side of Providence, where his daughter was a student. He was appalled at the sheer decrepitude of the place that was expected to deliver foundations of knowledge to his little girl. A 2016 facilities assessment had identified multiple roof leaks as the major deficiency of the now-sixty-seven-year-old building, but Addison saw other worrying signs.
"The little [air-conditioning] window units. Fifteen different things plugged into one outlet — daisy chains of power strips. It was not safe. And the stuff we were lifting up and pulling down from the walls — layers of poster board and old wood from the 1950s and '60s, coated in gooey dust, like nobody touched it. It was awful."
So, in May 2019, when Rhode Island Commissioner of Education Angelica Infante-Green released the results of a district-wide review conducted by the Johns Hopkins University (JHU) Center for Education, the assessment had the loud, clear ring of truth for Addison. Deteriorating infrastructure was but one element of a ninety-three-page report that described other layers of neglect: students traumatized by decades of low achievement and a "broken" school culture rife with bullying and violence, and adults — from parents to teachers to administrators — paralyzed by the enormity of ongoing failure.
Six months later, the state assumed control of the Providence Public School District (PPSD) under a five-year plan, to the cheers of most stakeholders. (Some city councilors objected.)
"It made perfect sense at the time," says Addison, who joined the education department's Parents Advisory Council. "There was a similar report in 1993. Obviously nothing's changed, so something had to happen."
Maribeth Calabro, president of the Providence Teachers Union (PTU), says the union also welcomed the takeover. But, a year and a half later, an acid bath of acrimony had dissolved the optimism.
In March of this year, contract talks between the commissioner and the PTU broke down, leading to the union's overwhelming no-confidence vote in Infante-Green. In May, Infante-Green's chosen superintendent, Harrison Peters, resigned after the district's administrator of middle and high schools, Dr. Olayinka Alege, was arrested for forcibly massaging the foot of a minor at a Warwick gym. Peters and Alege both hailed from Florida's Hillsborough County Public Schools, where Peters was school chief and where Alege, a high school assistant principal, was accused of "popping" male students' toes as a form of punishment. Alege also resigned, but the turmoil prompted the PTU to call for an end to the takeover.
Providence City Mayor Jorge Elorza fired back on Twitter: "The only reason I chose to bring in the state was to radically reform the contract…. After that is done, I believe the city should have control of the district sooner, rather than later."
The state reached a deal with the PTU in July but the new contract, which includes three pay raises, more training and mandatory parent-teacher conferences, does not represent radical reform — and an end to the takeover doesn't appear imminent.
States have been taking over schools and districts since 1988. As interventions go, they are considered the nuclear option — the point at which a desperate community willingly or unwillingly relinquishes one of the most cherished American traditions: independent control of children's education. But their track record is mixed.
"A state takeover is not a panacea," says Ashley Jochim, a researcher with the University of Washington's Center on Reinventing Public Education. "It pro- vides an opportunity to change things in the classroom, because governance and politics shape what happens in schools. If you use that well, good things can come of it. But it's not a guarantee."
Terrence Wilson, regional policy and community engagement director of the Intercultural Development Research Association, is less persuaded. Research shows that majority Black school districts are frequent targets of state takeovers, regardless of academic achievement levels.
"In Black and Brown communities, it's really taking away local control from parents and families to have a say, and that's a very drastic measure," Wilson says. "Lots of the underlying contributing factors that are not addressed in these state takeovers are more closely related to poverty and systemic discrimination than anything else."
The first wave of takeovers was largely prompted by fiscal mismanagement and school board dysfunction, Jochim says. In the reform era — launched in 2001 with the federal No Child Left Behind law and continuing through the Obama administration's 2009 Race to the Top program — boosting academic achievement became the impetus.
A recent analysis of state takeovers related to low performance, from 2011 to 2016, found "no evidence that takeover generates academic benefits" in English or math, although it was initially significantly disruptive to achievement in English.
State intervention may be an increasingly common policy response, but it is still rare, says Beth Schueler, the University of Virginia researcher who co-authored the study, and it's tricky to find patterns because takeovers can succeed or fail under wildly different conditions. For example, New Orleans let go of nearly all its teachers, converted its schools to charter status and reaped large academic gains. Pennsylvania turned over Philadelphia schools to private operators, but saw little academic progress. Lawrence, Massachusetts, retained most its teachers and kept its traditional structure in place and, even though the state-appointed receiver had the power to disregard the collective bargaining agreement, he didn't.