At the Reef in Newport, Summer's Always on the Menu
The waterfront dining spot is remeniscent of a Carribean vacation, complete with frozen mudslides and piping hot empanadas.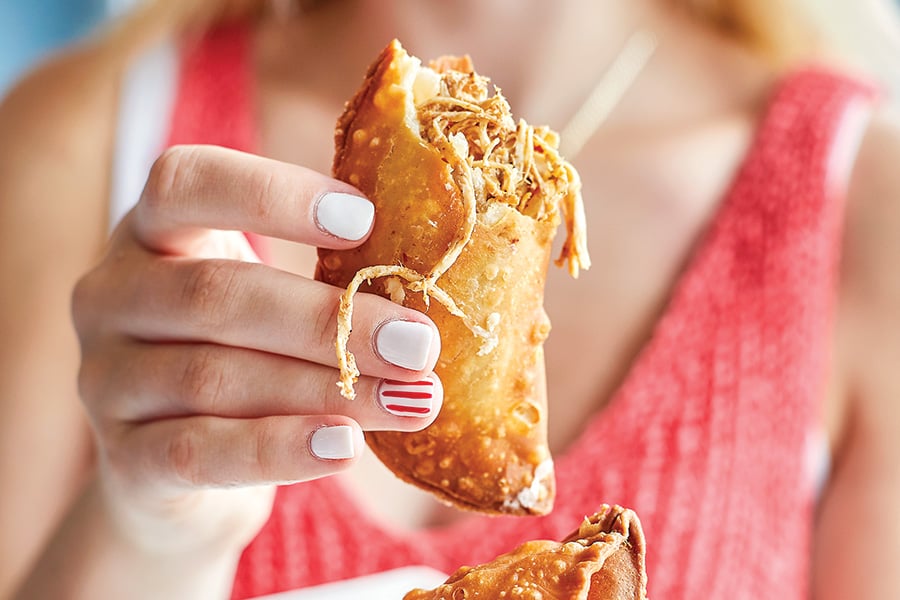 There are a handful of deeply ingrained rituals to mark the passage of time. Among those sacraments, nothing heralds the end of summer more sentimentally than sitting waterside to watch the sunset, cocktail in hand. There are a few spots that manifest serenity — the sound of the ocean lapping at the shore — but Howard Wharf is all about the bustle. The Reef monopolizes the dock, with room for people who have front row seats to take in both a dramatic skyline and a bevy of extravagant boats in for the evening. Potted palm trees mark the edges of the patio as onlookers to the Earth's rotation sit entranced, tequila on standby.
Nights at the Reef begin like a Caribbean vacation: sun is high in the sky, toddlers subdued with sippy cups and everyone shows up in shorts or casual kaftans. The staff has walked right out from a "Below Deck" episode, wearing khaki short-shorts and navy polo shirts, embroidered with liquor logos on the sleeve. Everyone is young and radiantly sun-kissed, hair pulled back as a sign to someone that they're on duty. This is a party for all ages and, while the seasonally changing menu is leaning toward an international approach, the mood is entirely American. Hedonism filters through in myriad ways but "five o'clock somewhere" is the unspoken mantra, with tequila coolers and frozen mudslides parading out in technicolor and chocolate swirls ($12). So pronounced is the philosophy that, when one seemingly health-conscious woman asks what drinks are available without alcohol, a stumped server stares skyward before saying, "I think we've got one non-alcoholic beer." (Restraint is not a familiar refrain.)
Eventually, people get around to eating and the Reef is intent on diners losing all sense of place and time. Flags from around the world hang at the front door and the kitchen draws from a variety of inspirations — Italy, Greece, Japan — in an effort to prove that deck-dwelling is a universal pastime. Some dishes focus on light summer fare (chilled shellfish with cocktail sauce or Old Bay mayo) but the goal is to recreate a day at the beach and, accordingly, many small plates come out of the fryer with a mission to manifest summer in its primary form. Chickpea fries ($14) and empanadas ($14), served with dipping sauce, bear more than a passing resemblance to fries from the snack shack. Plates of crunchy calamari, New England style ($16) or in tamari vinaigrette, suddenly taste less imported and more like the sun beating down on your face on a tropical island far from social media and everything it stands for. True, you're in the center of Newport; but this is a getaway as long as you keep your back to Thames Street.
Entrees are more ambitious in their approach, but the kitchen never veers too far from a clambake or a seafood boil. Lobster sandwiches ($28) are served cold or hot and drenched in butter, the embodiment of summer's best. Salmon is seared in Moroccan spices ($30), sitting on top of quinoa and cool tzatziki, while scallops are paired with chilled cauliflower puree and smoky chorizo ($34). The equation is similar: mild fish punctuated by aggressive herbs — compelling but not too far off the familiar course. Not surprisingly, steaks ($34) make an appearance for the masses as do sticky ribs ($17) for those who double down on heat. Tack on some skewers of chicken satay in rum-laced peanut sauce ($16) and you'll come to realize that the Reef is handling an upscale barbecue for 200 people, spread across a dining room and two patios.
But the restaurant is not out to re-envision al fresco dining. In fact, the "adult mac and cheese" ($18) is a testament to their commitment to revisiting memories of years past. Even at 80 degrees, diners hover over small steaming cauldrons of molten cheese that pulls out in theatrical strings. Reactions lean toward the overdramatic, as if a dish that fell out of your childhood couldn't possibly live in the same realm as the exalted view. But it's all an exercise in equally distributed privilege, and the prismatic horizon belongs to everyone who manages to get a table.
The Reef has struggled with the same staffing predicament of most restaurants post-pandemic, but the setting sun is an intoxicant that keeps most complaints at bay. Even guests waiting for a check stare absent-mindedly at the mural unfolding in the distance. "Remind me to bring my kids next time," says an exuberant mom on a night off. "It's too beautiful for anyone to notice them running around."
As the hours wear on into nightfall, the restaurant does assume the air of an outdoor wedding winding down. Staff takes on a second shift, shuffling tables to accommodate larger groups in search of a nightcap. Those still seated gravitate toward dessert, which doesn't aspire to anything other than old school sweets to close out the evening. They do just as much to reassure the crowd that the Reef is trying to recreate a stellar memory and not introduce a new experience. There's a reason that Rhode Island takes pride in its coastline — it's a prized possession that gets better with each Adirondack chair, each lobster roll and each spiked lemonade served at twilight. If you're lucky enough to get a seat on a clear night, grab it for as long as you can. Summer is finite and these are hours that we store away to extricate and embrace long after the warm weather has left us.
10 Howard Wharf, Newport, 324-5852, thereefnewport.com.
Open Wed.–Sun. for lunch, Tues.–Sun. for dinner. Wheelchair accessible. Lot parking.
Cuisine An elevated day at the beach.
Capacity About 300 indoors, 300 outdoors.
Vibe Surfer boy meets Lilly Pulitzer.
Prices Appetizers $9–$18; entrees $13–$38; dessert $12.
Karen's picks Rhody basics: calamari, lobster roll, scallops, cocktails and refills.