At Home with the Owner of Blakely Interior Design
Janelle Blakely's daunting colonial home renovation in South County helped her discover a new career in the process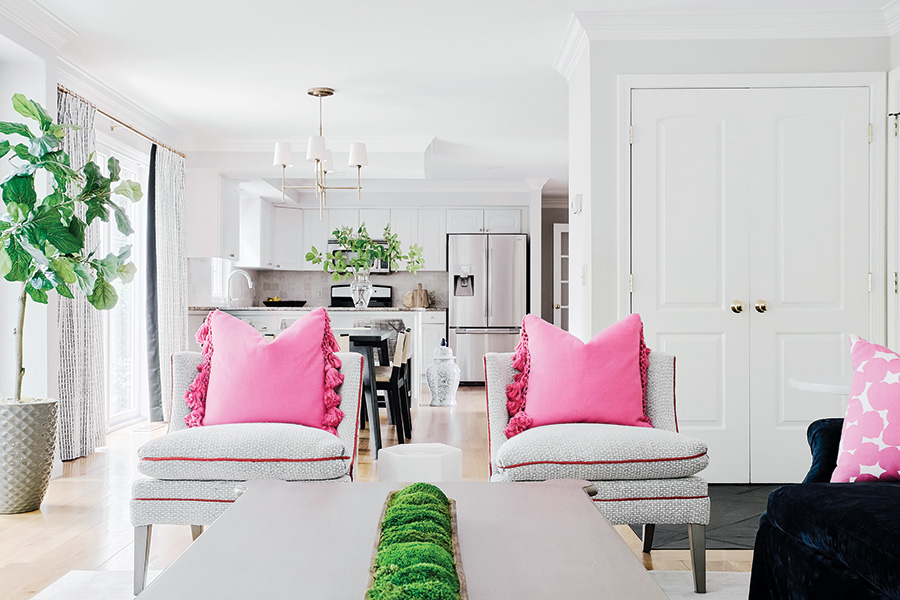 Taking the Leap
When Janelle Blakely and her husband went house hunting, they were under the gun to make a decision. "We were living in New Jersey, and my husband's job moved to Boston. He wanted to come back to Rhode Island."
The couple sold their house in a whirlwind six days (even back in 2008, the market was moving fast). Pressure was on to find their new home. "We saw thirteen houses in one day and had to pick," she says. "I fell in love with the ugly one on the block."
It was a dreary, two-story Colonial, with not enough windows and way too much meh Berber carpeting. The beautiful arts and crafts house they were leaving behind, it was not. Nevertheless, this ugly duckling checked all the boxes: in a quiet South County town with good schools, and a welcoming neighborhood of young families.
At the time, Blakely was working in communications and hadn't thought of segueing into another field, or even had much experience doing a reno. "But the moment I laid eyes on the house, I had a vision for it."
During the next twelve years, she's brought that inspiration to life and the results reflect the path her professional life has taken, from AT and T marketing professional, to designer with a studio, Blakely Interior Design, and a staff of nine. With this vibrant work in progress, Blakely found the ideal first client: herself.
Seeing the Light
"I always want to create a design that speaks to the client's aesthetic," Blakely says. "In my own house, I was able to realize that to its full potential. The chinoiserie upholstery on the living room chairs has crazy colors of reds and blacks but it's so fun. I like using color in unique and unexpected ways to bring contrast." Case in point: the brilliant pop of firecracker red that frames the mirror in the hallway contrasts with the black wainscoting, Sherwin Williams's "Iron Ore," creating a consistent use of color palettes throughout the ground floor. Truth be told, she admits, the mirror was a splurge, crafted by Oomph, a Connecticut company. It reminds her of old school Charleston. "I love its unique shape," she says.
Blakely hated the dark, gloomy living room, with its single slider out to the patio and another one next to it in the kitchen, the only light source. She moved the fireplace, added transom windows on each side as well as floor to ceiling windows, converting her kids' one-time playroom to an open, airy dining area.
Keeping the Faith
Memo to those of us lacking the Martha gene: Not every home accessory or piece of furniture in a designer's nest is carefully sourced as part of a grand plan. Consider the massive four-by-six-foot chandelier that belonged to a former client. "She wanted to hang it but at ninety-five pounds, it's so heavy, she would have needed a structural engineer to verify the ceiling could hold the weight," Blakely says.
Instead, the fixture found a new home in her own front hall. The bold black trim on the stairs and other areas of the ground floor echo the color of the chandelier and was a deliberate choice. "It makes a statement," she says. The gallery of artwork leading up the stairs brings together the palettes of blacks, pinks and vibrant blues.
Next on the to-do list: An upstairs bedroom is kitted out with pieces Blakely bought for a show house a couple of years ago, including a bed and nightstands that she later offered, without success, at her warehouse sale. "It's hard to sell a blue king-size bed," she says, matter of factly. "My husband wants me to repaint it. He thinks it's drab."
Still, headache-inducing supply chain issues (waiting for furniture takes months, Blakely notes) aren't even a glimmer when you can reimagine your own retreat, she assures. "One of my favorite things is homes are re-adaptable."