Are Our Pension Plans Doomed to Fail?
Another year, another round of struggles to find footing on the slippery slope of pension security.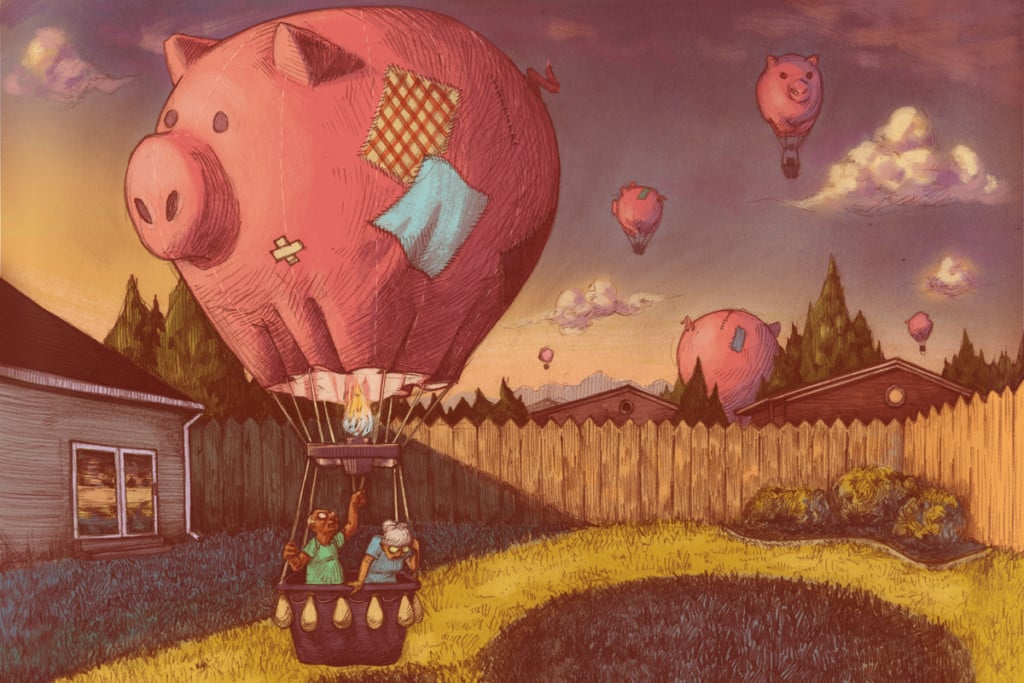 "We see that the pension world is trifurcating," says Jean-Pierre Aubry, the center's associate director of state and local research. "The top third are 90 percent funded; the middle third are 75 percent funded and bottom are around 55 percent. The middle third has challenges: They have made their ARCs and adjusted benefits, but have had poor rates of return. They can adopt best practices to correct their funding ratios. Then you have the bottom third, in which no amount of cuts is going to turn things around. Those are headed for a larger reckoning on how the system is going to look going forward."
Rhode Island's state pension system, established in 1936, has been running in place, when it wasn't slipping back, for decades. In the late 1970s, the state began a schedule of payments to reach full funding. In 1993, then-Treasurer Nancy Mayer reported that the state pension system was only funded at 68 percent of the total $1 billion liability, but that the state was on track to achieve a zero liability in 2017. 
The state's 2011 reckoning has nudged the needle, but slightly. The radical benefit changes to the Employees' Retirement System of Rhode Island have been coupled with a new investment strategy and lowered investment return assumptions. In 2015, State Treasurer Seth Magaziner implemented new rules requiring investment fund managers to publicly disclose the fund's performance, fees, expenses and liquidity, and then post that and other details, including contract end dates, online. Many had criticized Raimondo's strategy to invest in high-and-hidden fee hedge funds. The following year, Magaziner began to move $500 million of the state's pension portfolio out of hedge funds and into more traditional investment vehicles, such as private equity. Last May, the State Retirement Board, which sets the investment return rates, voted to reduce them from 7.5 percent, adopted in 2011, to 7 percent. 
In August, Magaziner's transparency initiatives earned the state's 2017 Comprehensive Annual Financial Report a certificate for excellence in financial reporting from the Government Finance Officers Association. The strong stock market has delivered higher-than-estimated returns and helped the state beat its benchmarks. But adjusting the investment assumptions will boost the state's ARC payment in the next fiscal year from $442 million to $465 million and shaved about two percentage points off the funding ratios. In 2017, the combined liability rose from $4.6 billion to $5.3 billion. The pension is expected to reach 80 percent funding in 2031.
"If we hadn't lowered the assumptions, we would be closer to 60 percent on paper, but not in reality. The system is getting healthier; the challenge now is to stay the course," Magaziner says.
Many of the state's municipal pension plans have yet to come to Jesus. An August report on their status found that in the last four years, seventeen plans had improved their funding ratios; most had made their full ARCs; and twelve dropped their investment return assumption to a more realistic 7 percent or less. But thirty-four plans have a combined unfunded liability of $2.4 billion and more than a third had less than 60 percent funding. Many plans still have unrealistic investment return assumptions, some aren't making their full ARC payments and, in some communities, the ARC payments are eating ever-larger portions of the municipal budget.
Proposed legislation to allow cities and towns to voluntarily join the state system has languished in the General Assembly.
"It's frustrating. It's not mandatory, it's enabling and there aren't a lot of options available," says Brian Daniels, executive director of the Rhode Island League of Cities and Towns. "Communities are trying to get this under control, and that should be one of the tools they have — if they want it. People think that pension insolvency is something that won't happen to them."
The insiders may see it coming, but for the pensioners, it's a thunderbolt. 
Marilyn Horan, seventy-five, was born at St. Joseph's Hospital. She trained there, worked there and eventually retired as the acting head of its school of nursing. She found out that her pension fund had gone broke in a phone call from a cousin. 
"I almost had a heart attack. Many years we would not get a raise, but they always told us: Remember your hidden paycheck — the pension. You will be taken care of until the day you die," she recalls. "We dedicated our lives to that place. It's sad and it's scary. I'm going month to month, because God only knows what will happen."