Are Our Pension Plans Doomed to Fail?
Another year, another round of struggles to find footing on the slippery slope of pension security.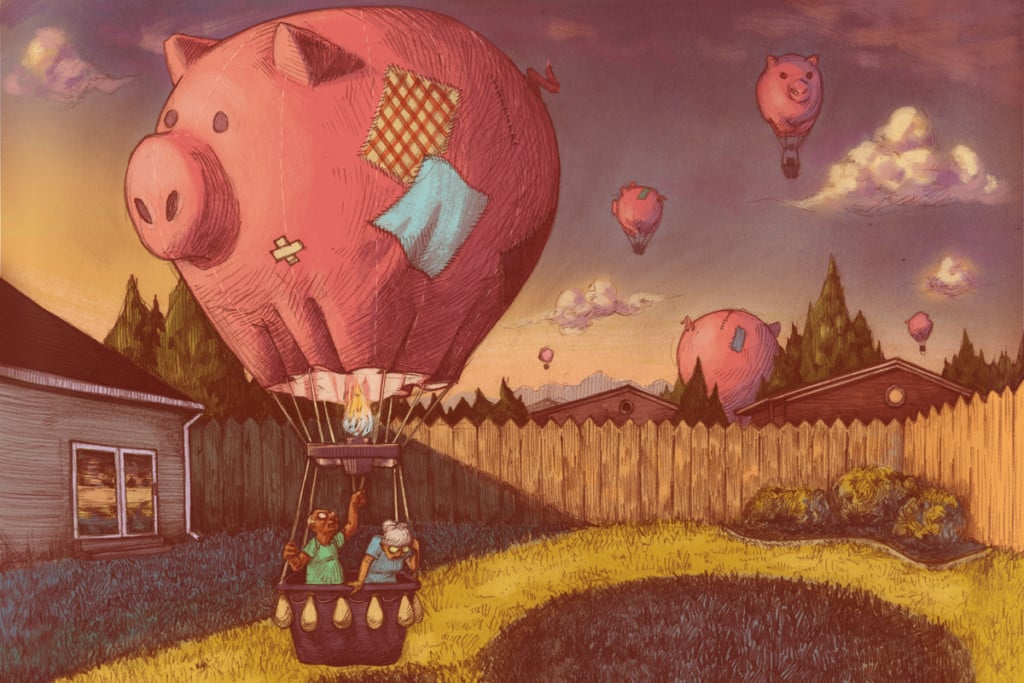 In October, a superior court judge conditionally approved a settlement that would shore up the largest pension collapse in state history. The St. Joseph and Our Lady of Fatima Hospital pension plan, staggered under a $43 million liability, collapsed in 2017, when its managers declared it insolvent and proposed that its 2,700 members take an immediate 40 percent cut in benefits. Stephen Del Sesto, receiver for the St. Joseph Health Services of Rhode Island Retirement Plan, accused the state of "failing to mind the store" when it approved the sale of the facility to California's Prospect Medical Holdings (now Prospect CharterCare) and left the pension plan with no revenue source; the state objected to this description. More than harsh words are at stake. The dispute has ensnared the pensioners and fourteen defendants, including Roman Catholic Bishop Thomas Tobin, in multiple class-action lawsuits.
In September, a bus driver's strike snarled the back-to-school bustle in Providence as the drivers, represented by the Teamsters Local 251, squabbled with their employer, First Student, over retirement benefits. The former pressed for First Student to contribute to the Teamsters' pension plan, the latter sought to establish a 401(k) for its employees. The strike ended after eleven days, with First Student agreeing to chip into the plan, which it characterized as "underfunded."
In May, the state Supreme Court upheld a June 2015 settlement between the state and two unions that sued over the 2011 overhaul of the Employees' Retirement System of Rhode Island championed by then-Treasurer, now-Governor Gina Raimondo and approved by the General Assembly. The reforms created a hybrid, direct contribution and defined benefit plan, raised the retirement age and paused annual cost-of-living adjustments (COLA). The settlement provided stipends to and lowered the retirement age of retirees; it also re-established COLA payments — now tied to the Consumer Price
Index — but only every four years until the fund reaches an 80 percent-funded level. The battle was over, but the bitterness lingers.
"I'm angry," says Nadine Corvi, who worked as a secretary for various state agencies for seventeen years before retiring in 2008. At the time, Governor Donald Carcieri had begun to trim pension and health care benefits, and Corvi — like a lot of state employees — thought she'd get out while the getting was good. She didn't earn much in her state service. But Social Security plus her pension plus the cost of living adjustments added up to a monthly allowance she could manage. One particular promise from a prominent state official still rings in her ears: "The COLA is written in stone. If you are retired, no one can take it from you," Corvi recalls. "And then we find out: No, it really wasn't written in stone and they took it from us."
Another year, another round of struggles to find footing on the slippery slope of pension security, which is littered with unkept promises, fiduciary malfeasance and unfounded optimism. 
"The pension system is a creature of the General Assembly; whatever they giveth, they taketh away," says J. Michael Downey, President of RI Council 94 AFSCME AFL-CIO, which represents about 3,800 state workers. 
In May, the Pew Charitable Trusts published its analysis of state public pensions in fiscal year 2016 and found a $1.4 trillion gap, between $2.6 trillion in assets to $4 trillion in liabilities. This represented "a $295 billion jump from 2015 and the fifteenth annual increase in pension debt since 2000." 
The Great Recession of 2008 pushed many plans into crisis. Ten years later, what progress have we made?
"Rather than one national story there are many stories to be told," says David Draine, the Pew Trusts' senior officer of public sector retirement systems. "In 2000, most systems were 80 percent funded. With strong economic growth and a strong stock market, many approached full funding, and you can see how policymakers reacted: Some created a cushion, some took contribution holidays or gave unfunded benefits increases. When we look at the big picture, two things make us concerned: Are you getting out of the hole and what are you doing to prevent future crises?"
The health of any pension plan is measured by three major metrics: the annual actuarial required contributions (ARC), the funding ratio and the investment returns. Boston College's Center for Retirement Research tracked 180 plans from 2001 to 2017 and found that two of those factors had a significant effect: employers' fiscal discipline to make their ARC payments and investment returns. The center's analysis found that the least funded plans shorted their annual contributions and the performance of their investment portfolios lagged the best-funded plans.